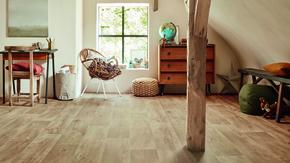 KEY FEATURES

Timeless wood designs in three plank sizes
2.8mm thick with 0.35mm wear layer
Textile backing for easy renovation
Extra resistant to scuffs, scratches and stains
15-year warranty
With timeless wood designs in soft colour washes, the Exclusive 280T Autumn home vinyl floor collection is available in three plank sizes: the classic 1 metre, the elegant 1.33 metre and the prestigious 1.5 metre. Ideal for renovations, the textile backing smoothes out little defects from uneven subfloors. With our Extreme Protection surface treatment your floor is extra resistant and easy to keep clean and beautiful.
TECHNICAL AND ENVIRONMENTAL SPECIFICATIONS