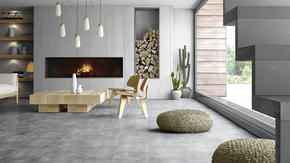 STARFLOOR CLICK 55 & 55 PLUS
STARFLOOR CLICK 55 & 55 PLUS
KEY FEATURES

Professional click system
The professional quality for your home
Very little subfloor preparation and no damage to the existing floor
Extremely durable (20-years warranty for residential use)
High dimensional stability



Give your home a new refreshing interior design thanks to Starfloor Click 55 & 55 PLUS collection and even do it yourself thanks to our professional click system that makes installation so much easier. Our luxury vinyl tile Starfloor Click 55 & 55 PLUS collections are also extremely durable and easy to maintain so you can enjoy your home's new style even longer.
Starfloor Click 55 & 55PLUS with Extra Matt effect combines beautiful natural-looking designs with stone, wood and concrete effect floor tiles, an elegant matt finish and increased durability for life's messy moments, especially in spaces such as entrances, kitchens, hallways or children's rooms.
With the PLUS effect applied on our Starfloor Click 55 Plus collection, add another dimension to your decoration thanks to the embossed-in-register technique that amplifies the floor's texture and mimics real natural materials by reproducing wood or stone's natural characteristics.
TECHNICAL AND ENVIRONMENTAL SPECIFICATIONS