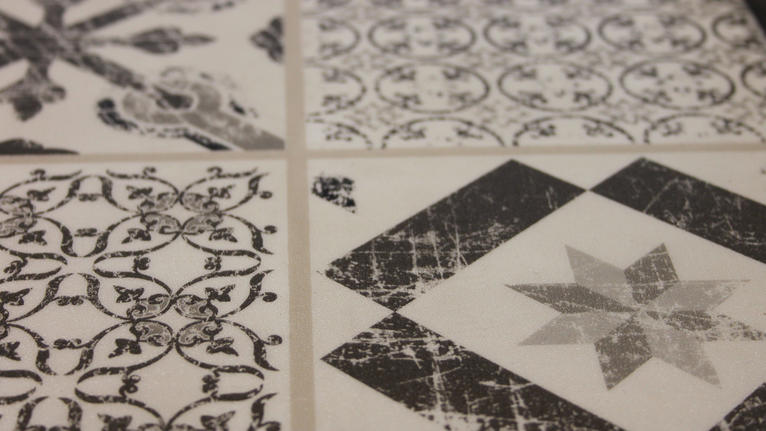 5 questions to Anne Portheault Gabagnou, Red Slate Interior Design founder
Because it can often be daunting and even difficult to go it alone in the adventure of a new decor, Anne offers a listening ear, providing advice and expertise to individuals who want to change, transform and decorate their interiors. When it comes to vinyl floors, Anne shares some of her experiences.
1. Do you recommend vinyl and in what context?
Yes, quite often. For example, I recently used a vinyl floor in a dressing room where I was trying to create a warm wood ambiance through a harmonious ensemble between the flooring and the ceiling. I didn't want to add a wood floor, even less tiles, and I couldn't use carpet as my client is allergic to dust mites. I found a woven effect vinyl flooring in natural wooden tones. The end result was a chic and elegant dressing room with a nice balance of different materials.
2. What are its advantages?
Vinyl has many advantages. Firstly, there's limitless choice. In the example I just shared, I was able to find the exact colour shade for my client to create the perfect match for the whole decor. I would never find such a range of options in another type of flooring material. Vinyl has something for everyone's budget. In terms of installation time, with or without professional help, vinyl floors are unbeatable. And it's extremely easy to maintain.
4. What decorative effects does vinyl offer that you can't find in other types of flooring ?
I can use different vinyl designs to play with layout like creating a rug, by associating colours and motifs. Vinyl can also easily be cut into decorative shapes - floral or geometric. This makes it possible to personalize your floor decor, with a visual design that highlights for example a certain colour. It's very original! Vinyl allows you to play with unusual combinations, mix patterns and imagine a unique flooring that cannot be found anywhere else. Personally, I really enjoy the creativity!
3. Do your clients have preconceived ideas about vinyl?
When we talk about vinyl or resilient floors, people are often thinking about old floors from the 1960s with wood imitation. Initially, the idea of vinyl doesn't inspire them. But when I present my colour swatches and mood boards, they are willing to give it a try and often accept my recommendations. They are amazed at the range of visual effects and even more seduced by the price.
5. Would you recommend vinyl floors to all your clients?
Yes. Vinyl is an obvious choice for younger clients who are looking for more modern interiors. For their renovation projects, vinyl is a flooring that's trendy, easy and varied. With a more traditional customer, working in more classic interiors, proposing vinyl often requires some "education" in order to change preconceived ideas. If vinyl floors meet the needs of the project specification, there's no reason not to recommend them.