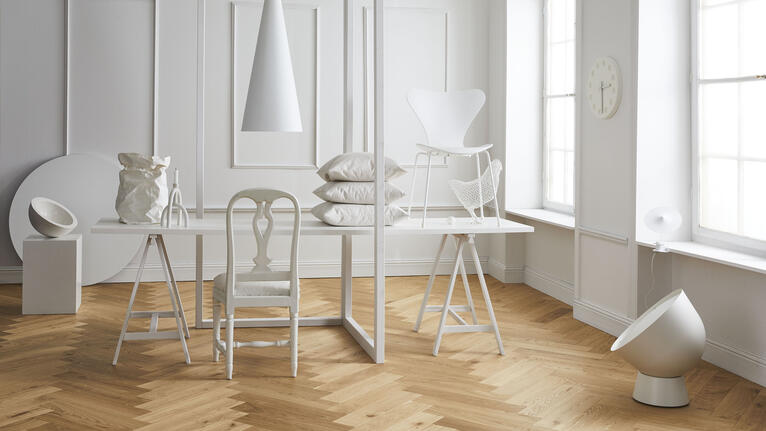 Finding your home decoration style
Our homes and the way we decorate them are influenced by design trends, but, above all, they're an expression of who we are, our values and our uniqueness. Influenced by our lifestyles, our home interiors become an extension of ourselves.
To help you decorate your home and find your style, here are four trends to inspire you: Breathe, Majestic Nature, Bohemian Explorer, Good Vibes.
Being on-trend means choosing the home decor that best suits you! Which one will you choose?
Live and Breathe
Come home to a precious vision of sophistication and simplicity.
Leave everything else at the door. Enjoy the weightless, airy and light space. Relax and let go.
Inspired by Minimalism, the purity and elegance of the room are reduced to their most essential forms.
This Nouveau Classique look is expressed in nude tones that perfectly match the subtle tints of soft blues and greens. The room emits a clean and poetic language that speaks to you and the elegant lifestyle you lead. It is a place where less is more, a place where you can breathe.
Live with Majestic Nature
Creating a link between your interior and the outdoors is your way of life.
You are looking to reconnect with mother nature. Sustainable materials and responsible consumption bring you closer to earth.
ensitive to nature's magnificence, you put her center stage through your choice of colours, objects, floor and textiles. Styling with wood, linens and ceramics takes you back to the basics.
Soft beige and a range of intense green colours transport the natural world into your home. The warmth of curry yellow accentuates the natural light. You are close to nature, you are home.
Live as a Bohemian Explorer
Your home reflects a passion for travel and the desire for exploration.
The vintage ornaments and mysterious materials from abroad create a collage of different ethnic styles. There is a daring and venturous mix of textures and colours with intense shades of spicy ruby, sensual amber and deep blue. Memories and emotions from past adventures are remembered and felt through a palette of cultural hues and decorations.
Independence and the freedom to cultivate ideas and differences encourage the fusion of tradition and innovation. When paired with more modern objects, the beauty of ageless artifacts and unforgettable moments create a unique space.
Live Good Vibes
Playful. Positive. Creative. Collaborative. Confident.
The room is your canvas. You hold the palette. You want to create a wonderful energy while working and connecting with others. There is always space for growth and creativity. The colours, the graphics, the shapes and the objects say different, but joyful. It is eccentric, but absolutely enjoyable.
A funny, outrageous space.
Motivated by the Memphis Movement from the early 80's, we find a contemporary and geometric décor that disrupts the routine. The pink, vibrant red, yellow, electric blue and vivid green contrast against the blacks and whites. The space is smart and it expresses nonconformity.