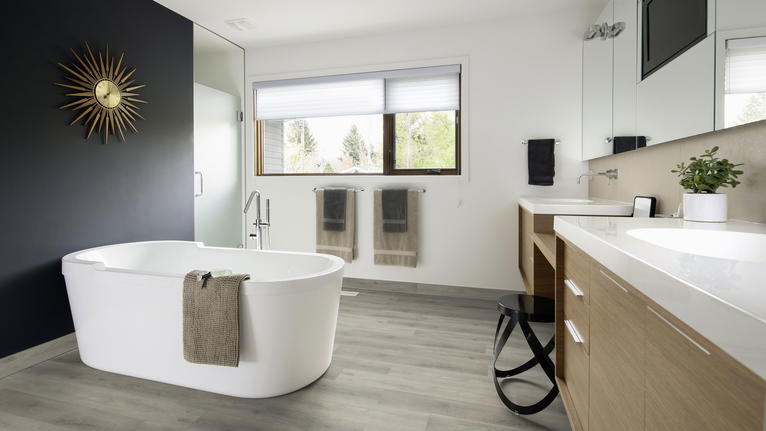 Bathroom styles and trends
Whether you're remodelling or simply refreshing your bathroom, the latest bathroom styles and trends and decorating ideas below provide lots of inspiration to get you started on your renovation project.
What are the latest bathroom trends?
Here are some of the latest trends that combine style with function to create a space that works for you and your family.
• Wallpaper is back in. Bold, graphic prints are encouraged and can make a huge statement in a small bathroom.
• Black, instead of grey, is the new colour trend. The general advice is to stick to lighter colours to make a room feel bigger, but darker colours add depth, and this is now being embraced in bathroom design.
• Natural wood tones. Combined with light tiles and other organic elements, wood creates a beautiful, natural space and makes your bathroom warmer and more inviting.
• Industrial-look shower screens. These screens have a black frame instead of the more common chrome frame and are prevalent in industrial, modern and contemporary bathroom designs. They can be combined with sleek black and white elements and contrasting industrial elements such as exposed plumbing and hardwood flooring.
• Wall hung vanities create a clean, streamlined and modern look.
• Digital showers. Smart technology is making its way into every corner of the home, including the bathroom. Digital showers allow you to control shower temperature and flow rate and save your preferred temperature and flow for your next shower.
• Patterned statement tiles instead of subway tiles. Subway tiles will always be a classic bathroom tile choice, but the trend is moving towards patterned tiles, which can create a more significant impact. And especially in small bathroom spaces, they won't feel overwhelming.
Bathroom decorating ideas
If you feel like your bathroom needs a quick makeover, there are several small changes you can make that can have a significant impact. Lighting and colour, for instance, are two of the quickest and cheapest ways to change the look of your bathroom.
Here are some simple decorating ideas that will help you transform the look of your space.

• Change your light fittings. With so many bathroom lighting styles available from chandeliers to pendant lights, you can easily find new light fixtures that will instantly change the look of your bathroom. And when installing light bulbs, it's best to avoid yellow light and cold or fluorescent lighting, and stick to natural or simulated natural light in bathrooms.
• Paint the walls. For non-tiled surfaces, a quick coat of paint instantly changes the look of your space. Introduce aqua hues for a calming effect, bolder, darker hues to create a more dramatic effect.
• Bring a bit of nature inside. Introduce plants to create a fresh, natural feel to your bathroom. Choose plants that love steam and thrive in humid environments, such as ivy and ferns, for best results.
• Introduce storage containers or baskets under the sink. This simple storage device helps you to remove clutter from countertops. You can choose from a range of colours and textures. Wicker baskets, for example, add an earthy feel and coordinates beautifully with a range of interior design styles from rustic to modern.
• Update fixtures such as sink faucets, drawer handles, and towel racks. While these items may seem insignificant, updating them can make a big change to the look of your bathroom.