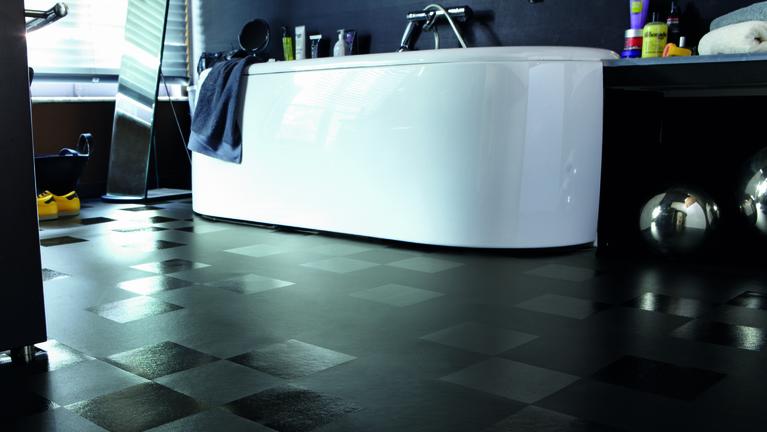 The "Smart Generation" Design Trend
Tarkett designers have spotted four décor trends inspiring vinyl flooring collections. Each has a style, associated ambiance, décor codes, colour palette, and a range of furniture and objects they have decoded to guide you in your decoration choices, help you match floors and walls, play with colours and materials, combine with the perfect furniture, fabrics and accessories in all materials and tones... without making any style faux-pas. Below, you will find everything you need to know on the "Smart Generation" style!
"Smart Generation" style is truly playful
Dare is the keyword for the "Smart Generation" décor trend! The accent is on volume, colour, architecture and design. Tones are heightened, drama is injected, the staging comes forth bringing your interiors to life. "Smart Generation" is a strong decorative choice with guaranteed visual impact!
Although there is no magic age, joining in the Smart Generation style may require initiation! The architect's pure home where everything is allowed or the bare loft where everything awaits a creative frisson are the appropriate fields of play for this inventive vanguard. 
Your teen wants to re-do the décor, provide a bit of modernity to the stiff apartment, make a personal statement... You want to give your kitchen or bathroom a new energised blast... You dream of a slightly offbeat office space, an 'olé olé' lounge to sit your tribe in front of the TV. Be decisive! Change can start on the ground. Using a vinyl covering means all the most daring colours are at your fingertips. Electric blue, crimson red, pistachio green or a more sober icy brown - the flooring takes centre stage and fully takes on its architectural role. Then comes space for the coordinating furniture. Original lines, a designer never-before-seen look, a range of energetic colours.
You'll love stretching out on a large modular sofa that adapts to seat all the family and their friends, or sprawling on a pouffe (Fatboy flashy) or even the floor. Furniture in brilliant, smooth-to-the-touch materials are favoured, white lacquer or coloured plastic, beautiful brushed steel or Plexiglas. Mobile and multi-purpose tables, pedestal tables or stools are laid out at will, based on needs and fancy. Add a large cosy rug and vibrant fabrics, a patchwork of psychedelic print cushions, a large flatscreen... Without breaking the bank, tap Ikea's PS range to unearth an original armchair, the designer scattered furniture or the low-cost original décor accessory... favouring yellows, pinks, oranges, blues, greens, reds... play with the colours of the rainbow!
Who will adopt the "Smart Generation" style?
Teenagers decorating their rooms. The not-so-young who want to add a touch of energised modernity to their interior design.
In the style of a Chinese portrait, "Smart Generation" style would be:
• a location: a loft with modular spaces where anything is possible or a large architect's home - an ambiance: an interior in a range of energised colours comprising Ikea furniture
• a furniture: a huge modular sofa with large cushions to welcome a tribe of friends (Matali Crasset) or a Fat Boy coloured pouffe to sprawl out on - an object: a coloured fridge, a Rubik's Cube, an iPhone... inevitable·
• a material: plastic or even graphite
• a fabric: lively colourful nylon, spinnaker-style, for its light, flowing and transparent aspect
• a colour: flashy red that cheers you up
• a wall décor: pixels
• a clothing/ accessory: a multi-coloured nail varnish, a pair of trainers
• a brand: Apple, the PS (Post Scriptum) collection at Ikea, offering the best in low-cost design with innovative shapes, functionality, materials and durability
• a sport: skateboarding and roller blading
• a legendary man: Andy Warhol for his graphic art and flashy colours - Mica for his trendy offbeat side, Jean-Charles de Castelbajac for his vibrant colours and playful, fantasy-filled style
• a female icon: the American pop singer Katy Perry for the success of her album Teenage Dream (2010-2012)