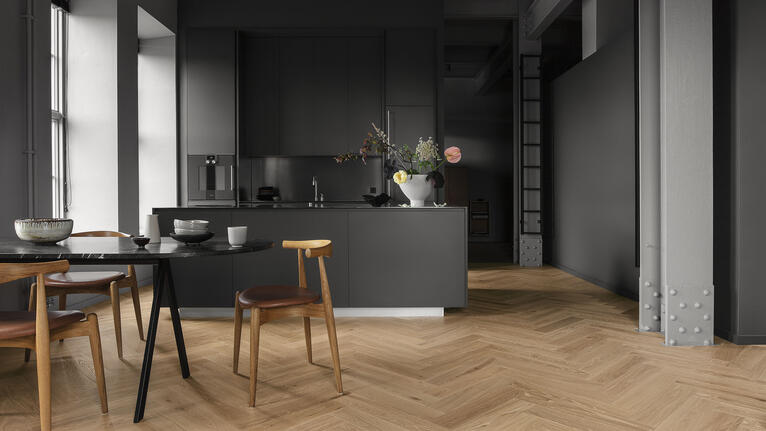 Wood flooring in the kitchen
As a convivial place for friends and family to meet and eat, kitchens are quickly becoming the heart of our home. Whether you are simply cooking, or also living and dining in this room, you will need to consider wood flooring that is both aesthetically pleasing and durable. In addition to design choice, wood flooring that can handle moisture well, is stain resistant, and that is easy to maintain, will be key selection criteria.
Is it a good idea to have wood flooring in the kitchen?
Yes, when properly finished and cared for, real wood flooring makes an ideal choice for the kitchen. The kitchen is considered a semi-moist area and it is well known that moisture and wood are not a good combination. However, with a little care and attention, stylish, natural wood flooring can be installed in kitchens with no problems.
 


Advantages of wood flooring in kitchens
Offering a timeless look, wood flooring is a natural product that brings warmth and elegance to any room in your home, including the kitchen. Wood flooring is warm underfoot, especially when compared with the hardness of floor tiles, which makes it more comfortable to walk on. And you have the option of installing under floor heating. Tarkett wood flooring is compatible with self-regulating under floor heating systems up to a maximum temperature of 25 ˚C. Wood flooring is also incredibly durable. The thick and solid construction of wooden planks means that they are easy to sand down and refinish when they start to show signs of wear. Oak in particular is a popular choice because of its beauty and durability. A durable finish will also ensure that kitchen spills are easy to clean.
Parquet flooring in the kitchen: which type of wood?
For many people the kitchen is the heart of the home and will be the room with the highest traffic. So when deciding which type of wood flooring to use in the kitchen, you will need to consider wood flooring that is both aesthetically pleasing and durable – wood flooring that can handle moisture well, is stain resistant, and that is easy to maintain.
Whilst there are many different types of wood, some will be better than others at handling kitchen conditions. Generally, you should avoid softwoods, such as pine, as they will be less dense and more prone to moisture absorption. Instead, stick to hardwoods such as oak, walnut, ash, birch and maple.

Oak is perhaps the most popular wood for floors. Beautiful, dignified and hard, oak has the ideal qualities for a flooring material. Oak offers a variety of temperaments depending on which part of the tree is used and how the floor is made. The options range from calm, dignified planks in a single shade to lively combinations with an attractive variety of lighter and darker strips.

In addition to the type of wood, the surface treatment will influence the lifespan and level of maintenance of your wooden floor. A lacquered floor will be most resistant to wear and tear and will be the easiest to maintain. Whereas a light white floor with deep brushing will give a lustre to the kitchen but will require more cleaning.

To inspire you and help you find the right wooden floor for every room in your home, we have carefully sorted our product range into eight distinct collections: Grace, Heritage, Noble, Prestige, Pure, Segno, Shade and Viva. Browsing our beautiful wood flooring collections, you'll find a large range of oak flooring options and a unique selection of designs, patterns, colours and finishes to match both your design style and lifestyle.

Our Viva collection for instance, offers a range of beautiful, practical, and durable wooden floors with a design-led approach. It provides a range of wood flooring options that are incredibly easy to install and that are perfect for kitchens.
Can I use engineered wood floors in the kitchen?
Yes, you can use wood floors in the kitchen and both engineered and solid wood floors work perfectly well.
Solid wood flooring is made from a solid piece of hardwood, whilst engineered wood flooring is made from several layers of wood with a layer of solid hardwood on top. At Tarkett, our engineered wood flooring is made from high-quality real wood with a top layer of hard wood in a variety of species and designs including staining and heat treatment, a strong and supportive middle layer of transverse wood with fibres that contributes to the stability of the boards, and a balancing layer that stabilises the board and guarantees dimensional stability.
 
Engineered wood, on the other hand, has a dimensionally stable base, which doesn't expand and contract to the same extent as solid wood flooring. Better than solid hardwood at dealing with changes in temperature, humidity and moisture, engineered wood is particularly suitable to use in kitchens.
Best wood finishing in the kitchen
When choosing the best type of wood flooring for your kitchen, aesthetics and durability are key considerations. This is also the case when choosing the best wood finish for your kitchen floor. An important aesthetic consideration is the gloss level of your wooden floor.

Matte finishes are currently on trend and considered to be more natural, elegant and modern. However, different products will enable you to achieve a range of finishes from shiny, through to semi-gloss and matte.
You'll also need to consider the combination of your selected wood floor finish with other wood finishes and decor in your kitchen. Ultimately, however, you will need a durable finish that protects the wood in your kitchen from moisture, stains, and wear. A durable finish will also require less upkeep.

Using Proteco, we have designed a range of pre-finished kitchen flooring options that meet both aesthetic and durability requirements. Proteco comes in four varieties: Proteco Lacquer, Proteco Natura, Proteco ExtraMatt and Proteco Hardwax Oil. Proteco Lacquer is a semi-gloss lacquer that lasts long and add extra durability to your floors. Proteco Natura is a matt option with high durability and effective protection and Proteco ExtraMatt will give you an extra matt, silky surface that imitates the feeling of an oiled or untreated floor, but with the durability of a lacquered floor. Proteco Lacquer, Proteco Natura and Proteco ExtraMatt are all a recommended choice for kitchen flooring.
How do you maintain hardwood floors in the kitchen?
Maintaining your hardwood kitchen floors requires a few simple steps. You'll need to promptly wipe up spills and take precautions to avoid dishwasher, sink, and fridge leaks. A significant leak has the potential to damage your wood floor, subfloor, kitchen cabinets and wall fixings, and we recommend using protective mats beneath appliances and checking your appliances regularly.

You can protect your hardwood floors from grease or light splatters when cooking and washing up by adding a rug in front of your stove and sink. You can also use felt floor protectors under furniture, including tables and chairs, to avoid scratches and surface damage.

In terms of caring for your wooden floors, vacuuming or cleaning the wooden floor with a dry mop is recommended. Sometimes you may need a little liquid to remove dirt and stains. But be careful not to use too much water. Proteco surface treatment includes a complete range of cleaning and maintenance products for daily and periodic maintenance, specially designed for Tarkett wood floors. Also follow our detailed care instructions for best results.