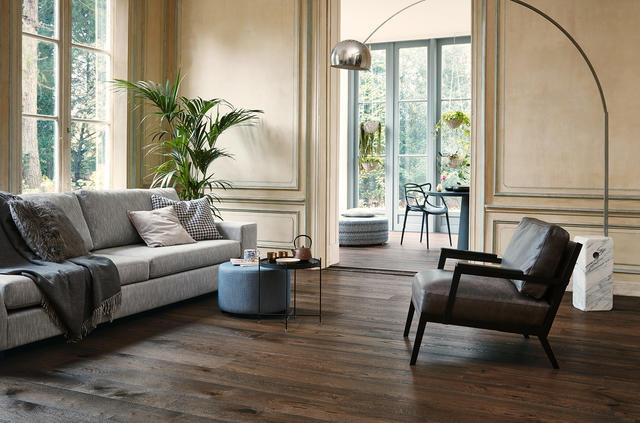 Wood floors in the living room and bedroom
Wooden floors are a classic choice for living rooms and bedrooms and their natural warmth and charm make them very appealing from a design perspective. Whether your home is traditional or contemporary, new or old, wooden floors are the perfect foundation for a range of interior designs and styles.
Is it a good idea to have wood flooring in the living room and bedroom?
Yes, wooden floors in the living room and bedroom are always a good idea. They are timeless and beautiful and can be coordinated with just about any decor. Our extensive oak flooring collection for instance, offers a host of patterns, designs, and carefully chosen nuances, from natural browns to whites and greys, enabling you to find the perfect floor to match your lifestyle and interior preferences.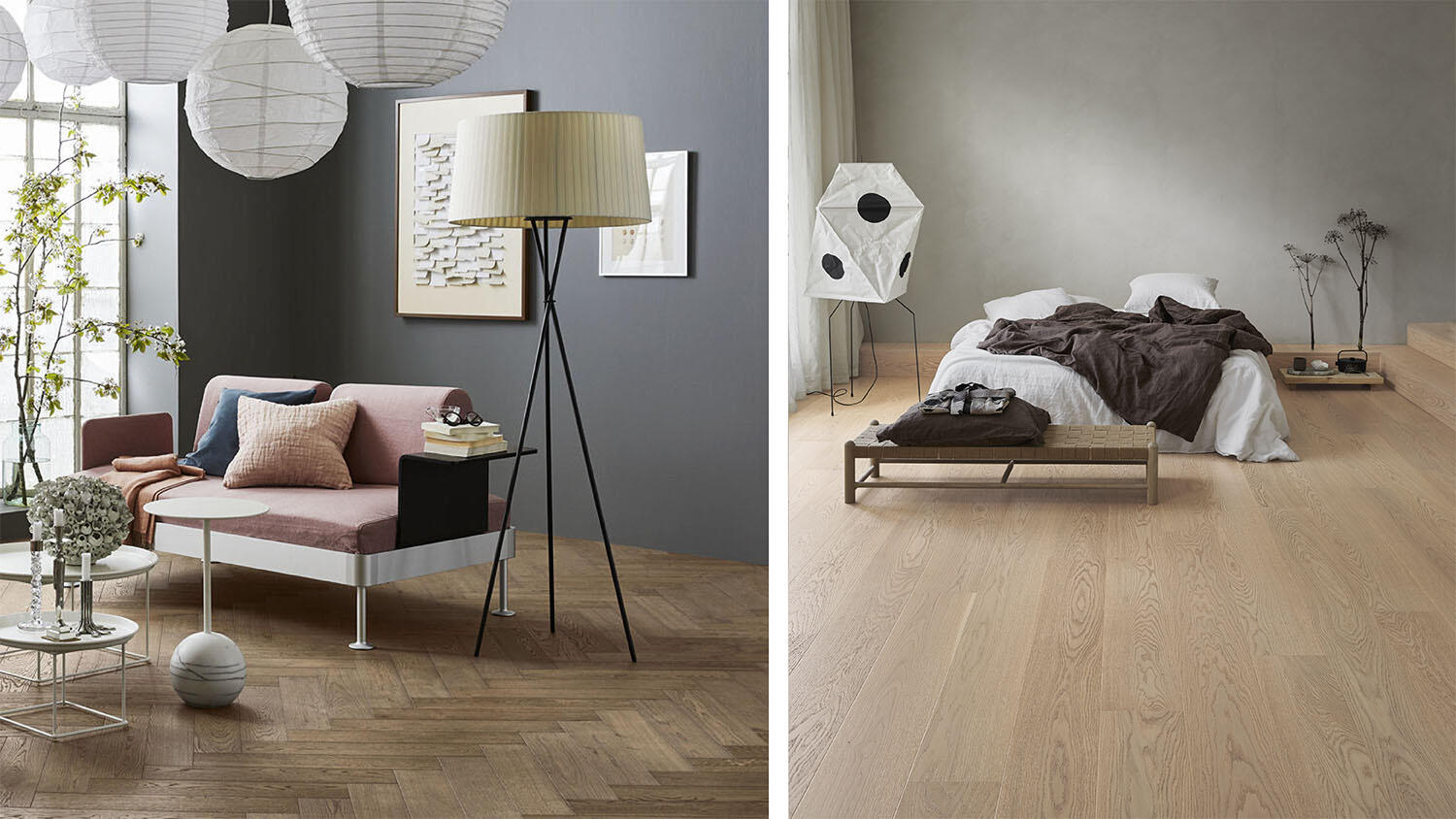 Comfort is also important. We spend a lot of time in both the living room and bedroom so you'll want wood floors that are comfortable and warm underfoot. With good insulation, wood flooring will both look and feel warm. This is particularly important in the bedroom, which is a very personal space where you're often barefoot and where you want to feel a sense of cosiness and warmth. Another way to create additional warmth is to choose wood flooring that is compatible with underfloor heating. Rugs are another option. Rugs will not only add softness and warmth underfoot, but they can add to the style and design of your living room and bedroom.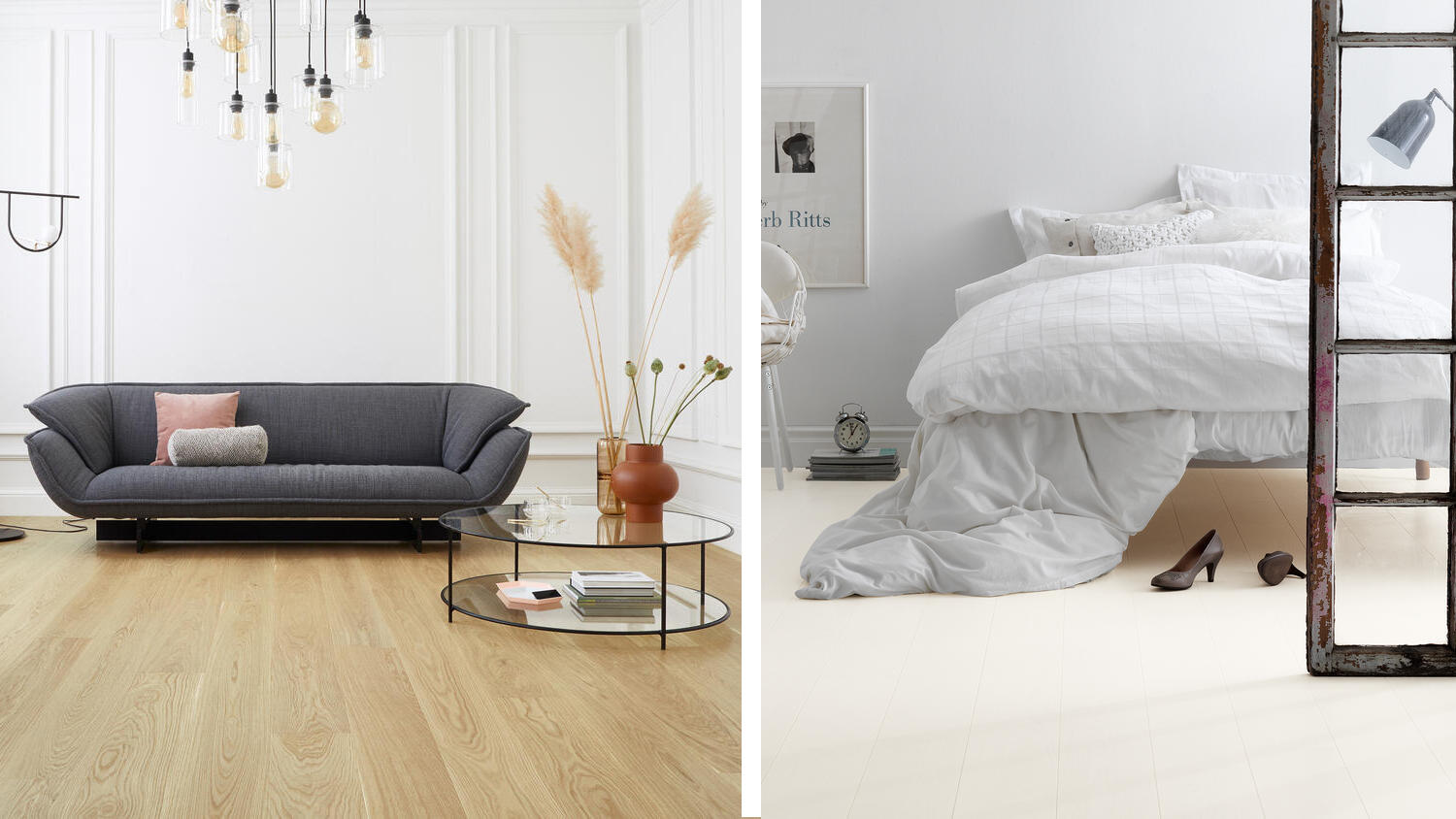 Parquet flooring living room and bedroom: which type of wood?
With so many options, including the type of wood, finish, grain pattern, and plank width, we know that selecting the right wood flooring for your living room and bedroom can be a daunting task. To assist you to make the right choice, we have carefully sorted our product range into nine distinct collections: Elegance, Heritage, Noble, Play, Prestige, Pure, Shade, Vintage and Viva. Each collection offers a unique selection of designs, patterns, colours and finishes to help you create your desired ambience and aesthetic.
Flooring for every lifestyle
Whether you want to create a relaxed yet elegant living space or a sophisticated yet practical one, our range of wood flooring will beautifully complement and bring out the best of any interior.

Choose from our Elegance collection to create a sense of gracefulness and spaciousness. Elegance's wide, extra long, extra thick planks stretch out to shape perspective and bring a serene ambience to a room.
Alternatively, if you seek the authenticity of rustic oak, choose from our Heritage collection. Heritage's natural features lend the wood a seemingly century-old patina, whilst skillful brushing and staining bring out the details that make each board unique and add a distinctive touch to your home.
Or, if you feel inspired to bring the style of the fifties, sixties and seventies into your home, opt instead for a choice from our Noble collection. Treated with a hardwax oil to highlight each plank's distinctive grain and structure with a natural, matte finish, Noble wood floors offer a contemporary twist on the long tradition of classic parquet.
Whatever your specific needs, our wood flooring combines style, elegance and long-lasting durability to enhance any room in your home.
Can I use engineered wood flooring in the living room and bedroom?
Yes, engineered wood floors are suitable for most rooms in your home including the living room and bedroom. The only rooms where wood flooring is not recommended are wet rooms, which include the bathroom, toilet and laundry.

There are two main types of wood flooring: solid and engineered. Engineered wood flooring was essentially developed to address some of the weaknesses found in solid wood.

Solid wood flooring is made from a solid piece of natural hardwood, whilst engineered wood flooring is made from several layers of wood with a layer of solid hardwood on top. At Tarkett, our engineered wood flooring is made completely from high-quality real wood with a top layer of hard wood in a variety of species and designs including staining treatment, a strong and supportive middle layer of transverse wood with fibres that contributes to the stability of the boards, and a balancing layer that stabilises the board and guarantees dimensional stability.

Engineered wood flooring is almost indistinguishable from solid wood because it has a layer of solid hardwood on top. This makes it a highly sustainable option since the amount of hardwood required is considerably less than what solid wood flooring requires. It also costs less.
Because engineered wood is made from different wood layers bonded together in a crosswise direction, it's less likely to shrink and expand making it stronger and very resistant to warping compared to solid wood flooring. It also means they can also be used with underfloor heating. This durability makes engineered flooring particularly suitable to high traffic areas such as living rooms. Tough, practical and easy to clean, engineered wood floors are also are a great option for children's bedrooms.
Viva, for instance, is a collection of contemporary wooden floors that are practical, durable, and affordable, making them a perfect choice for children's bedrooms. They're easy to install and to maintain with no compromise on aesthetics. They're available in a range of classic oaks and walnuts, as well as a contemporary grey design.


Style and performance combined
Engineered wood flooring is incredibly versatile and available in a wide variety of plank sizes, stains, and textures. This makes it easier than ever to find living room and bedroom flooring that perfectly fits with your design style and lifestyle.
Best wood finishing in the living room and bedroom
Wood flooring is available in several distinct surface finishes that both enhance and protect your floor. Similar to wood floors, the surface finish you choose should complement both your design style and lifestyle.

Most of our wooden floors are treated with Proteco, one of the strongest surface protections on the market. Proteco comes in three varieties, each providing a different feeling to the floor and different finishes ranging from semi-gloss to matte.
 
Proteco Lacquer is a semi-gloss lacquer is applied in six layers to make the floor extra hard-wearing. 
Proteco Natura is a matte lacquer, which is just as hard-wearing and gives equally effective protection. It will retain the natural colour and feel of the wood, just like an oiled floor. It will require a little more care, as a matte surface always attracts more dirt than a semi-gloss lacquer.
Proteco Hardwax Oil provides a silky matte surface, reinforcing the feeling of the wood. The oil penetrates into the wood while the hardwax remains on the surface and provides extra wear protection. Like all other oiled wooden floors, it must be 'maintenance-oiled' every two or three years. It also requires somewhat more care than a lacquered floor.
 
Applying a surface effect also changes the appearance of wooden floors. By using different brushing methods for example, the beautiful, natural structure of the wood is further enhanced. And adding saw or indentation marks lends the floor a more vintage look and feel. Both our Heritage and Vintage collections display the beauty of these techniques. Made from genuinely rustic oak, our Heritage collection introduces nature's styling at its best with the natural details giving the floors a feeling of century-old patina. And our Vintage collection, with its visible woodworking traces, from saw marks to indentations, gives added personality and a sense of bygone times.
Using Proteco, one of the strongest surface protections on the market, we have designed a range of pre-finished flooring options that are both stylish and durable. Browse our collections to find inspiration on the best wood finish for your living room and bedroom.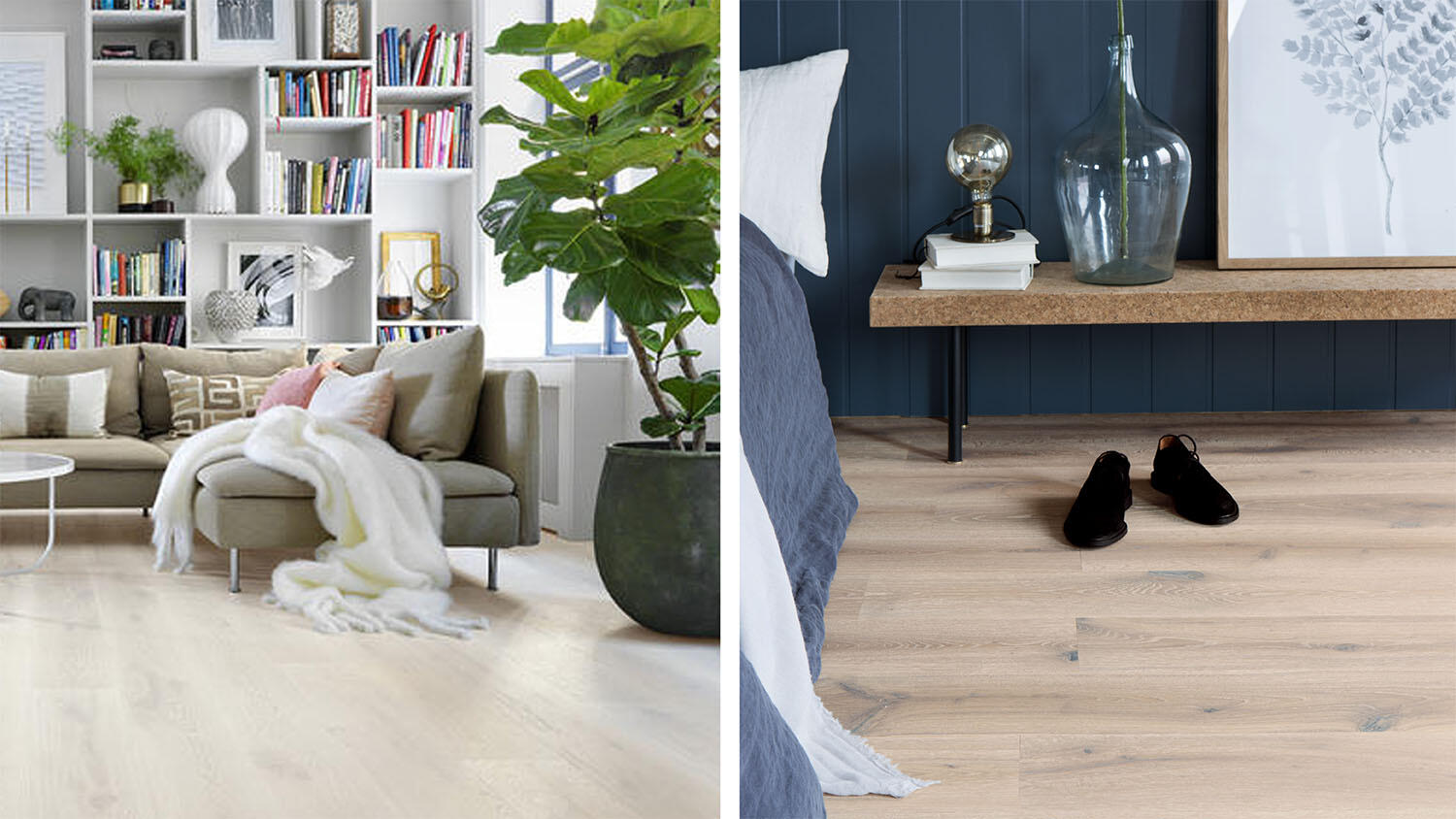 How do you maintain hardwood floors in the living room and bedroom?
When using your wood floors, you primarily wear the surface treatment, not the wood itself. Your wood floors therefore need good protection against wear, abrasion, scratches and stains in order to look good for a long time.

In order to properly maintain your hardwood floor, you'll need to know how it's been finished. Wooden floors that are treated with Proteco, one of the strongest surface protections on the market, come in three varieties. Each will provide a different feeling to the floor and different finishes ranging from semi-gloss to matte.

We have a couple of products designed to protect and strengthen floor surfaces against wear, and prevent micro-scratches – Refresher for lacquered floors and Refresher for floors treated with hardwax oil.
Additional tips to maintain and prolong the beauty of your floor
Use furniture pads to minimise scratches.
Use protective chair mats to help prevent floor damage from chair casters.
Place a rug for wiping feet in the hallway to minimise the spread of dirt. Remember that the most critical area is the first square meters (three steps inside) with direct connection the entrance door.
Wipe up spills immediately. Surface treatments will protect your floor initially, but if a liquid is left to soak into the wood it can cause serious damage.