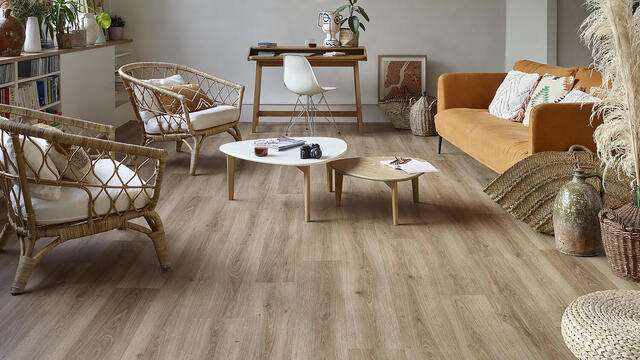 Vinyl Rolls
The right choice of flooring can transform a house into a home. Let's breathe life into your interior design through a broad range of designs at the forefront of the trends, inspired by nature and famous castles designs.
Hardwearing, waterproof and easy-to-clean, vinyl roll flooring solution is an affordable modern option to renovate a place where each family member can feel at ease in their own personal space. Moreover, it contains up to 27% recycled content, in addition to the low VOC and formaldehyde emissions performances contributing to a healthier indoor air quality.
Vinyl rolls are the best choice to renovate easily your floor, matching all your needs.
ICONIK vinyl rolls bring you the answer as an affordable flooring solution, which design range is led by in-depth market trend research, making it the right choice to fit with your interior home decoration.
Latest in sustainable properties, manufacturing and material technology, the all-new ICONIK has been designed to shake up any preconceived perceptions of vinyl flooring and offers a sustainable option for those seeking to create a stylish and cosy home while making conscious purchase decisions.
Is vinyl roll adapted to my project?
Vinyl rolls can match any renovation flooring project fitting to your life projects.
Our designers draw upon their inspiration through the biophilia home decoration trend by integrating nature into our décors. The wide variety of realistic and authentic designs from wood to stone and geometric patterns gives you infinite possibilities to turn your home interior with a new natural look & feel. 
ICONIK collection is suitable for residential use for all types of rooms from light to moderate traffic (bedroom, home office) & high traffic (living-room and hallway), including wet rooms like kitchen and bathroom. Furthermore, 2 backing finishes are proposed to fit the installation method you choose. 
For residential use, both the textile and foam backing options are compatible with underfloor heating and cooling systems and ensure the best results are achieved for insulation and good acoustics.
Choose the textile backing for renovations with an irregular flooring and bring walking comfort in your home. Save time and money, you don't need to prepare the subfloor before laying it.
For a ≤50㎡ room, choose the foam backing as a sustainable option. Installed loose-lay, your flooring will be ready for recycling end-of-life through your installer.
Considering a leveled, clean and flat subfloor, all our ICONIK vinyl rolls are loose-lay installation up to 50m2. Installation over existing floorings is possible, except on foam backing flooring or carpets. ICONIK flooring is the ideal solution for a quick renovation.
The solution for a healthier indoor and a better impact on the planet
ICONIK vinyl rolls collection is made up of up to 27% recycled content, which makes it good for the planet.
Phthalate-free, with low formaldehyde emissions and low Volatile Organic Component (VOC) emissions, all together ICONIK ensures a better indoor air quality & indoor environment.
The absence of seams to limit dirt build-up and the only need for a damp mop with warm water make it the ideal low-maintenance, easy-to-clean flooring solution. Choosing ICONIK means making a healthier choice that is good for you and good for the planet.
Reduce your CO2 impact, choosing our ICONIK foam backing, which does not require any glue on surface areas of 50 m2 or less. Therefore, it can be collected by installers and recycled through our ReStart® Ready program*.
*Terms of registration may vary per country. Contact your local Tarkett sales offices to find out how to register for ReStart® in your country.
Overall, ICONIK is a healthier, sustainable and hassle-free flooring choice to turn your interior into a modern, versatile and cosy home.
How to install ICONIK vinyl rolls?
Explore Iconik collections