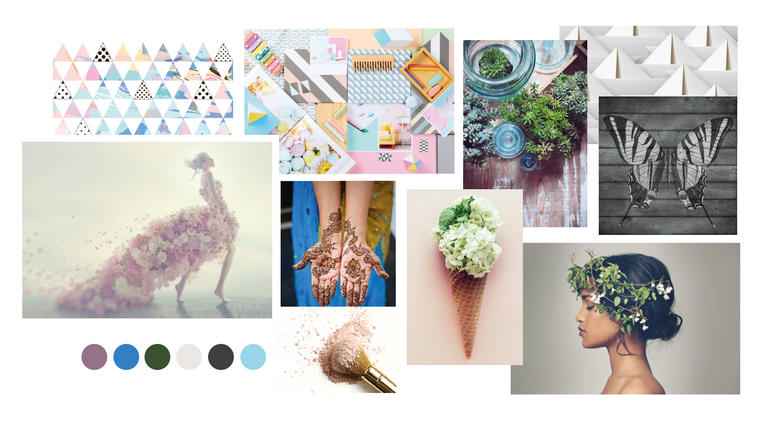 2018 Interior Design trends for the home
This year, Tarkett's residential collections were designed according to major interior design trends. These trends illustrate how we interact with the world around us. For example this year, interior design trends illustrate our will to share meaningful experiences with others by belonging to strong communities with common interests and values. They also portray the kind of interior design experience customers are looking for. "When we integrate colors, patterns, textures, lights and lines, we create experiences", says Tarkett Design Director Patricia Leunis. To illustrate these new ways of life, our Design teams have identified four major trends for 2018:
Oh happy days!
"Interior spaces can provide endless and fun creative possibilities" Patricia Leunis, Design Director

This year, Tarkett developed modern vinyl roll and tile flooring collections with a resolutely optimistic touch. The "Oh Happy Days!" trend that inspired Tarkett's Designers is for the inner child in you, for the optimistic and the joyful who want to live in happy spaces with a twist of fantasy and a touch of eccentricity. This trend plays with a rainbow of colors, iconic animals and graphic patterns in every space, to make day-to-day life fun and run away from routine or dull interiors. Life needn't always be boring: color, crazy shapes and funny patterns all come together to make interiors the temple of creativity and playfulness.
Celebrating seasons
"Our growing ecological awareness drives us to choose more natural materials for our interiors" Patricia Leunis, Design Director

This year's wood decors celebrate nature's seasons and contribute to making interiors harmonious and soothing. With ecological awareness and responsible consumption becoming a deep trend, "Less is more" has become a life motto for many. "Celebrating seasons" embodies a deep desire for a slower, more simple and minimalist life that follows the rhythm of nature's seasons. A longing to connect with one's inner self by celebrating beauty and living closer to nature in all its forms. This trend really brings on a change of pace with the comforting presence of light, calm and greenery.
New folk
"Folk Culture is full of meaningful decorative motifs. The New Folk Interior Design trend is inspired by traditional cultures all around the world." Patricia Leunis, Design Director

This year's flooring patterns were greatly inspired by the rich inspiration of traditional cultures. Inviting this trend into your home will make your interior an endless source of inspiration. The "New Folk" trend embodies our globalized society's aspiration for encountering and marveling at new cultures and people. It gives off a warm and multicultural mood that focuses on the pleasure of being together and breathing in the world's many beauties. "New Folk" also gives maximum importance to personal expression as well as coziness and sharing lazy moments. "New folk" interiors are filled with treasured objects, ethnical decoration, warmth and contrast, blending modernity and tradition.
Soft silence
"One of this year's major trends is a mix of experimental but also soft and cocoon-like interior spaces. "Soft Silence" is a modern and contemporary style." Patricia Leunis, Design Director

This year's floor collections for the home were designed to make interiors both resolutely contemporary and comfortable. If luxurious and airy spaces with a minimalist and quiet ambiance make you feel at home, then "Soft Silence" entirely suits you. "Soft Silence" interiors are subtle as well as experimental and design-forward. What makes these interiors special is their contemporary and design-oriented look mixed with a soft and sweet touch that gives off an overall impression of feminine luxury. The sumptuous and the minimalist come together to create unique and extremely contemporary spaces.

All of this year's trends have inspired the creation of our flooring collections for the home, from wood to luxury vinyl tiles and vinyl rolls. Choose the trend that suits you best, and make it your own!

Explore our flooring collections for the home: