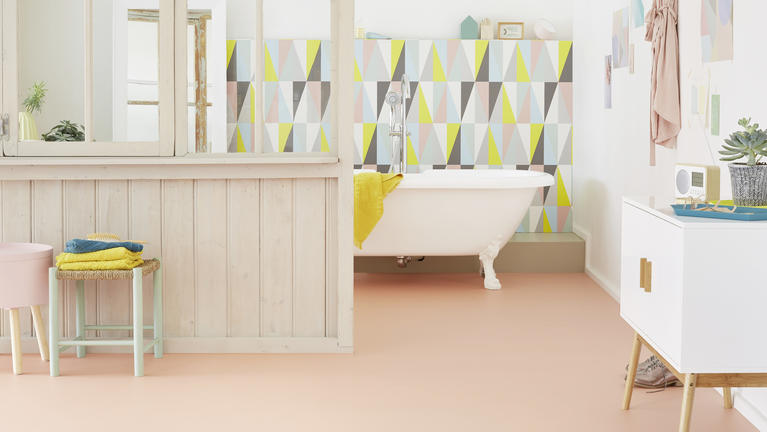 6 questions to Muriel, Interior Design Blogger
What do vinyl floors evoke for you?
A contemporary style that's easy to live with and very trendy.
Do you automatically think of vinyl when imagining a decoration?
Of course! Vinyl floors are a good way to style a room at an affordable cost, especially as there's a huge range of designs including those replicating stone, tiles as well as wood.
In what kind of decors do you imagine vinyl floors?
The fact that vinyl floors are easy to clean and highly resistant make them an attractive feature for any decor. I can easily see them used in many different settings. For example, in an "American diner" kind of kitchen, with a fun black and white checkerboard floor, or in a Scandinavian style living room with a beautiful 'vinyl wood' flooring or in a very modern and stylish bathroom, with vinyl bringing a dark large tiled effect floor.
What furniture, objects and different materials would you mix and match with a vinyl floor?
I am great follower of Nordic style – so I adore vinyl floors that look like white parquet. But being a big fan of rugs, I would probably place a nice rug near the sofa to create a cozy little corner for the winter. Even though vinyl floors have an advantage over tiles in not being cold underfoot, a living room is always more welcoming with a large rug. I would also add a pair of bamboo blinds on the windows and a lot of candles, in order to really take advantage of a Nordic look this winter!
What are the main advantages of vinyl?
In addition to a very wide design range that complements all decor needs (from imitation wood to tiles or mosaics, and every shade of dark or bright colours ...), what attracts me most to vinyl floors is how easy they are to install and daily cleaning and care. They're much better suited to our busy lifestyles. I'm not great at DIY and am sorely lacking in patience! Vinyl floors also make it easy to change decors over the years, and are much less fragile than other types of flooring - even tiles.
Are you biased towards vinyl flooring ?
Not especially! I started my own small business of stickers for wall decoration so I'm using vinyl every day. I know exactly how durable and easy to live with it is.