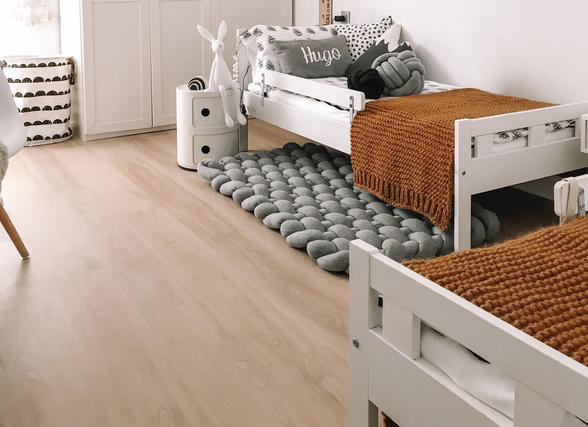 Maria's interior décor tips after installing Starfloor Click Ultimate Luxury Vinyl Tiles in her children's bedroom
Tell us a bit about yourself
My name is Maria and I am passionate about decoration. I started my adventure when I discovered Instagram, a few years ago, and created my own account. I use this channel to show pictures of my home and share all my ideas. I love being able to reach and engage with so many people, sharing my essence and my special admiration for beautiful and well-designed things with them.
So you have an idea about how I feel and understand decoration, I would say that my home is decorated in a Nordic style. I like to mix furniture in natural wood (birch or beech) or white laminate. The simple lines and uncluttered designs make my home look bright, clean, with relaxed and functional spaces. I usually use light tones as base colours so I can combine them with colourful textiles or any other decorative items. I love to use black and white textiles whether with vegetal, animal or geometric patterns.
It is a pleasure for me to share this passion with everyone. I am grateful to have the chance to develop my creativity.
 
To you, what is the importance of floors in interior design?
In my opinion, when defining the interior design of a house, most of the times, the floor is not considered as important as it deserves. It is usual to focus on other elements that go on top of it, or even around what goes on the walls. But the truth is that the floor largely determines all the rest. If we think about it, it is a large surface that affects the visual perception of the space and conditions the whole set. Therefore, I consider that making a good choice is of vital for a successful project.
How do you recommend to choose the floor when redecorating a kid's bedroom?
When it came to choosing the floor for the children's room, my concerned was about its resistance. In a short time, the baby begins to crawl, then walk and for years he will play a lot on it, so we must pay special attention to it. If it is a new house, it will surely already have a suitable floor and it will only have to be completed with furniture and accessories. If it is not, it will be necessary to find a solution. In my case, I had an old floor, so I looked for something that met those endurance characteristics and finally I decided on Starfloor Click Ultimate 30 Luxury VInyl Tiles from Tarkett. It is a beautiful floor, but also it is sturdy, resistant to impacts, abrasion and scratches. In case of any stain or spoiled wide-plank, it can be replaced by simply removing the damaged part and replacing it with a new one. That really gives me peace of mind and led me to definitely invest in this model.
What are your favorite trends when it comes to Childrens bedroom decor?
My favourite design trend, as I mentioned before, is the Scandinavian or Nordic style. And obviously, it was no different for my children's bedroom. I like to use a very special colour for me in this space: black colour. When used with common sense and in small quantities, it creates a modern and distinguished appearance to our home.
Black is one of the most difficult colours to use in interior decoration. It has many negative connotations and reduces lightness. However, this colour brings elegance and a strong personality to an environment. Indeed, my trick is to use it to praise precisely those "positive virtues".

This is how I do it :
• Combine black with a lot of white background, so you have a balanced result.
• Use it in small accessories such as cushions, pictures or small furniture.
 
Could you share some of your favourite childrens bedroom decorating ideas to refresh a childrens bedroom design without changing everything?
I would choose a base in neutral tones. If the walls were painted in colours, I would recommend painting them white. This would give it a touch of cleanliness and create a more relaxing and bright space.
Next step is playing with different textiles to obtain an actual look. Less is more, so I would start by reorganizing the room and removing unnecessary and old-fashioned items. With that and with some new decorative element (you can try some DIY) will make a big difference in the room. Nowadays you can find inspiration and many ideas to decorate different spaces or creating decoration elements with a very low budget thanks to Social Media.
Do you have special ideas for small childrens bedrooms?
As children grow, their needs change and spaces have to be adapted.

I usually recommend a solution for the first's stages of life that also can be used for a long time. It consists of creating a special corner with a clothes rack where we can hang our favourite baby outfits. Simply using a branch found in one of the family walks through the forest, a wooden stick, some ropes and / or a bookshelf could create a great corner with a cool look.

Another very fashionable option, which I also love, is to create a reading or play area It does not require a large budget, just using a bit of skill you can improvise a canopy with a cloth. A blanket or a mat will help to create a space that will invite our little ones to sit there. Just add some cushions and a basket with toys or books and it is dome. An improvised reading corner ready to enjoy!
 
You installed Starfloor Click Ultimate 30 in your sons' bedroom. Could you tell us what are the advantages of this collection, for you?
An important thing for me was not having to do any kind of installation work. The installation of Starfloor Click Ultimate 30 has been very fast, clean and simple. As well as being a durable floor, it is waterproof and easy to clean. Concerning design, what I liked the most is its real wood look. The matte effect provides a strong presence and a very natural look.
Another appreciated characteristic when there are children is acoustic comfort. The floor has an acoustic setback integrated to create a relaxing environment, so it is not necessary to put an insulator. As additional data, this floor absorbs up to 18 decibels.
 
Could you tell us about the installation process? How long did it take? Did you find it easy?
The installation process was very comfortable, as I mentioned before. The modular system makes installing Starfloor Click Ultimate 30 very simple, very few tools are needed and no type of glue was needed since the wide-planks remain stuck together. Removing the socket, although initially it seemed quite complicated, proved to be faster than we thought. So if you are hesitating whether to skip that step, I would not recommend that: the result will be much nicer and will help the ground to be perfectly topped by all its surroundings. About the time spent, it took us about 4 hours to make a 12 square meters room. When my children arrived from school, their room was ready to enjoy and the children spent that same night in their bed. So it did not cause any disruption to us!
Did you find it easy?
The installation process was very simple and practical. Thanks to the clip system we were able to install the Starfloor Click Ultimate 30 floor without removing heavy furniture from the room. This allows continuing with the usual routines without interrupting the daily activity of the family. In our case, we completed the installation with the closet and two beds inside the bedroom. We simply had to move the furniture through the room as we were completing the installation. It turned out to be a very simple process!