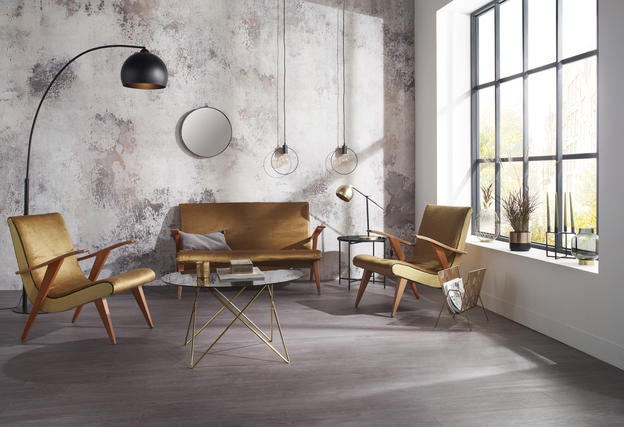 Authenticity and professional quality for your home
Click your home's new interior design into place
Remodelling your home is much easier than you think with our new luxury vinyl tile Starfloor Click 30 & 30 PLUS, 55 & 55 PLUS collections. Give your home a new refreshing interior design and even do it yourself thanks to our simple click system that makes installation so much easier. Our luxury vinyl tile Starfloor Click collections are also extremely durable and easy to maintain so you can enjoy your home's new style even longer.
New designs for authentic interiors
Luxury design tiles are the perfect choice to transform your home into a classic, contemporary or trendy interior. Choose from a large selection of wood, metallic, ceramic and stone designs in the Starfloor Click 30 collection to personalize your interior and enjoy true underfoot comfort. Looking for a natural style?
Starfloor Click 55  ranges offer a selection of soft colours and authentic-looking materials to create subtle and polished decoration. Choose from realistic looks such as wood, zinc and concrete to shape a room's ambiance, anywhere in the house. With the Starfloor Click 30 PLUS  and  55 PLUS collections, add another dimension to your decoration thanks to the embossed-in-register technique that amplifies the floor's texture and mimics real natural materials by reproducing wood or stone's natural characteristics. This technique creates a high level of realism because it matches the texture of the decor rather than just applying a generic wood or stone grain texture. The indented texture is synchronized with the decor. As light travels across your floor, the grain or pattern is reflected, thus reproducing a lifelike finish all around you.
For comfortable and healthy interiors
Not only are Luxury Vinyl Tiles a great choice aesthetically speaking, they are also very practical in terms of comfort and indoor air quality, therefore extremely people-friendly. What makes Luxury Vinyl tiles such a comfortable solution is that they have natural acoustic qualities. With an acoustic underlay, you can get additional sound absorption and keep noise to a minimum. The Starfloor Click 30, Starfloor Click 30 PLUS , Starfloor Click 55 & Starfloor Click 55 PLUS collections are also a healthy choice as the VOC levels are lower than current European standards, thus contributing to good indoor air quality and therefore well-being. The fact they are produced with no phthalates also contributes to making your home a healthy place to live. Luxury Vinyl Tiles are also environment-friendly as they are 100% recyclable. Choosing Starfloor Click collections for your home is a good way to make your home a healthy and beautiful living environment for you and your family.
Click your new interior design into place
Your home's new look can be achieved simply and swiftly thanks to Starfloor's easy click installation system. All of the planks or tiles have four-sided beveling which makes them even easier to install. This only requires a few tools and some time. Check out our installation videos ​​​​​​ for advice on how to install your new flooring. You can also complete the new look with matching skirtings.
Easy maintenance and long-term quality
Remodelling a room or an entire home requires a certain amount of effort and energy, even though the overall project is usually thrilling and gratifying when it is completed. Thanks to Starfloor Click's durability, you can enjoy your home's new style even longer. The Top Clean surface treatment protects it against scuffs, scratches and stains, thus making it highly durable and also easy to clean and maintain. Starfloor Click 30 comes with a 15-year warranty and Starfloor Click 55 with a 20-year warranty, due to the thickness of the wear layer (3mm and 5.5 mm).