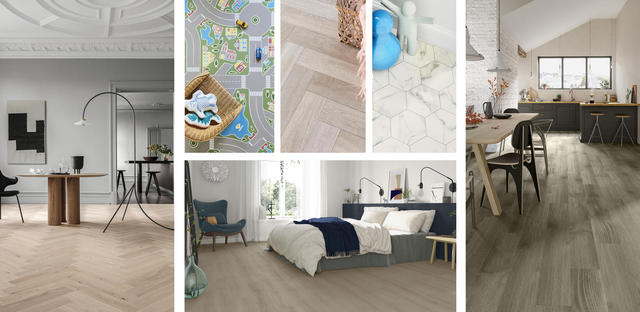 How can you choose the best flooring to put in your home?
Choosing the best flooring material for your home depends on several factors, and these factors vary depending on the room in question.

Each room in your home has its own set of requirements. For instance, kitchens and bathroom need floors that handle moisture well, while busy entrances and living rooms need floors that can handle high foot traffic. The presence of children and pets and even the amount of direct sunlight a room receives are also determining factors in flooring choices. And when you take all of these factors into consideration, you'll find that each type of flooring has benefits and drawbacks.
To help you determine which floor best fits your needs and budget, we have summarised some of the key benefits and drawbacks of different kinds of flooring.
What are the benefits of wood?

Wood flooring, whether solid or engineered, has many benefits. It's a natural material that is sustainably sourced and produced and it offers a timeless look that brings warmth and elegance to a home. It's warm underfoot making it comfortable to walk on, especially when compared to ceramic or porcelain tiles. And it's compatible with underfloor heating systems if extra warmth is required.
Wood is also incredibly durable, offering long lasting stability. The thick and solid construction of wooden planks means that they're easy to sand down and refinish when they start to show signs of wear. Wood floors can, therefore, last for up to 100 years, depending on their quality and how well they're maintained.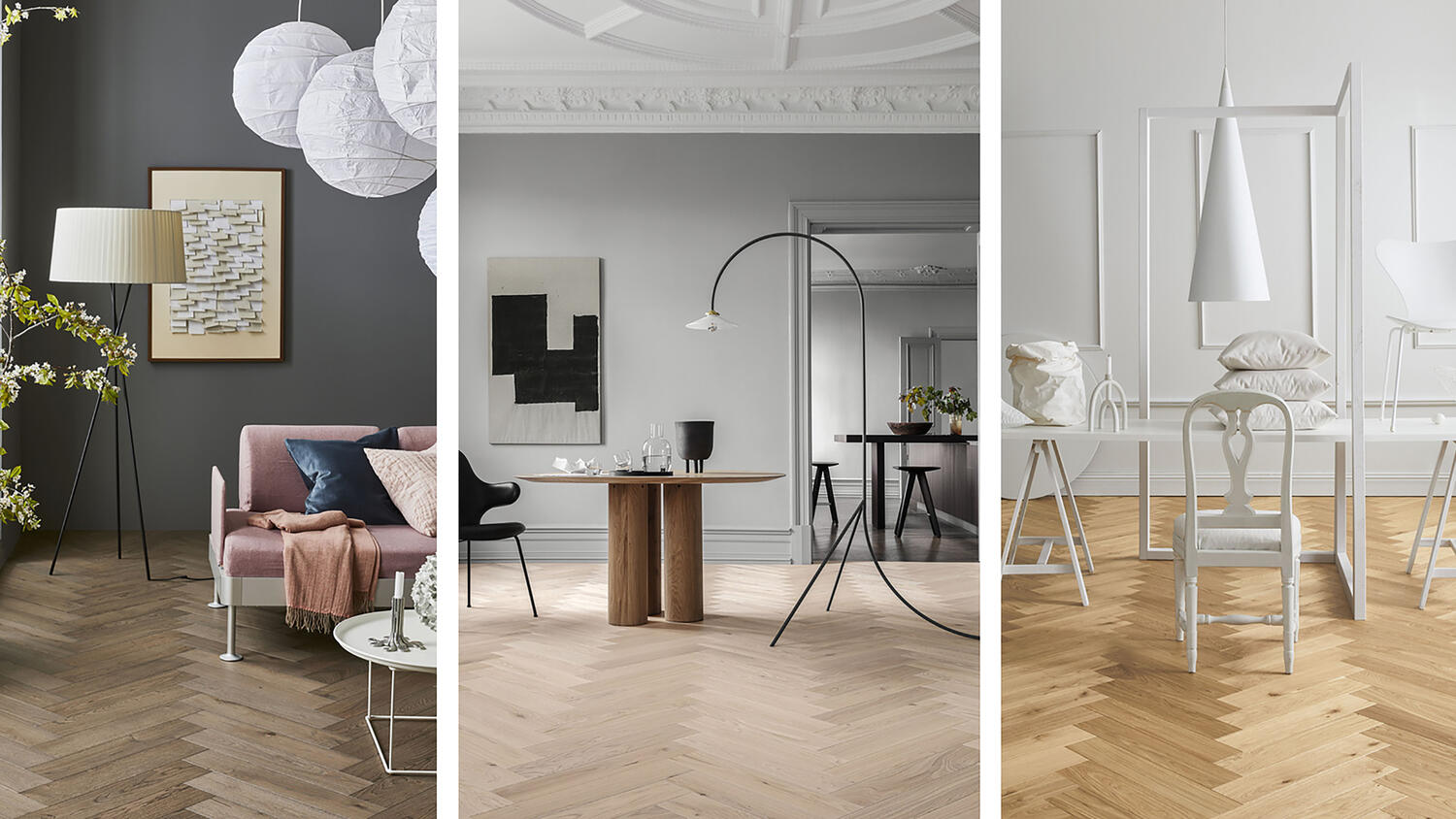 What are the drawbacks of wood?
One of the most significant drawbacks of wood flooring is the cost. And, it's not just the cost of the materials, but also the cost of installation. Hardwood flooring can be difficult to install yourself, and you'll most likely need the help of a professional. Engineered wood is not a cheap option, but it's more affordable than solid hardwood, and it's often easier to install yourself.
Another drawback of wood is its inability to deal with moisture. Because it's a natural product, wooden boards expand and contract as moisture and temperature levels rise and fall. This means wood can't be used in rooms where heat, steam and moisture are commonly present, such as bathrooms, and laundries. Engineered wood has been designed to better deal with moisture, and doesn't expand and contract to the same extent as solid wood. However, even though engineered wood is better than solid wood at dealing with changes in temperature, humidity and moisture, it's still not recommended for wet rooms such as the bathroom and laundry room.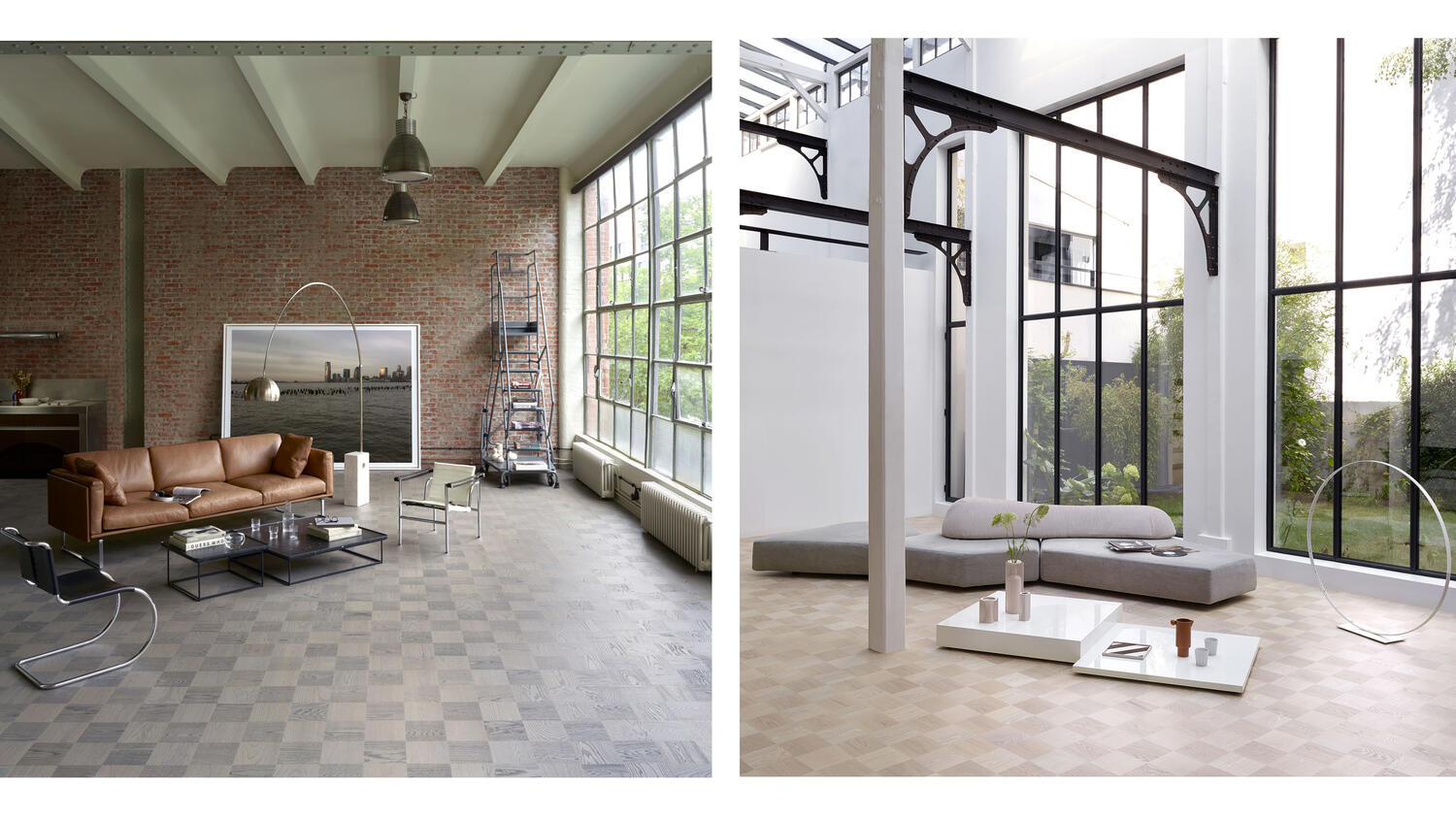 What are the benefits of vinyl?

The advantages of vinyl flooring vary significantly depending on the type and quality of the product you choose. However, vinyl flooring, in general, does offer some significant advantages. Vinyl is a highly durable material. It's resistant to damage and moisture, easy to install and maintain, comfortable and quiet underfoot, and available in an almost limitless range of colours and designs. It's also relatively affordable when compared to other flooring options. These qualities make vinyl flooring a popular choice with a range of consumers, but especially those looking for a range of design and style options so that they can fit exactly the design that fits their style, and those who want a floor that they can install themselves.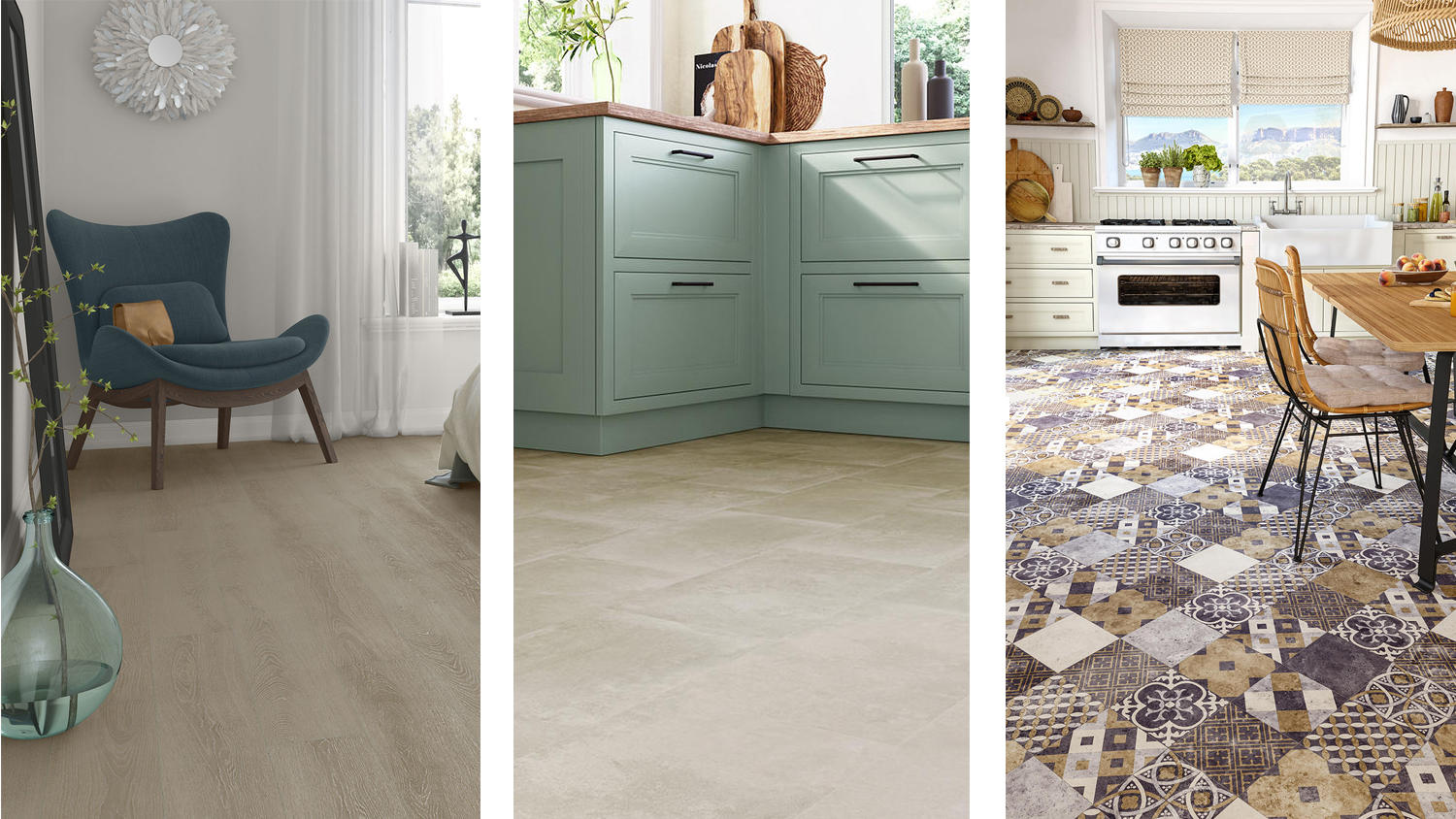 What are the drawbacks of vinyl?

On the downside, vinyl flooring can dent with heavy objects on top of it, and it can be punctured with very sharp objects. It's also difficult to remove if it's glued down. Another disadvantage is that vinyl flooring doesn't support very high temperatures and tends to fade with excessive UV exposure. Vinyl floors are therefore not recommended for outdoor use or in rooms with exposure to too much direct sunlight, such as verandas.
However, thanks to new technologies, vinyl has evolved significantly in both its design and construction. Today, some products can counter the disadvantages usually associated with vinyl flooring. For example, Tarkett's new generation of LVT – Starfloor Click Ultimate is made with an extra dense, rigid composite core that is more durable than ever. These floors look and feel like wood but with the durability to handle high traffic, spills in kitchens and bathrooms, temperature variations inside and outside the home, and the general wear and tear of busy family life.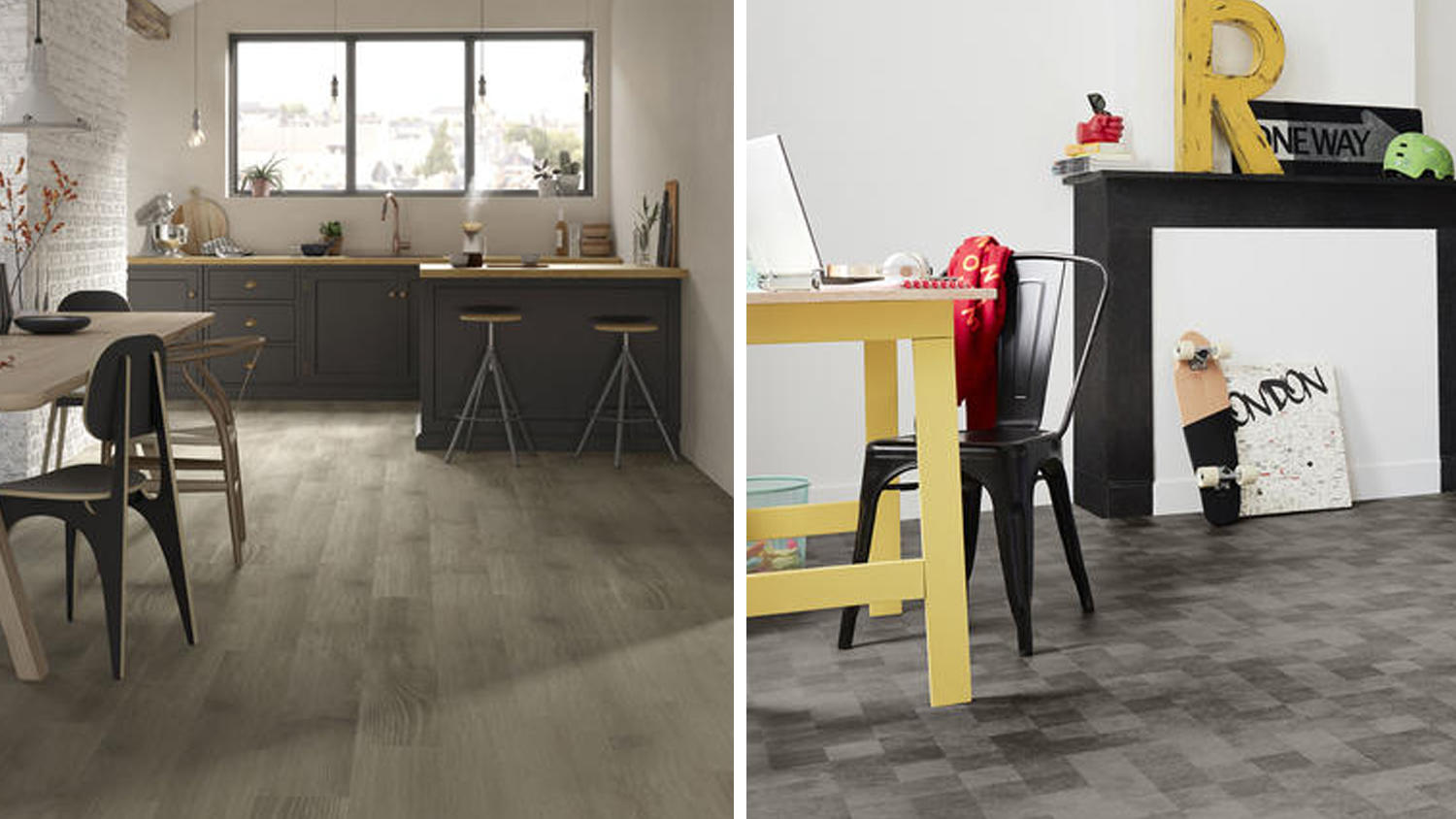 What are the benefits of laminate?
Laminate is cheaper than the alternative flooring options that it's often mimicking, including tiles and solid and engineered wood flooring. And thanks to high-definition printing technique, laminate floors can look almost exactly like real wood and tile, but at a fraction of the cost. They're also quick and easy to install yourself, which makes them even more affordable because you don't have to hire professionals. Depending on the size of the room, you can generally install a laminate floor in a day.

As well as cost, another advantage of laminate flooring is its durability. With an extra-strong wear layer, laminate floors are highly resistant to scuffs, scratches and stains. The top layer is also very smooth, which means that laminate floors are easy to wipe clean.

What are the drawbacks of laminate?
Depending on the quality, laminate flooring can look fake when compared to real wood flooring. It's also a lot thinner than wood, which means that once the top layer of the laminate is damaged or worn, it can't be sanded down and refinished like real wood flooring. Instead, the whole floor must be replaced. And there are several things that can prematurely wear down the top layer of your laminate floor including water spills that have been left to stand, extreme impacts, and improper cleaning and maintenance. As a result, laminate has a much shorter life expectancy than real wood floors – lasting on average between 10-20 years, depending on their quality and how well they've been maintained.

Another drawback of laminate floors is the potential for water to seep through the seams if they're not installed correctly. If this happens, water can infiltrate the lower layers causing it to swell up and ruin your floor.