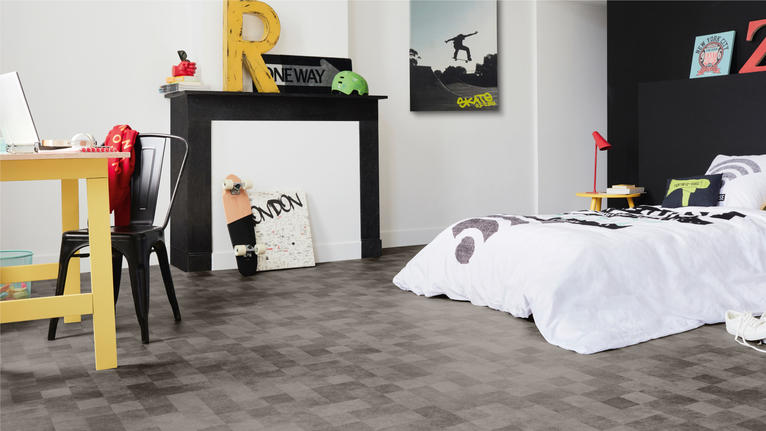 Changing a Child's Bedroom for a Teenager
Transforming a room suited to a child's tastes into one with a more assertive teenage style isn't necessarily difficult as long as the project stays affordable. The main goal here was to radically change the look of the space with only a slender budget.

Nowadays, teenagers need less and less storage as they get older. They usually keep their data and games on devices, like a computer or mobile phone, which gives you lots of flexibility when choosing the furniture. Pastel colours and beige carpet were fine for a child, but that carpet was looking a bit worn now, and the style badly needed updating to suit teenage tastes.
 
Moving towards a bolder teenage bedroom design
Teenagers love strong contrasts and colours, so black is a popular colour choice. But to make sure the room didn't become too dark, only the fireplace and a single wall were painted black. The rest was given a fresh, bright coat of white, including the old blackboard which was no longer used. For the bed, the parents chose an adult-sized mattress on a legless base, with a high headboard, black of course, making the bed much more imposing. The top of the headboard also makes a convenient shelf for posters and photos.
The room is brought to life by touches of bold primary colour, with yellows and reds in the furniture and accessories, bringing a welcome dose of cheerfulness to the bedroom. Some more childish elements like the old toy box were removed. Others, such as the desk chair and the wall poster were replaced with new, edgier alternatives.  
Choosing the best flooring for a teenage bedroom
Structuring elements like the flooring can easily transform a room. The right choice can produce stunning results, bringing the room's new look together perfectly! For this room, they chose Tarkett's "Concrete Grid Cold Dark Grey" vinyl roll, a soft, random-patterned flooring combining different shades of grey. This particular flooring comes in a wide variety of designs that are easy to associate with any colour or style.
It is also both durable and easy to clean, which is very convenient when the occupant is a dedicated skateboarder. A timeless yet unintrusive design, this floor won't need to be changed as the teenager's tastes mature even as decorations and furniture around it get replaced. A great choice to tie it all together in a way that makes sense!