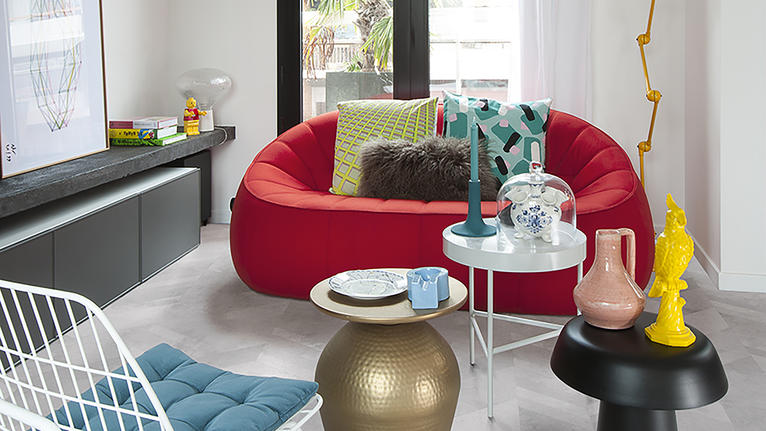 Creating an optimistic home décor style
Cheerful, positive, offbeat decor takes pride of place in your homes. Audacity and a sense of humour are used to create personal interiors bursting with imagination! This style helps you make your home an extension of you with a unique home decor.

You love to be bold with colour! The idea is to create movement and energy, so liven up your home with a colourful wall or floor. A can of paint can definitely change a room. You have a taste for original furniture, rounded or geometrical lines inspired by the 1960s and 70s and updated by contemporary pieces. You have the soul of a designer and an artist and your home is your playground.
Add colour to your everyday life
Choose a central piece of furniture in a colour that gives the room a burst of energy, on a plain floor with a tone-on-tone pattern. Place small, ultra-colourful decorative objects around to add touches of joy and energy to your living room. A surprising and colourful look with a vitamin-charged, design-forward style.
Express your mood and personality
When decorating, be true to yourself and go with the style you love most. Let your imagination run wild with a mix of fun retro objects and a mash-up of styles to create a pop, offbeat decor. Your kitchen looks like an art gallery thanks to arty dishes and childish knick-knacks. A fun way to bring positive vibes into the home!
Dare to do prints
Enliven your home with ultra-graphic prints! Playing on a mix & match of different patterns ensures a 100% personalized decor. Combine geometric patterns on a variety of scales: create a flow from tiny to oversized. Opt for a monochrome colour range boosted by fun, contrasting touches. A lacquered stool with curved lines becomes an original, designed bedside table. The 70s spirit at the height of the pop style gets a modern twist. You'll be happy to wake up in this colourful bedroom!