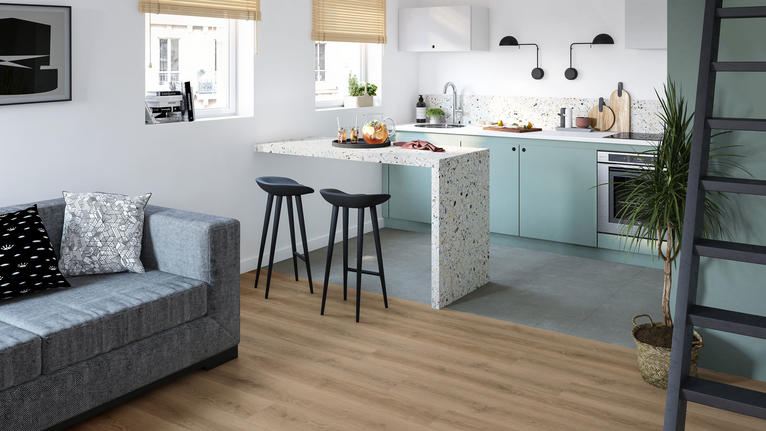 Design Ideas for Small Spaces
How do I make a small room look bigger?
Whether you're talking about a 20-meter square studio apartment, a tiny house, or a specific room in your home, by following a few basic design tips, you can make any
small space look bigger
.
• Colour
When thinking about making a small room bigger, the obvious place to start is with colour. The general rule is that light colours make a space feel bigger and dark colours make a space feel smaller. While this is generally the case, it does depend on how you use the colours. For example, dark wood floors can be offset with light coloured walls and furniture. This contrast between light and dark can work to add visual interest and depth to a space. Alternatively, you can combine lighter floors with light walls, and the low contrast can work to create the illusion of a continuous and expansive space.
• Go minimal
By virtue of its size, we're limited in how many furnishings and accessories we can incorporate into a small space. However, it's still easy to overcrowd a space with too much stuff. The best way to overcome this is to de-clutter and look for ways to store and organise things so they're out of sight. And while it's important to keep things to a minimum, it's also essential to go minimal in design and patterns.
When choosing flooring, for example, keep it as simple as possible. If you're using wood, choose wood species with consistent colouration and subtle graining and avoid overly busy markings and colour variation. This also applies to your choice of vinyl or laminate flooring. Wide planks are also recommended as they have fewer seams and are therefore less busy.
• Create the illusion of space
There are a few small tricks that can help create the illusion of space. Mirrors, placed in strategic locations, for example, can help to reflect natural light and brighten a space. With flooring, by placing planks parallel to the longest wall, you can visually lengthen the space. Another option is to lay your flooring diagonally across a room. This trick makes a space look bigger and applies to any flooring material, including hardwood, vinyl, tiles, and laminate.
Design and decor ideas for maximising a small space
In addition to the above-mentioned design tips for making a small room look bigger, here are a few tips to maximise the potential of a space.
• Use Vertical Space
Taking advantage of empty walls by hanging shelves and cupboards frees up floor space, which will make your space feel larger. Another clever, space-saving trick is to install wall lamps and sconces instead of table lamps or freestanding lamps in bedrooms, bathrooms, workspaces, hallways and living rooms.
• Add built-in shelving and storage
Built-in shelving can help you gain floor space while also providing a place to store and organise items. If you're working with a small bedroom, mirrored wardrobe doors work perfectly to open up the space. And in a small kitchen or living room, taking shelves all the way up to the ceiling can create the optical illusion of higher ceilings.