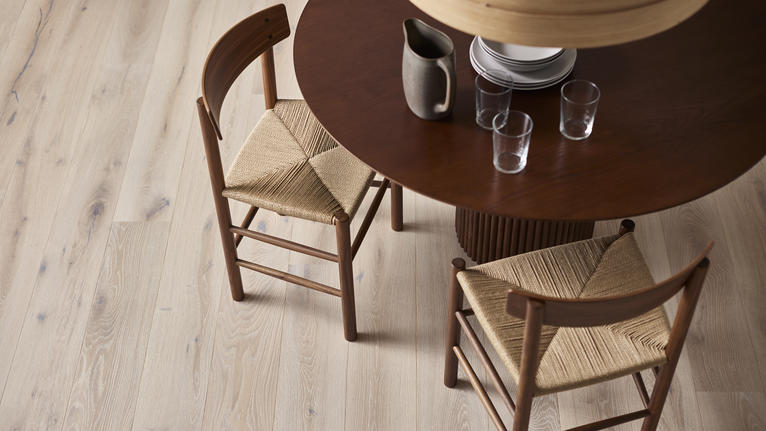 Everything you need to know about wood flooring
Everything you need to know about wood flooring
There's nothing quite like the beauty of a hardwood floor. Every shift in colour, every mark and grain has its own story. Our job is to gently transform them into a natural part of your interior, from bedroom to living room, kitchen to hallway. Offering both contemporary and traditional designs and a wide range of colour choices, finishes and unique features, we are confident that our beautifully crafted wood flooring will bring style and elegance to all your personal spaces.
However, with so many available options, choosing the best type of wood flooring for your space can feel overwhelming. Choosing a floor that could last as long as the building housing it takes some consideration. What does a wood floor mean to you? How do you want it to look? To simplify the decision-making process and to help you choose the best wood flooring option for different rooms in your home, we have compiled a comprehensive guide that details everything you need to know about wooden floors.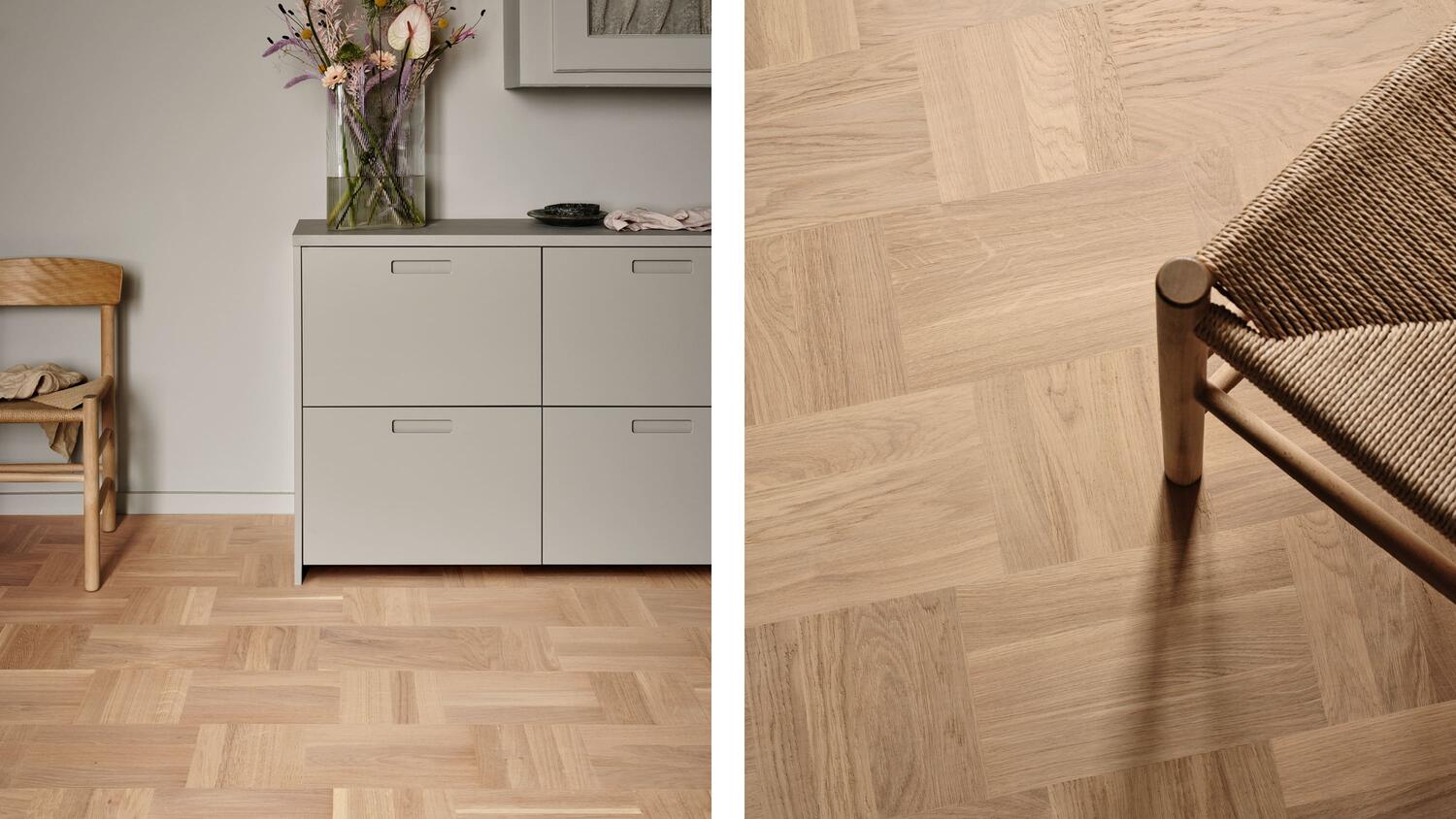 A new floor can both enhance your current look and create an unexpected contrast.
Lighter wood creates a sense of space and airiness, while darker tones gives your home a feeling of warmth and cosiness. Classic planks give a timeless look, while modern squares and colours create a contemporary and innovative feel. Think about how your parquet will work with your overall design scheme, with wall colours and furniture. Consider the atmosphere you want to create and how much light you have to work with.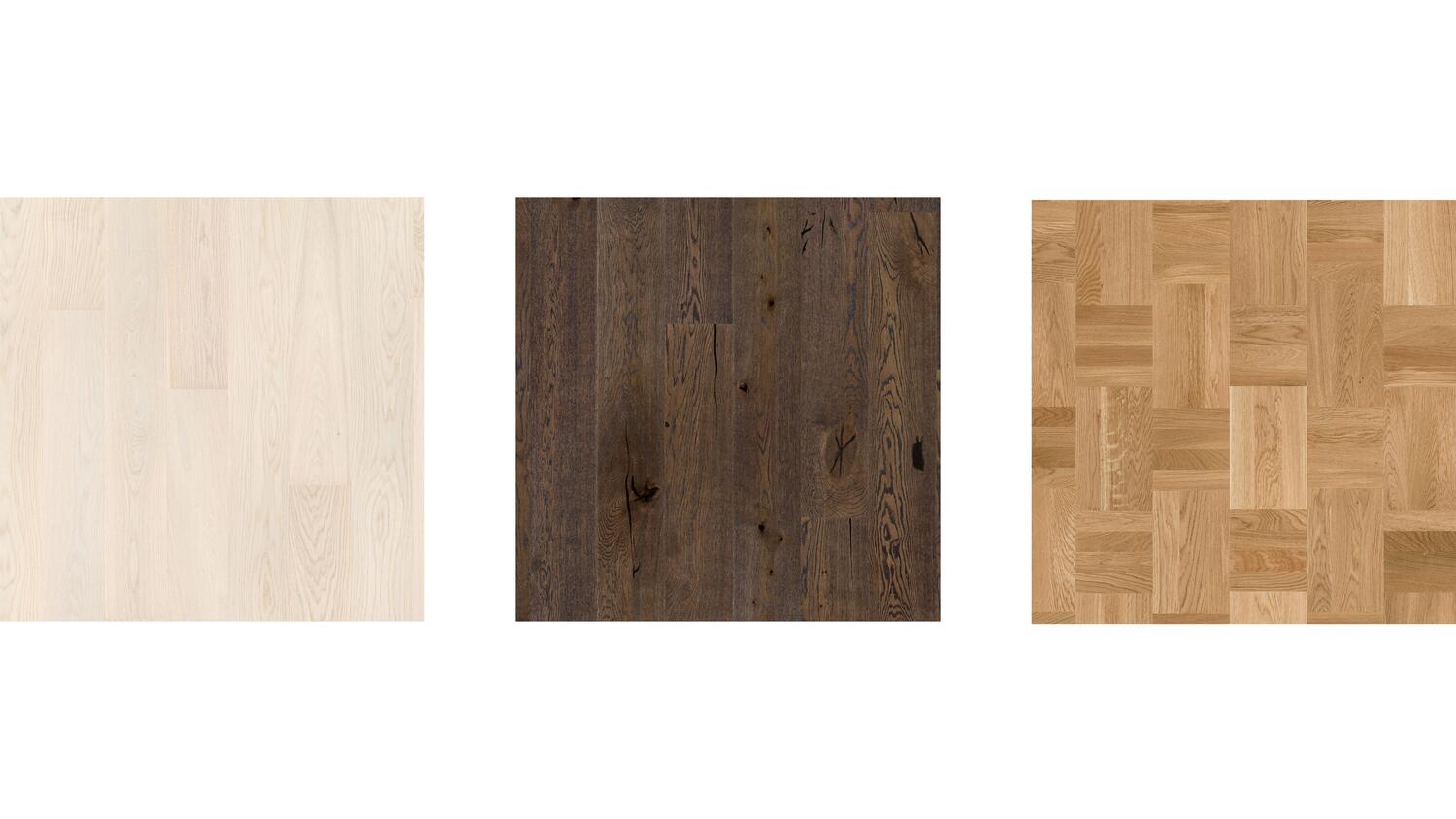 Each type of wood has its own unique characteristics, and the species you select will influence the overall look of your floor including its colour and grain pattern.
The slow growth in the Northern hemisphere lead to strong and stable trees. The material for our middle and bottom layers are therefore spruce and pine predominantly from Swedish and Finnish forests. The raw material for top layers is often European oak. We use the whole log, and the grain and pattern are what form the design, making for beautiful, distinctive floors that exude a natural warmth.
OAK Exceedingly strong, durable and very popular, oak comes in a number of natural patterns and hues. As it matures, its colour changes and becomes more golden.
ASH Strong and durable. The contrast between the dark heartwood and the light top layers gives a lively pattern with many nuances. Ash acquires a warm golden tone over time.
BEECH A species that ages with dignity. The beautiful grain and colour creates a floor with much elegance. Beech ranges in colour from red to golden hues.
BIRCH Softer than other wood species, pale and almost shimmering in colour. With time, birch turns darker, warmer and more golden. Not suitable for high-traffic areas.
WALNUT Beautiful grain and a warm, brown colour. Over time walnut becomes a bit lighter, but keeps its warm brown hue – which sometimes becomes almost reddish.
Wood is classified as either soft or hard depending on the structure and origin of the tree that produced it. The common method for measuring the hardness of different types of wood is known as the Brinell test. The Brinell test measures the hardness of a wood by pushing a small steel ball against the surface of the wood using a heavy load. Its Brinell number is then determined by the size of the indentation made. The higher the Brinell number, the harder and more resistant the wood. The numbers shown below are averages based on several tests. Viva has a high Brinell number due to its hard HDF core, which absorbs the force of the ball.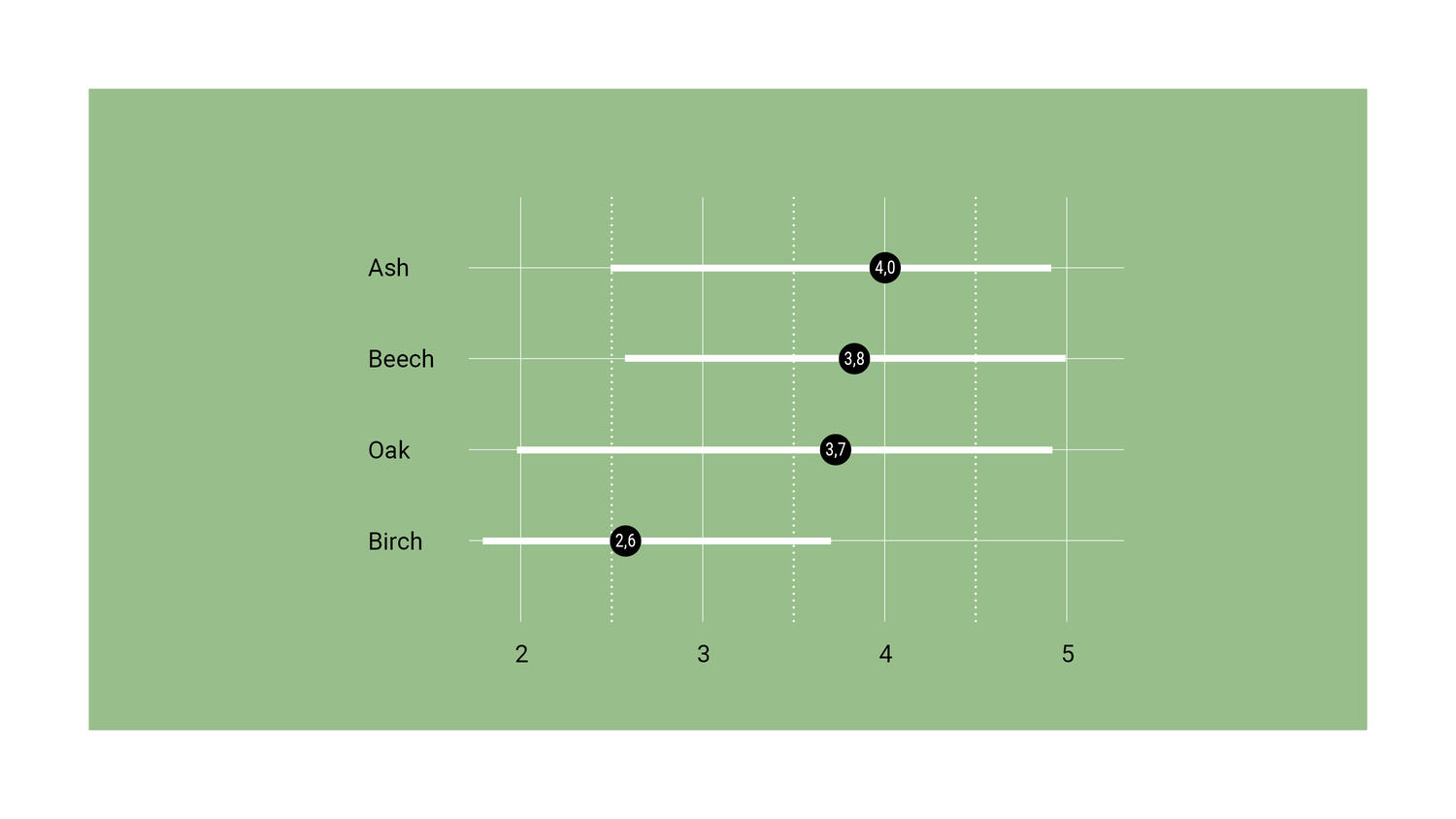 Calm, lively or expressive? There's a wooden floor for every home and look. Surface structure and colour variations can really change the look and feel of a room, so it's important to factor those into your decision. Different parts of the raw material give the floor its unique character, and we have divided them into three categories to help you find the right one.
CALM A quiet look with few knots and less variations in colour and structure, ideal for a minimalistic and contemporary interior.
LIVELY A larger variation in colour and structure with an increased number of distinct knots, this style brings a sense of warmth and comfort to the home, resulting in a classic, rustic look.
EXPRESSIVE An appearance full of character, with large knots, cracks, tiny holes and exciting variations in colour and structure. The perfect choice if you're going for a bold industrial or cottage feel.
It's nature's design – we just enhance what is already there.
Colour and character aren't the only elements to influence the look of your wooden floor. Various brushing techniques are a great way of enhancing wood's beautiful natural pattern.
BRUSHED A light finish that brings out the natural wood pattern and the visual effect in the wood.
ANTIQUE BRUSHED A finish that brings out the details in the wood structure, giving the floor a soft and natural feel.
DEEP BRUSHED A finish going slightly deeper, thus enhancing the rustic appearance.
Our collections come with four different kinds of bevels that, depending on how deep or wide it is, will add to your floor's character. Stick with a shallower micro or mini bevel for a smoother finished look or opt for a deeper maxi or handmade bevel for an artisanal vintage feel.
It's not the actual wood you are wearing down, but the surface protection.
Tarkett's Proteco consists of four different surface protections with a great resistance towards wear and stains. With a lacquered floor you'll get a strong and hardy surface, whilst keeping the natural wood feel. A hardwax oiled floor demands a little more in terms of maintenance, but lifts the natural properties of the wood.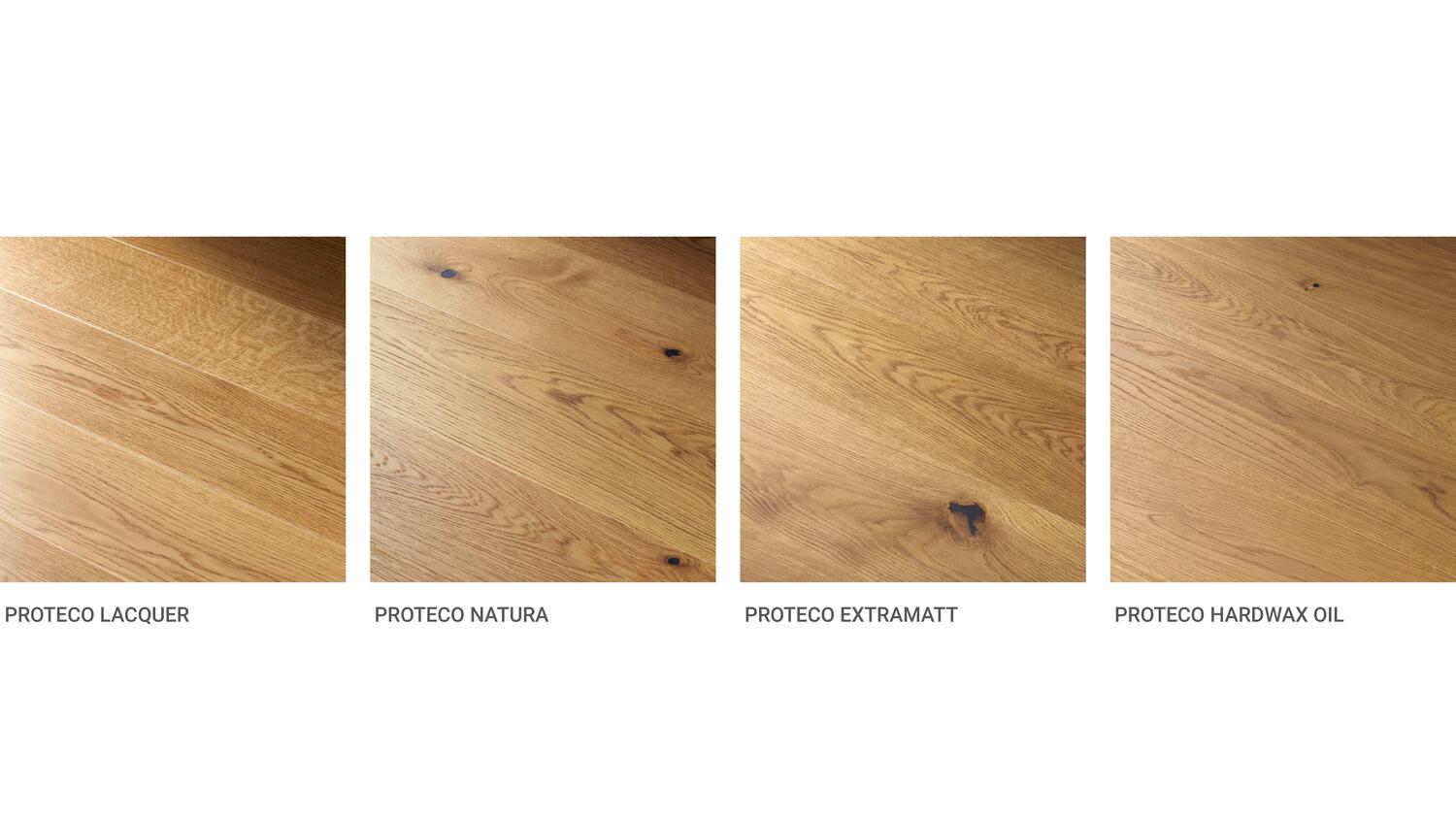 PROTECO LACQUER A semi-gloss lacquer that lasts long and add extra durability to your floors. Gives a traditional lacquered look and is the perfect choice for the active family needing a wooden floor that can more or less manage on its own.
PROTECO NATURA A matt option with high durability and effective protection. Comes in a number of colours that lifts and enhances the wood's natural abilities. Easy to care for, even if the matt surface demands a little more frequent maintenance than Proteco Lacquer.
PROTECO EXTRAMATT This protection will give you an extra matt, silky surface that imitates the feeling of an oiled or untreated floor, but with the durability of a lacquered floor. Needs minimal maintenance and is long-lasting. A perfect combination of natural appearance, heightened wood feel and effective protection.
PROTECO HARDWAX OIL Adds a soft and matt surface with a warm, natural feel. Increases the experience of authentic wooden floors and heightens the nuances of the wood. Hardwax oiled floors must be cared for regularly, but well taken care of, will age beautifully and naturally and last a very long time. The perfect choice when the wooden feel is what's most important.
Another great advantage of a Tarkett prefinished wooden floor is its thick wear layer, which means your parquet floor can be sanded and refinished several times – increasing the lifespan of your floor.
There is a wood floor for every room – here are some of our favourites:
The living room is often the largest room in a home, so don't be afraid to let the floor be the center of attention here. A 1-strip floor looks really good on larger surfaces, such as new and elegant Grace or classic Heritage. If you're looking for a bolder expression, try Noble or Segno.
When choosing your kitchen floor, look for a surface protection that is super resistant and easy to clean. A lacquered floor is perfect for all rooms with high-traffic areas, kitchens included. Here you might want to consider Shade or Grace.
Your bedroom should be a soothing oasis of calm. A brushed floor, such as Prestige or Pure, is naturally beautiful and lovely for bare feet to walk on.
Kids bedrooms are best off with a floor that's equipped to prevent indentations from dropped toys and high-spirited games. Our collection Viva is a hard veneer floor that will survive both sharp Lego and messy pirates.
A few tips to consider when choosing different woods throughout your home
The undertone, or the underlying hue of the wood, can be warm, cool or neutral. Wood is considered to have a warm undertone if it incorporates warmer colours such as red, orange or yellow as its base, and a cool undertone if it incorporates cooler colours such as blue or grey as its base. If the wood finish looks beige, it is considered to have a neutral undertone.
The best way to determine the undertone of wood is to compare your selected colour to other shades of the same colour. Brown is inherently a warm colour because its base is yellow/orange. However, if you place your shade of brown next to a grey or blue sample and the undertones seem to match, then it is likely to be a cool version of brown.
Once you determine the undertone you will be in a better position to mix and match wood flooring in different rooms of your home and with different pieces of wooden furniture and items such as frames and ornaments.
Think about wood grain pattern and sizes
If your wood tones are not similar, you can create continuity with similar wood grain patterns and sizes. The grain pattern refers to the stripes, swirls or flame-like shapes you see in the wood. The grain pattern size is the scale of those elements. The pattern and size of wood grain will impact the final look of your room as much as colour. Large wood grains create a more casual, rustic look, while fine wood grains are more formal.
Embrace a mix of new and old
If the furniture in your home has been collected over time, then the woods will almost definitely not match. This is not a bad thing, and in many cases it provides scope to mix and match a variety of finishes to create interesting contrasts and looks. Depending on your pieces and how you style them, the result can be modern, rustic, or a balanced combination of the two.
Incorporate textiles
If you find the contrast of your wood tones too strong, for example, you have a light wooden table on top of dark wooden floors, a rug can serve as a buffer and create a more natural transition between the two.
Rugs, wall hangings and other textiles are great ways to break up a visual plane and make the difference in wood tones less jarring.
Swedish craftmanship since 1886
We come from one of the world's most well-forested countries. Maybe that's why we feel so strongly about wood.
That the story of Tarkett should have its roots in a land rich in forests is not so strange. Our passion for wood and the skills of transforming it to meet basic human needs have been passed from generation to generation. At Tarkett we know that the dense Nordic forests hold both our history and our future.
Since 1886 we have produced beautiful, functional and sustainable wood floors. What started as a small carpentry shop in Malmö, Sweden, is today a major flooring group with manufacturing sites spread around the world. Production has been transformed by modern means, but the heritage from the 19th century remains – in the craftsmanship, knowledge and care for the raw material. We still work to enhance the unique character of every plank. And we are proud to continue this tradition in a sustainable way 130 years later.
Health & wellbeing
Our authentic wooden floors are designed by nature, we just lend a helping hand by shaping them into beautiful, durable and long-lasting floors for your home. We want our floors to contribute to creating good indoor air quality resulting in healthier people-friendly spaces.
 
Easy to clean
Our wood floors are designed to be easily cared for by you with gentle and dry cleaning methods.
Good materials
Tarkett's wood flooring is made from up to 97% real wood, one of the worlds most renewable raw materials. This means that a vast majority of our wood raw material is recreated by nature, as long as it comes from well-maintained forests which are managed responsibly.
Renewable and climate friendly
Trees contribute to an extended carbon storage effect and when wood raw material is used in longlasting products it extends the effect even further. The carbon storage effect in the wood raw materials is often far greater than the emissions from forestry, transport and manufacturing of the Tarkett wood floors, making the net emissions negative in this part of the chain – giving wood floors unbeatably low emissions of greenhouse gases.
Long term sustainability
The wood raw material comes from forests located close to our factories in Europe. A vast majority of our wood raw material comes from well-maintained forests in Sweden and Finland where growth exceeds logging. We work with European organisations that promote sustainable forestry and biodiversity and primarily partner with suppliers that are already certified. Our ambition is for all our products to be FSC® (FSC® C008972) or PEFC (05-35-125) certified or produced from recycled wood by 2030.
Assessed and approved
Our collections Grace and the hardwax oiled floors in Prestige, Heritage and Noble are certified in accordance with Nordic Swan Ecolabel and this is a goal for all our collections by 2025. Our products are also rated in several green building assessment systems, and the majority are cerified by Cradle to Cradle®.
Climate & circular economy
Tarkett parquet flooring is long-lasting and made to be re-sanded and re-lacquered or re-oiled. This largely contributes to a sustainable use of our natural resources, and is one of the fundamental elements of a circular economy.