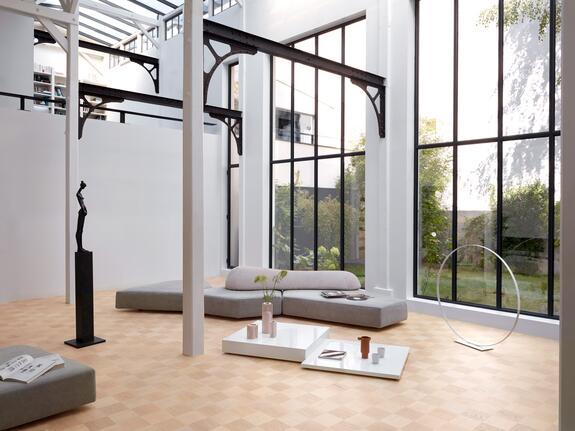 Everything you need to know about wood flooring
There's nothing quite like the beauty of a hardwood floor. Its grain and texture bring a natural warmth to any interior, from bedroom to living room, kitchen to hallway. Offering both contemporary and traditional designs and a wide range of colour choices, finishes and unique features, we are confident that our beautifully crafted wood flooring will bring style and elegance to all of your personal spaces.




However, with so many available options, choosing the best type of wood flooring for your space can feel overwhelming. To simplify the decision-making process and to help you choose the best wood flooring option for different rooms in your home, we have compiled a comprehensive guide that details everything you need to know about wooden floors.

Here you will find information about different types of wood flooring, the various wood species and their characteristics, and the range of features and finish options available, and the difference between engineered wood and laminate flooring. We also provide advice on wood flooring installation, maintenance, design and colour, as well as advice on where to lay wood floors (for example, are wood floors suited for a bathroom?).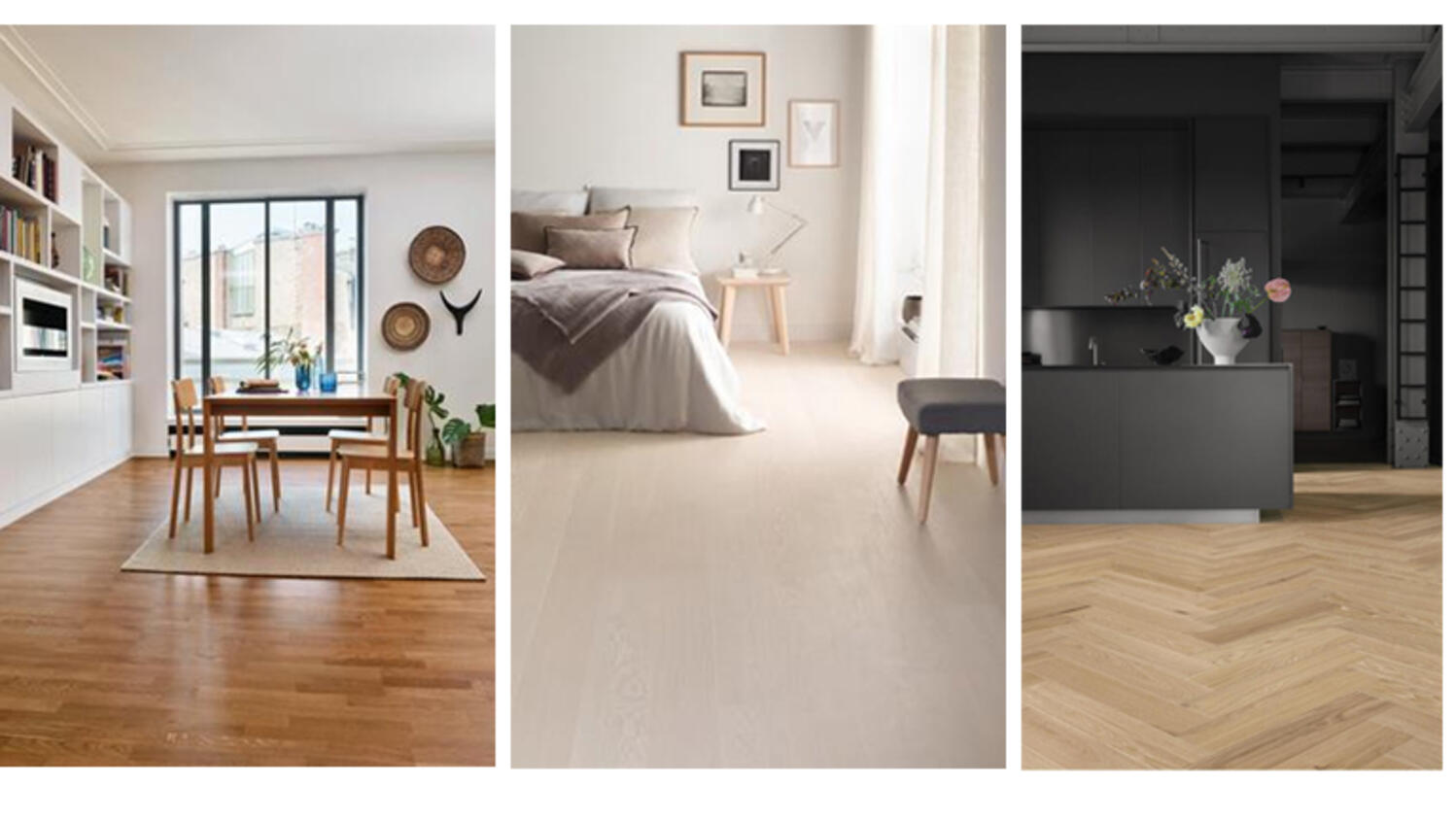 Each type of wood has its own unique characteristics, and the species you select will influence the overall look of your floor including its colour and grain pattern. Here's a list of our most popular options.
Oak – Oak is highly valued and widely used for interior decoration due to its performance. The structure of oak is well recognised as both modern and traditional. A host of different patterns are possible, with designs ranging from calm to expressive. Lighter sapwood and knots enrich its different nuances from natural brown hues to carefully stained shades of the flooring. Oak matures and gets more golden over time.
Ash –

Thanks to its toughness and resilience, Ash is ideal for high strength applications. A strong contrast between dark heartwood and light sapwood often results in a lively pattern with rich variety of shades. Ash is relatively hard and it acquires a warm golden tone over time.
Walnut –Walnut has excellent wood working properties thanks to its softer characteristics. Its colour varies from light brown to a warm, dark-chocolate tone, with sapwood in creamy white. Walnut brings a strong character to the floor. Walnut has a hardness rating of 3.2 and its brown hue can become reddish over time.
Maple – As one of the hardest light wood species, it is highly resistant to wear. Maple has calm and even shades. Its grain is straight with fine, even texture completed by curly growth rings. Maple is relatively hard and when exposed to sunlight it turns darker and golden.
Beech – Beech is hard and durable. Due to its cell structure, movements in beech are stronger than in most other wood species. Uniform appearance and elegant warm yellow nuances are characteristic for beech. Its colour will change from red to golden tones over time.
Birch – This Scandinavian wood is very light and has a calm tone with deep reflective lustre. It's slightly soft and is not recommended for busy areas. Variations in grain are barely visible. Birch turns a darker and more golden colour over time.
Wood flooring designs and colours
Wood is a living material and no two wooden floors are alike. Different parts of the tree will give the floor its unique character, which can be calm, lively or expressive.

In addition to the wood species, many other factors affect floor colour, such as knots and the presence of sapwood. Allowing you to better visualise the finished product, our 2020 Grading Book presents close-ups of a variety of different wood floor renderings. Each with a unique character, we have used many types of surface effects and treatments to create a wide range of styles to match every taste and lifestyle.

Surface effects refer to techniques used, such as brushing or adding saw or indentation marks, to add character and contrast to your wood flooring. For instance, different brushing methods give the wood's pattern greater emphasis, further enhancing the beautiful, natural structure of the wood. Whilst adding saw or indentation marks lends the floor a more vintage look and feel. Here's a list of some of the most popular surface effects.
Brushed- slight brushing to polish the wood pattern and bring out the contrast between the fibres, without going too deep.
Deep brushed – semi-structural brushing that enhances the rustic aspect.
Antique brushed – structural brushing to achieve a relatively deep yet smooth surface, playing with the density of the timber and highlighting every natural detail.
Partial saw marks – a fully random effect where the depth and position of saw marks vary to create a very natural end result. The marks cover mainly the edges of the longer sides.
Full saw marks – rustic, recycled design, thanks to sawing effects covering the entire width of the board.
Indentation marks  – camouflage effect ideal for absorbing wear and tear, as dents - a part of a floor's natural finish - will be highlighted.
Hardwax oiled flooring versus lacquered flooring
The two most popular wood flooring finishes are lacquered or oiled – both of which are incredibly durable and achieve long-lasting results. In general, lacquered floors tend to have a have a smoother, shinier look and feel, whilst oiled floors tend to have a more natural and matte look and feel. Most of our wooden floors are treated with Proteco, one of the strongest surface protections on the market. Proteco makes the floor strong while retaining the genuine wood feel and comes in three varieties, each providing a different finish ranging from semi-gloss to matte.

Proteco Lacquer is a semi-gloss lacquer is applied in six layers to make the floor extra hard-wearing.
 
Proteco Natura is a matte lacquer, which is just as hard-wearing and gives equally effective protection. It will retain the natural colour and feel of the wood, just like an oiled floor. It will require a little more care, as a matte surface always attracts more dirt than a semi-gloss lacquer.
 
Proteco Hardwax Oil provides a silky matte surface, reinforcing the feeling of the wood. The oil penetrates into the wood while the hardwax remains on the surface and provides extra wear protection. Like all other oiled wooden floors, it must be 'maintenance-oiled' every two or three years. It also requires somewhat more care than a lacquered floor.

Another great advantage of a Tarkett prefinished wooden floor is its thick wear layer, which means your floor can be sanded and refinished several times – increasing the lifespan of your floor.
Hardwood versus Softwood
Wood is classified as either soft or hard depending on the structure and origin of the tree that produced it.
 
How is the hardness of wood measured?

The common method for measuring the hardness of different types of wood is known as the Brinell test. The higher the Brinell number, the harder and more resistant the wood is to indentation. The Brinell numbers quoted in the Tarkett collections are average scores achieved over several tests. Viva, for example, has a high Brinell number of 6 (on a scale of 1-7), because the hard core of HDF absorbs the force of the Brinell ball.

Hardwood flooring characteristics
• Durable and long-lasting
• Easy to care for
• Doesn't scratch easily

Tarkett specialises in hardwood flooring. A majority of our softwood is carefully selected from sustainable forests in Sweden and Finland. . Sparse planting and slow growth in the northern hemisphere lead to strong and stable trees. We use the whole log, letting its grain and pattern form the design for beautiful, distinctive floors with natural warmth. Our wood flooring collections offer oak, ash, walnut, birch, beech and maple options.
Maintaining your wood flooring
A different maintenance and cleaning routine will be required depending on whether you have a lacquered or a hardwax oiled wooden floor. Our detailed maintenance guide provides advice on how to maintain and clean your floors and on the best products to use to maintain the lustre of your natural wooden flooring for a long time.
Installing your wood flooring
Depending on the Tarkett product you choose and the type of subfloor you have, installing wood flooring can range from a simple DIY project to a much more complex project requiring the assistance of a professional.

Tarkett wood floors come in three types of locking system – 2-Lock, Ultraloc and Tongue and Groove. These systems lock the planks closely together so that they fit perfectly without gaps or uneven edges. They are also very quick and easy to use – in particular 2-Lock which makes it simpler than ever to lay wooden floors.
Can you use different wood flooring in different rooms?
The versatility of wood means that not only can you use different wood flooring in different rooms of your home, but you can also mix and match different woods in the same room.

The key is to create continuity. By paying attention to details such as undertones, finish, and wood grain, and by understanding some basic design concepts, it becomes easier to mix and match wood confidently.


A few tips to consider when using different woods throughout your home
 
1. Select common undertones

The undertone, or the underlying hue of the wood, can be warm, cool or neutral. Wood is considered to have a warm undertone if it incorporates warmer colours such as red, orange or yellow as its base, and a cool undertone if it incorporates cooler colours such as blue or grey as its base. If the wood finish looks beige, it is considered to have a neutral undertone.
The best way to determine the undertone of wood is to compare your selected colour to other shades of the same colour. Brown is inherently a warm colour because its base is yellow/orange. However, if you place your shade of brown next to a grey or blue sample and the undertones seem to match, then it is likely to be a cool version of brown.

Once you determine the undertone you will be in a better position to mix and match wood flooring in different rooms of your home and with different pieces of wooden furniture and items such as frames and ornaments.
2. Think about wood grain pattern and sizes

If your wood tones are not similar, you can create continuity with similar wood grain patterns and sizes. The grain pattern refers to the stripes, swirls or flame-like shapes you see in the wood. The grain pattern size is the scale of those elements. The pattern and size of wood grain will impact the final look of your room as much as colour. Large wood grains create a more casual, rustic look, while fine wood grains are more formal.

3. Embrace a mix of new and old

If the furniture in your home has been collected over time, then the woods will almost definitely not match. This is not a bad thing, and in many cases it provides scope to mix and match a variety of finishes to create interesting contrasts and looks. Depending on your pieces and how you style them, the result can be modern, rustic, or a balanced combination of the two.

4. Incorporate textiles

If you find the contrast of your wood tones too stark, for example, you have a light wooden table on top of dark wooden floors, a rug can serve as a buffer and create a more natural transition between the two.

Rugs, wall hangings and other textiles are great ways to break up a visual plane and make the difference in wood tones less jarring.
A history of expertise and craftsmanship dating back to the 1880s
Tarkett's expertise in parquet flooring began in the late 1880s with a small carpentry workshop in Malmö, Sweden that created parquet planks from local oak and beech trees. Soon this thriving company introduced innovations like the Linderman board - a way of joining parquet strips together to make them easier to install, and multi-layer parquet that revolutionised the industry by counteracting the natural movement of wood due to humidity. It's a technique that still forms the basis for the European standard for parquet flooring.

This wood expertise helped drive expansion beyond Sweden and the small carpentry workshop has today become a major flooring group with customers in over 100 countries worldwide. And while production has been transformed by modern means, Tarkett's fundamental commitment to quality craftsmanship remains. This can be seen in our beautifully crafted and naturally stylish range of floors that are durable, recyclable and easy to install. Whether you want the purity of soft and welcoming shades, vintage character or a bold, design-led look, our collection has a wood floor to enhance your home.
A commitment to sustainability
The majority of our wood is carefully selected from sustainable forests in Sweden and Finland. Sparse planting and slow growth in the northern hemisphere lead to strong and stable trees. We use the whole log, letting its grain and pattern form the design for beautiful, distinctive floors with natural warmth. Tarkett has produced wooden floors since 1886. As one of the world´s largest flooring manufacturers, we have a responsibility to ensure that our operations are driven with a focus on long-term sustainability. We want to good. Fulfilling a need for wooden floors that are beautiful to look at but also have a positive impact on people and the planet. We believe in close collaborations, encouraging our customers and all of our stakeholders to join us in working toward positive change - together. When it comes to sustainability at Tarkett, our motto is, 'Doing Good. Together.'