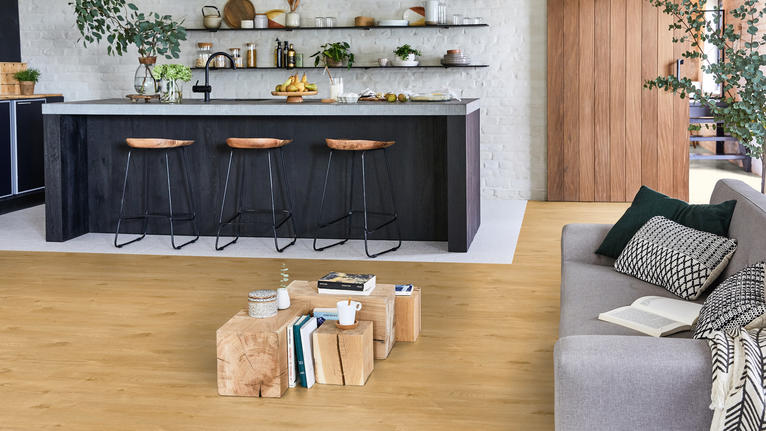 Finding the best Luxury Vinyl Tile for your home
With the development of home office, most people spend a lot of their time indoors. As a result, they are more concerned with what their home looks like and how they feel when inside it. This is why, our LVT flooring is exactly what you are looking for.

LVT is a multi-layered, resilient and waterproof vinyl flooring. It is a durable, easy to clean and easy to install flooring option that comes in a wide choice of designs. Whether you choose vinyl planks or tiles to create a classic or a stylish look, your home will have a whole new ambiance. We offer several collections that can match any design taste and budget.

Two of these collections – Starfloor Click Solid 55 and Starfloor Click Ultimate 55 — have been modernized with new color-coordinated designs. Starfloor Click Solid 55 is now more rigid, granting extra stability, allowing for installation over ceramic tiles with tight joints. This range now resists to higher temperature oscillations (up to 45°C) thanks to our Fibertech technology that provides good dimensional stability.
Let's take a closer look at what makes this offer unique.
Starfloor Click collections
Healthier spaces for more indoor time
Our pledge is to stand with present and future generations, to create floorings that are good for people and the planet.
• Healthier indoor-air quality thanks to low or ultra low Volatile Organic Compound (VOC) emissions
• Good materials for your peace of mind thanks to our phthalate-free products

Easy Installation
Installing a vinyl plank flooring has never been so fast and easy.
• Renovate your entire home or just one room, with all the furniture still in place
• Install the flooring directly on your existing subfloor
Wide range of stylish designs
Our range can help you create a space that suits your lifestyle and that evokes a feeling of well-being.
• Select different colours and patterns, from a grey vinyl flooring to a realistic wood
• Combine different textures to create the level of authenticity you prefer

Flexible and modular spaces
We offer designs that can be easily mixed and matched, within the same collection, so that you can create closed zones in open spaces or connect decors between rooms. • Transform the living room into a home office or a bedroom into a classroom
• Each family member can enjoy his or her own personal space
Easy to clean and maintain
Our vinyl flooring needs little time and attention to stay clean, thanks to our PUR special surface treatment.
• Resistant to scratches or stains
• Little water for cleaning 
Here is a more detailed description of our latest collections that we think you will enjoy.
Starfloor Click Solid 55/55Plus
Discover this new resistant, modern and modular collection. It is the perfect balance between a pretty and practical flooring. Some of its new and highly realistic designs were created by using a special digital printing technology that mimics raw materials and recreates an extremely authentic look and feel.
The collection is made to resist stains from food, scuff marks, heel dents, pets' muddy paws, temperature oscillations (up to 45°) and other such incidents of daily life. Its installation system is the ideal solution for a quick renovation. And of course, we do our best to create floor coverings that contribute to your well-being and a healthier indoor space.
Stylish Designs
• Seven new designs that mimic wood, marble and terrazzo, within a collection of 14 designs (30 different colors in total)
• Embossing-in-register technology that recreates the material's organic feel
• Digital printing that allows little décor repetition

High resistance
• Extra stability thanks to a new semi-rigid product
• Stain resistant

Easy installation
• Push down click system
• Quick renovation - only a few tools required

Environmentally friendly
• Made in Europe (reduced carbon emissions and transportation footprint)
• Healthier indoor-air quality, with ultra low Volatile Organic Compound (VOC) emissions
Starfloor Click Ultimate 55
Take a look at this collection, which is perfect for family life. It is the ultimate, all-proof flooring for all circumstances. The new colours and designs are drawn from real parquet and mineral floors, and they capture the textures of the materials that inspired them. It is a stable and strong flooring, so it can easily handle life's daily events, wherever they occur—bedrooms, bathrooms, living rooms. Lastly, its soundproof qualities reduce the sound of footsteps, so as your family walks around without making a sound, you can better concentrate when you work from home.
Ultimate design
• Six new wood colours, color-coordinated with Starfloor Click Solid 55
• Unique surface grain-effect

Ultimate resistance
• Rigid-Core Construction (RCC) technology, prevents rippling or swelling over time, allowing the flooring to keep its original shape and size despite drastic changes in temperature (from 10°C to 60°C)

Ultimate installation
• Installation over ceramic tiles is possible with joints up to 8mm wide
• Simple click system

Ultimate acoustics
• Innovative and integrated acoustic backing
• 19dB acoustic insulation