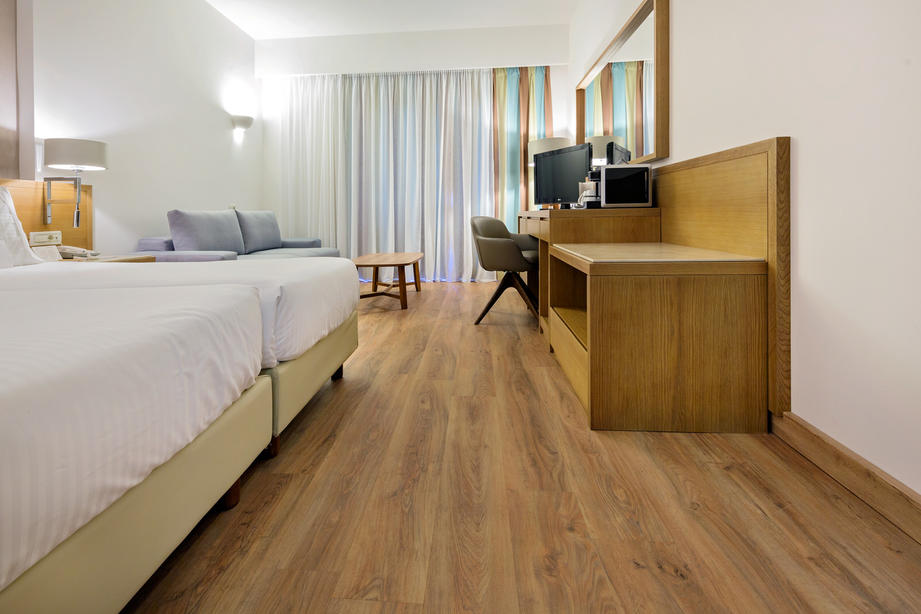 Hotel Minoa Palace
2019 | CHANIA, Greece
Tarkett was selected for its luxury vinyl tiles collection, Starfloor Click 55, for the renovation project of the rooms of Minoa Palace Resort & Spa, a five star hotel situated in the area of Platanias, Chania in the island of Crete.
Built within a 35,000-m² area of landscaped gardens, in Platanias, the beachfront Minoa Palace Resort & Spa features 4 pools and a wellness centre. It offers a variety of dining options and elegant accommodation with free Internet access.
The English Oak Natural design with 4 side bevel from Starfloor Click 55 was selected from the end-user to bring elegance, a sense of luxury and high durability as well as other benefits such as:
Design and quality upgrade with a sense of luxury in the rooms
Fast renovation time
Easy cleaning & maintenance
Easy and fast replacement in case of damage
The project was completed successfully, in a very fast period of time and with very limited preparation of the underfloor, thus decreasing business downtime and revenue for Minoa Palace Resort & Spa.
About
Tarkett was selected for its luxury vinyl tiles collection, Starfloor Click 55, for the renovation project of the rooms of Minoa Palace Resort & Spa