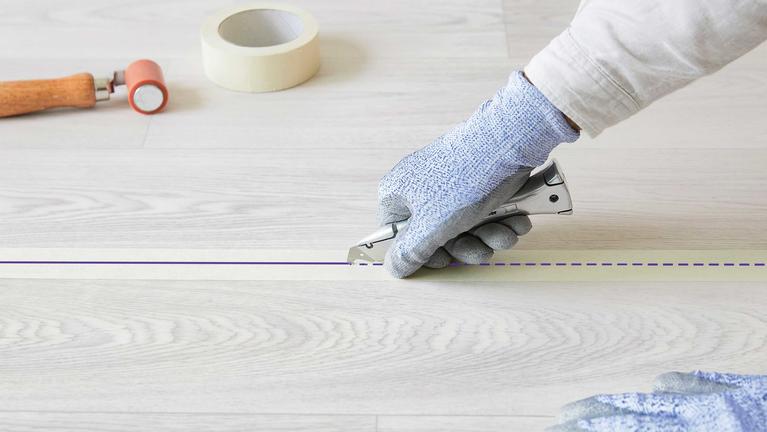 How to install your vinyl flooring
Vinyl is one of the easiest floors to install. However, how you install your floor will depend on the vinyl product you choose and on the manufacturer's installation instructions.

However, regardless of the type of vinyl floor you choose, you still need to undertake a few preliminary steps to ensure you install your floor properly. To get started, you need to do the following:
• In most cases, you need to remove the existing floor covering. However, there are a few exceptions. Rigid LVT, for instance, can be installed directly over tiles and most existing subfloors. Vinyl roll can be laid over linoleum coverings, but the floor must be in good condition, without any cracks, and cleaned beforehand. It's not recommended to install vinyl roll or LVT on carpet or very flexible plastic coverings with textile or foam backing such as old vinyl floors. It's also not recommended to install vinyl roll on tile due to the telegraphing effect where the joints of the tiling become visible on the surface of the vinyl roll. If you are installing on tiles, you need to use a levelling compound to ensure the floor is level and flat.
• Ensure the subfloor is dry, clean and flat.
• Remove your vinyl floor from its packaging and keep it in the room where it is to be installed for at least 24 hours so that it can adjust to the room temperature.
How do you install LVT?
There are several ways to install LVT, however, one of the quickest and easiest ways is by using the click system.

Starfloor Click products are designed with click installation, which allows for two simple and versatile installation methods:
• Angling – This method is used for our Starfloor Click 30 collection. It allows for angle-locking installation, where planks or tiles are installed on an angle along both their short and long ends
• Push-down – This method is used with our Starfloor Click 55 and Starfloor Click Ultimate collections and involves using a rubber hammer on the short side to tap the vinyl tiles or planks down.
Thanks to click system technology, installing your LVT flooring is effortless and fast. Also, since LVT is an easy modular system, there's no need to move all the furniture out of the room during installation. You can simply install your vinyl floor step by step by repositioning your furniture around the room as you go.
 
How to install Starfloor Click 55
How to install Starfloor Click Ultimate Rigid LVT
How to lay ICONIK vinyl rolls?
How to install vinyl rolls in a room
How to install vinyl rolls around pipes and toilet
How do you install Vinyl Roll?
Loose-lay installation is recommended for all ICONIK vinyl rolls up to 50 m². For a surface area of 50 m² or more, a glue-down installation is required.
There are two main ways to install Tarkett vinyl roll. The type of installation method you use depends on the size of the room.
• < 50 m² : loose lay – simply lay your vinyl floor on top of the subfloor. You then need to unroll and cut the floor to size. If there are some joints, add double sided tape under joints. You can also use double-sided duct tape around the room to secure the flooring for medium areas.
• ≥ 50 m² : glued – using a water-based spray adhesive, such as Tarkospray, Tarkett's easy and eco-friendly solution.
Our ICONIK foam backing does not require any glue on surface areas of 50 m2 or less. Therefore, it can be collected by installers and recycled through our ReStart® Ready program*.
*Terms of registration may vary per country. Contact your local Tarkett sales offices to find out how to register for ReStart® in your country.
Here are the different steps to install a vinyl roll if you have a large room:

Tools needed :
- Gloves - Measuring tape
- Pencil - PVC Cold-Welding
- Double sided-tape - Masking tape
- Knive with curved blade - Knive with straight blade
- Roller
- Steel ruler


1. After 24h of acclimation , cut sheets with 5cm margins and let them 24h for relaxation
2. Plan a precise layout to achieve a balance appearance of the floor
3. Depending of the size of the room and the width of your flooring, a multiple-sheets installation may be required. Then a cold welding may be needed for the seam sealing.
4. Draw the reference line (junction of the sheets)
5. Place double-sided tape on the outskirt
6. Place the sheet along the reference line
7. Overlap the sheets and align the joints
8. Trim the flooring along the wall
9. Double-cut the sheets
10. After double-cut, fold up one sheet and trace the joint line (for tape positioning)
11. Place the double-sided tape over the joint line. Remove the protective foil and replace the 2 sheets tight edge to edge.
12. Place the masking tape over the joint
13. Press the masking tape with the roller to avoid blisters
14. Cut the masking tape along the joint with the curved blade
15. Use the cold welding by inserting the needle inside the joint and press softly the tube to have a continuous flow of the solution all along the joint
16. After 10 minutes of drying time, remove gently the masking tape.
17. Your floor is now installed
What is the quickest and easiest vinyl floor to install yourself?
If you're looking to renovate and want the best results in the quickest time possible, Tarkett offers a range of vinyl flooring options that are quick and easy to install.
Within our LVT range, the quickest and easiest vinyl floor to install yourself is the Tarkett Starfloor Click Ultimate, a new generation of Rigid LVT, which uses the i4F triple click system, one of the easiest and fastest installation system on the market. Using this system, installation is intuitive, requiring you to simply drop, lock, and click the floors into place.
Within our vinyl roll range, any floor using the full loose lay installation method is also quick and easy to install. The full loose-lay method involves simply laying your vinyl floor on top of the subfloor, without the need for tape or glue. You just need to unroll the vinyl roll and cut the floor to size! You can also choose one of vinyl products that have a textile backing, as these are designed to level off small irregularities on the subfloor.

What direction should I lay my vinyl plank flooring?
Since vinyl plank flooring was made to imitate real wood flooring, you should lay your vinyl planks in the same way you would real wood planks or boards. If the room is rectangular, lay planks parallel to the longer wall, and if the room is square, lay planks towards the main source of light. If you're installing vinyl in a corridor, always lay the planks along the length of it.
Do you need underlay for vinyl floors?
The type of vinyl floor you choose and the type of subfloor you have will determine if you need an underlay. Some vinyl floors are designed to lay directly on top of the subfloor, while other vinyl floors have a cushioned base layer, removing the need for additional underlay.

Most vinyl flooring products don't need an underlay; however, it is an option if you're looking for extra cushion, noise reduction, or thermal properties.
Benefits of vinyl flooring underlay
Using an underlay offers many benefits:
• It provides sound insulation, reducing both in-room noise levels and sound transmission between floors.
• It adds cushion to the floor and locks in thermal properties, creating a softer and warmer feeling underfoot.
• It acts as a vapour barrier, which may be required, for example, on a concrete subfloor with moisture concerns.
If you are using underlay, you must ensure that your subfloor is dry, clean and flat before installing your vinyl floor.
Built-in underlay
Most Tarkett vinyl floors have a foam backing, removing the need for any additional underlay. For example, Tarkett's Starfloor Click Ultimate range has an integrated acoustic backing with Soundblock technology, which has the capacity to absorb 19dB.
What adhesive do you use for vinyl flooring?
You don't need adhesive to install any of the Tarkett LVT flooring options. However, if you're using the glued installation method for your Tarkett vinyl roll flooring, we recommend using a water-based spray adhesive such as Tarkett's easy and eco-friendly solution, Tarkospray.