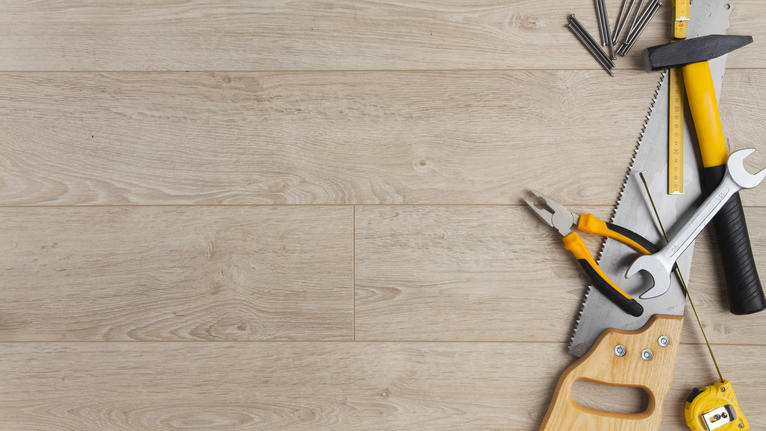 How to install your vinyl flooring
Tarkett vinyl flooring is very easy to install, meaning you can have a new look in just one weekend!
Step 1: Prepare your subfloor
To ensure a smooth installation, it is important to prepare the surface onto which you'll be laying your floor. Vinyl can also be laid onto an existing floor such as:
• Vinyl or linoleum
• Parquet
• Laminate
• Tiles
The most important thing is to have a dry, even and clean subfloor. If the floor is uneven (tile joints, parquet bevels or any type of cracks), think about using a levelling compound. Remember, vinyl is a soft flooring and any bumps underneath will show.
Tip: you can use vinyl with a textile backing to level off small irregularities on the subfloor (Essentials 220T, Essentials 280, T Exclusive 280T.
Clean the subfloor thoroughly using a neutral cleaning product to clear away any dirt or dust and make sure it is fully dry before you start. If the surface is very smooth, a primer might be necessary to help the flooring adhere to the subfloor.
Step 2: Prepare your flooring
It is important for the flooring to acclimatise for at least 24 hours before installation at a minimum room temperature of 15°C. Unroll the flooring and cut it to size allowing an extra 15-20cm to avoid being short of material at the end of the installation.
Step 3: Install your flooring
SHEET DIRECTION
As a general rule, flooring is installed following the direction of the main light source. However if the room is narrow, like a corridor, the sheets should run along the length of the room, regardless of the light direction.
Apart from wood designs, all consecutive sheets should be installed in the opposite direction for a homogeneous rendering. You'll find this indicated within the product description.
Tip: For a long lasting installation, joints should not coincide with doorways and areas where there's most traffic.
 
INSTALLATION METHODS
There are three ways to install your flooring, depending on the size and the usage of the room. For a small room where there is a lot of traffic (an entrance for example), consider it as a medium sized room.

• Small room (< 12m2): Loose-lay installation is fine. You can simply lay your vinyl floor on top of the subfloor. Just unroll, cut the floor to size and it's done – easy!
• Medium room ( < 25m2) Semi-loose installation will do. Use double faced duct tape around the room to secure the flooring.
• Large rooms( > 25m2) Glued installation is best. We have an easy and eco-friendly solution: Use the water-based spray adhesive, Tarkospray.
FINISHING TOUCHES
For a clean finish, don't forget to add a skirting around the room: it will protect the edges of the vinyl sheet, the bottom of your wall and make the cleaning easier. It will also add an elegant touch to your finished look.
There are several types of skirtings:

• Flexible self-adhesive PVC skirtings. They come in many colours and are very easy to install; with foam backing they adapt to uneven supports so there is no preparation required.
• Flexible double sided self-adhesive PVC skirtings into which you insert a piece of the floor for a perfect match.
• Classic hardflooring skirtings in wood or MDF can be glued or screwed to the walls.
To sum up
Overall, installing vinyl is quite relatively easy, here are the 6 things you should remember:
The subfloor must be flat, clean and dry
Don't rush into it, the floor must acclimatize for a minimum ofduring 24 hours
Allow a buffer small excess around the room so you don't find yourself short of flooring
The laying direction matters, check the light source and check the product description
The size and usage of the room will determine the installation technique
Don't forget the skirtings
And for more detailed information, download the our installation instructions.