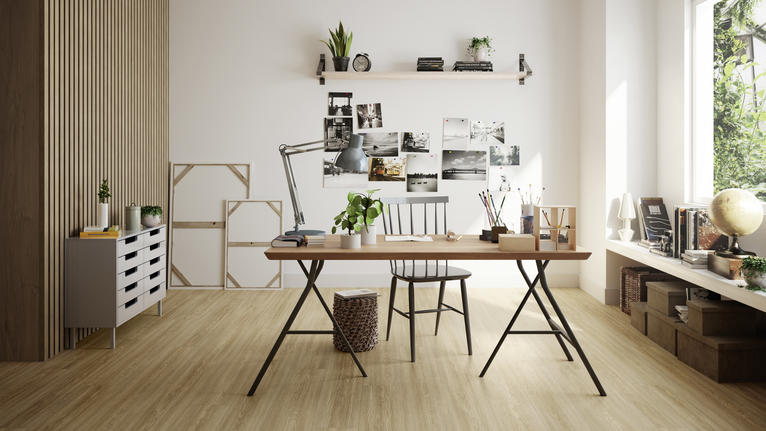 How to install Laminate flooring
Our Laminate floors come with a new profile that makes them fast, easy and smooth to install: choose your way thanks to our new locking system-plank by plank, row by row, tapping.
Though the closer-fitting joints, Laminate planks are very tightly jointed to ensure an excellent surface stability, and the height difference is reduced to create a beautiful, flat, surface.
How easy is to install Laminate flooring yourself?
Laminate is one of the easiest types of flooring to install yourself, which means that even inexperienced homeowners can install a Laminate floor themselves. Most of laminate flooring systems are provided with a tongue and groove system in which the boards snap together.
Our Laminate flooring come with a new user-friendly locking system for a fast, easy and smooth installation. Choose the installation method that suits you best: plank-by-plank, row-by-row, tapping.
No special tool or skills is needed to install a Laminate floor. The Laminate planks can be cut with a hand saw or sometimes a jig saw. Installing our Laminate floors does not require glue. Several persons can install Laminate simultaneously. Depending on the size of your room, you can generally install laminate flooring in a day.
Laminate floors are designed to 'float, which means they connect to each other but not to the subfloor. A foam underlayment, which provides sound-reducing properties, sits between the laminate and the subfloor. Floors can be used immediatly after floating installation.
What direction should I lay my Laminate flooring?
Since Laminate flooring is made to imitate real wood flooring, you should lay your Laminate planks in the same way you would real wood planks or boards. If the room is rectangular, you should lay the planks parallel to the longer wall, and if the room is square, you should lay the planks towards the primary source of light. If you're installing Laminate in a corridor, lay the planks along the length of it.
Do you need underlay for Laminate floors?
Yes, underlayment is necessary for Laminate floors as it helps the Laminate planks lay smoother, connect better, and can provide a better acoustic insulation if the underlay selected is acoustic. It can either be attached to the bottom of the Laminate flooring or supplied as a separate product.

Laminate floors 'float' on top of the subfloor and underlayment must be used to ensure the even distribution of the floor. In addition to providing the necessary support and stability to the floor, an underlayment provides sound-reducing properties. If you are installing Laminate on top of concrete floors where there is a chance of moisture seeping up from the subfloor, you also need to install a vapour barrier membering (PE foil).
What adhesive do you use for Laminate flooring?
The installation of Laminate floors is a "floating" installation, which means that the planks connect to each other thanks to a user-friendly locking system. And they do not need to be glued to the sub-floor.