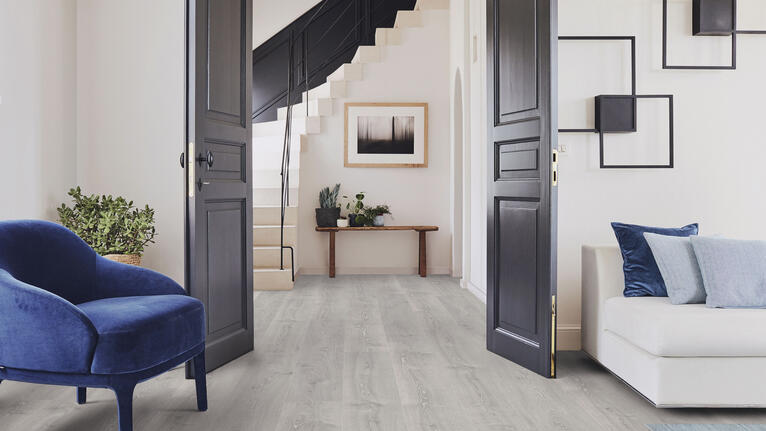 How to install laminate flooring
Laminate flooring installation varies depending on the product you choose. In general, however, most laminate floors come with a tongue and groove click installation system that make them quick and easy to install without the need for any special tools or flooring materials, such as glue and nails. You simply need to snap the boards together.
| | |
| --- | --- |
| | At Tarkett, our laminate floors come with 2 easy-to-use profiles that allow glueless installation: ANGLE LOCK or UNIFIT®. Our ANGLE LOCK system involves angling and clicking the planks together at the short end. And UNIFIT® allows an easy and flexible installation, plank per plank, making installation even faster. Dismantling is also even easier and can be done row by row. |
Our Easy Line 832 collection comes with the ANGLE LOCK installation system. All other laminate collections, including Essentials 832, Woodstock 832, Welcome 833, Lamin'Art 832 and Long Boards 1032 collections, come with the UNIFIT® installation system.
How easy is it to install laminate flooring yourself?
Laminate is one of the easiest types of flooring to install yourself. Most laminate flooring systems come with a tongue and groove system in which the laminate boards snap together.

You usually don't need any special tools or skills to install a laminate floor. Laminate planks can be cut with a hand-saw or sometimes a utility knife, which means that even reasonably inexperienced DIY homeowners can install a laminate floor themselves.
What direction should I lay my laminate flooring?
Since laminate flooring was made to imitate real wood flooring, you should lay your laminate planks in the same way you would real wood planks or boards. If the room is rectangular, you should lay the planks parallel to the longer wall, and if the room is square, you should lay the planks towards the primary source of light. If you're installing laminate in a corridor, lay the planks along the length of it.
Do you need underlay for laminate floors?
Yes, underlayment is necessary for laminate floors because it helps the laminate planks lay smoother, connect better, and can provide a better acoustic insulation if the underlay selected is acoustic. It can either be attached to the bottom of the laminate flooring or supplied as a separate product.

Laminate floors 'float' on top of the subfloor and underlayment must be used to ensure the even distribution of the floor. In addition to providing the necessary support and stability to the floor, an underlayment provides moisture and sound-reducing properties. If you are installing laminate on top of concrete floors where there is a chance of moisture seeping up from the subfloor, you also need to install a vapour barrier.
What adhesive do you use for laminate flooring?
| | |
| --- | --- |
| | Laminate floors are a type of floating floor. They support themselves via a tight locking system, rather than by being glued to the subfloor. Our laminate floors, for example, come in the form of 2 easy-to-use systems that allow glueless installation – ANGLE LOCK or UNIFIT®. |
If, however, you are installing laminate in areas that are exposed to moisture, it is a good idea to seal the planks to one another. This provides an even more water-resistant surface and is therefore particularly recommended for entrances, kitchens, and laundry rooms.