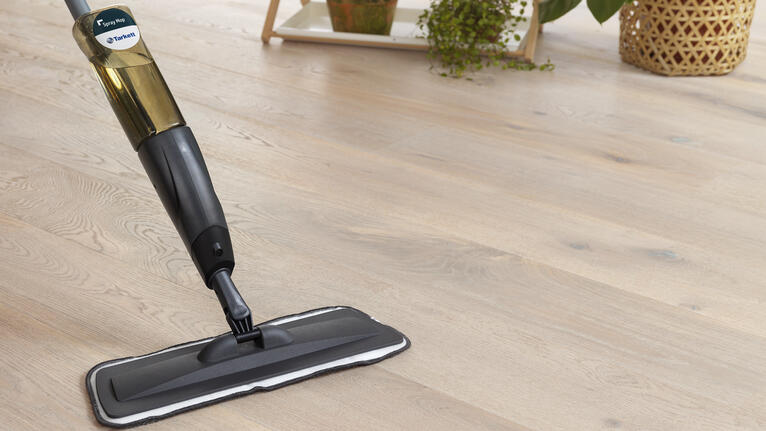 How to maintain and clean wood flooring
The feel of a new wood floor is something you'll want to keep as long as possible and devoting time to caring for your wooden flooring is key to making it last longer. The followingµ% information provides advice on how to maintain and clean your floors, whether they are lacquered or hardwax oiled floors, and on the best products to use to maintain the lustre of your natural wooden flooring for a long time.
All of the Tarkett wood floors are ready to use directly after installation and don't require any maintenance oiling or other treatments.

Working from home has become the norm for many since the recent health crisis began, and spending longer indoors makes domestic hygiene more important than ever. Surfaces frequently touched by hand are potentially a major source of infection, but floors present very little risk. Regular cleaning and care, as indicated below in our maintenance advice, will reduce that risk even further for wood flooring. With Tarkett's specially formulated care products, cleaning is straightforward, while our repair kits are ideal for tackling minor damage. What's more, the long and/or wide planks in our wood collections leave little space for dirt and germs to build up.

Helping keep you safe at home is part of Tarkett Human-Conscious Design™, our commitment to stand with present and future generations by creating flooring that's not only stylish, durable and great value but also good for people and the planet.
How to maintain engineered wood flooring
When using your wood floors, you primarily wear the surface layer, not the wood itself. Your wood floors therefore need good surface protection against wear, tear, scratches and stains in order to look good for a long time. Most of our wooden flooring is treated with Proteco, one of the strongest surface protections on the market. Proteco makes the floor strong while retaining the genuine wood feel and comes in three varieties, each providing a different finish ranging from semi-gloss to matte.
---
PROTECO LACQUER A semi-gloss lacquer that lasts long and add extra durability to your floors. Gives a traditional lacquered look and is the perfect choice for the active family needing a wooden floor that can more or less manage on its own.
PROTECO NATURA A matt option with high durability and effective protection. Comes in a number of colours that lifts and enhances the wood's natural abilities. Easy to care for, even if the matt surface demands a little more frequent maintenance than Proteco Lacquer.
PROTECO EXTRAMATT This protection will give you an extra matt, silky surface that imitates the feeling of an oiled or untreated floor, but with the durability of a lacquered floor. Needs minimal maintenance and is long-lasting. A perfect combination of natural appearance, heightened wood feel and effective protection.
PROTECO HARDWAX OIL Adds a soft and matt surface with a warm, natural feel. Increases the experience of authentic wooden floors and heightens the nuances of the wood. Hardwax oiled floors must be cared for regularly, but well taken care of, will age beautifully and naturally and last a very long time. The perfect choice when the wooden feel is what's most important.
---
We also have a couple of products designed to protect and strengthen floor surfaces against wear and tear including Refresher for lacquered floors and Refresher for floors treated with hardwax oil. If your oiled floor is worn due to high traffic or has been damaged, it's possible to apply a maintenance oil to bring back the lustre of the floor and add new surface protection. Refresher for hardwax oiled floors acts as a slight re-oiling of the floor as it both cleans and leaves a protective surface at the same time.
Additional tips to maintain and prolong the beauty of your floor
• Use furniture pads to minimise scratches.
• Use protective chair mats to help prevent floor damage from furniture, bed caster wheels and caster wheel chairs
• Use a good door mat at the front door to reduce the risk of wet shoes or dirt coming in.
• Wipe up spills immediately. Surface treatments will protect your floor initially, but if a liquid is left to soak into the wood it can cause serious damage.

How to clean hardwood floors
Cleaning both lacquered and hardwax oiled wood floors is relatively easy. Vacuuming or cleaning your wooden floor with a dry mop is all that is needed. The Tarkett Wood Floor Care Kit is perfect for this. It has a comfortable design with a telescopic handle, a microfibre cloth and a velcro fastener.

Sometimes you may need a little liquid to remove dirt and stains. But be careful not to use too much water. Tarkett Wood Floor Spray Cleaner for lacquered floors is easy to use on these occasions, and the floor also dries more quickly. If you want to use both, we have the Tarkett Spray Mop Kit for lacquered floors with a refillable liquid container. Alternatively, if you have a hardwax oiled floor, Tarkett recommends that you use care and maintenance products from our range including Tarkett BIoclean for hardwax oil and Tarkett refresher for floors treated with hardwax oil.

Lasting, effective and biologically degradable general cleaners include Bioclean for lacquered floors and Bioclean for hardwax oil floors, both of which can be used for regular cleaning.
What should I use: water and soap, wax, oil, vinegar
There is much debate about whether or not to use certain cleaning products on your wooden floors. For instance, vinegar is considered to be a cheap and environmentally friendly way to clean many things in your home. However, applying vinegar on your wood floors can actually have a negative effect.

It's important to remember that when cleaning your wood flooring, you're cleaning the protective finish on the surface of the wood rather than the wood itself. Vinegar is an acid that will break down the protective finish on the surface of your floors, leaving them to look lacklustre and dull over time, and allowing moisture to absorb into the wood. The same applies to soapy water. Similar to vinegar, some soaps have the potential to strip the floor finish or prematurely deteriorate it. Instead, you need to use a pH neutral cleaner that will be gentle on your wood floors. And be sure to always use a weak concentration of the cleaning product to avoid building up layers of detergents on your floor.

The best advice is to use a specifically formulated wood floor cleaner or to follow the manufacturer's recommendations. Tarkett offers a range of high-performance floor-care products to maintain and clean your wooden floors, each specifically designed for the products in our collections.

Tarkett recommends to use Bioclean for lacquered floors and Bioclean for hardwax oil floors, each of which has different properties to best suit the type of surface finish your floor has, and both of which can be used for regular cleaning.
- For Hardwax Oiled floors: Bioclean and Refresher for Hardwax Oiled floors. This product is a water soluble cleaning concentrate for everyday maintenance, particularly developed for oiled/waxed wooden floors. It contains soaps on the basis of natural oils that maintains the surface. When used regularly it creates a highly effective and easy-to-use surface. The water soluble substances reduce cords. Particularly kind to skin, free from pigment and scent, solvent- and emission free and thus healthy living.
- For lacquered floors: Bioclean and Refresher for Lacquered floors. This product has unique wetting properties and soil release properties that were previously considered impossible to achieve without adding petroleum-based solvents. Bioclean is free from organic solvents, colouring agents and phosphates, it is biodegradable and gentle on the skin. Never treat the floors with polish or wax on a lacquered surfaces as the floor can´t be re-lacquered if there is a need. Do not use harsh chemicals. For instance, Aceton will destroy the surface immediately.
Maintenance of oiled floors
How to deep clean wood floors
In addition to your daily and weekly cleaning routine, we recommend giving your wood floors a deep clean every few months. This will ensure that you regularly get rid of any stains and grime that have built up over several months.

After performing your regular daily cleaning routine of removing dirt by sweeping, vacuuming or dust mopping, the next step is to use the appropriate floor cleaning products to start cleaning your floor. The Tarkett Spray Mop Kit is recommended for this. After mopping, the final stage is to tackle any remaining stains or scuff marks on your wooden floors. Learn more about Tarkett's range of high-performance floor-care products to maintain and clean your wooden floors.
Best wood floor mop
There are a few good options for cleaning hardwood floors, but microfiber and spray mops are the best options. These are preferable to a yarn mop, which are not recommended. A microfiber mop can attract and retain dirt and liquids better than other mops, and a spray mop will release just a light misting on your floor. This avoids excess water on your floors and reduces the overall amount of detergent used, therefore reducing the amount of cleaning mixture entering the sewer-system. Water and wood do not mix so always use a damp mop and never a soaking wet one.

The Tarkett Spray Mop is an excellent choice. It is designed for damp mopping of parquet flooring, wood flooring, and laminate flooring. The mop is very easy to use and you can easily release more detergent by pressing the trigger located on the handle. The Tarkett Spray Mop Kit includes a spray mop, a refillable liquid container, cleaner, and two extra microfiber mops.
Repairing your wood floor
Minor damage to your wood floors including scrapes, scratches, and small holes, are likely to happen throughout their lifetime. These can usually be fixed using a variety of wood repair products such as repair putty, oils and wax bars. Depending on the type of wood floor you have, we have several products to make spot repairs such as repair pens, repair lacquers and different repair kits.

Our Repair Box includes wax bars in different colours that can be mixed to obtain the perfect tone on deeper localised blemishes.
Our Repair Kit includes our repair putty, which comes in a wide spectrum of colours, and our repair lacquer to seal the putty.
Our Oil Repair Kit includes oils, brushes and sanding papers. Together with a little time and effort, these products will repair scratches and blemishes in your hardwax oiled floors. Our Oil Repair Kits are colour-matched to our oiled flooring range.
More significant repairs may require sanding and re-lacquering of your wooden floor. Bear in mind that sanding a wooden floor can change its appearance. The colour & surface texture may not look the same. We do not offer sanding, re-lacquering or re-oiling services. Parquet floors can be sanded 2 to 5 times depending on the wear layer thickness. Our Viva (veneer collection) cannot be sanded.