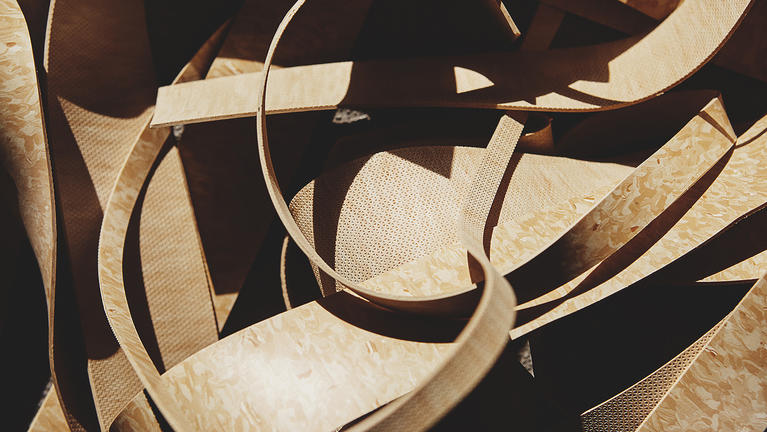 Is vinyl flooring sustainable?
At Tarkett, we strive to improve people's lives, preserve natural resources, and respect the environment. We focus on making products that deliver optimal performance, promote healthy living and preserve the planet's natural capital. Read about our Cradle to Cradle® principles and closed-loop circular design below to find out more about our commitment to sustainability.
Is vinyl a healthy flooring option?
You probably spend a lot of your time indoors and feel that safer, healthier indoor spaces designed using sustainable materials are important for your well-being.

At Tarkett, we feel the same. That's why we apply Cradle to Cradle® principles, choosing EPEA* assessed materials for all our vinyl flooring products, and ensuring complete transparency throughout the production chain.

Tarkett is strongly committed to the responsible use of PVC. As it is, we already use quality materials for all our products. For instance, our vinyl rolls are 100% phthalate free and have low VOC emissions** (<100μg/m3, ten times lower than required by European standards), which contribute to healthier indoor environments. They also reduce exposure to triggers of asthma and allergy indoors.
Where possible, we also use materials that are both recycled, recyclable, with as low an environmental impact as possible to produce our vinyl rolls.

*Environmental Protection Encouragement Agency
** Except outsourced products
What is Tarkett's closed-loop circular design?
Tarkett is committed to the transition from a linear to a circular economy model, which consists of recycling resources in a loop from the design and production phases to later use and recovery stages.
 
This process starts with eco-designing flooring, with recycling in mind. We do this by continuously optimising the health and environmental credentials of our materials to enable recycling. We're also investing in the latest technology to separate the components and recycle our flooring in order to retain maximum material purity and create secondary raw materials with equally good performance and durability.
 
We seek ways to work more closely with our customers, suppliers and industry partners as we believe in a collaborative approach to respond to global challenges. We promote transparency on our sustainability progress, products and ambitions by voluntarily disclosing product information. For example, we have MHS (Material Health Statements) for most of our product categories.