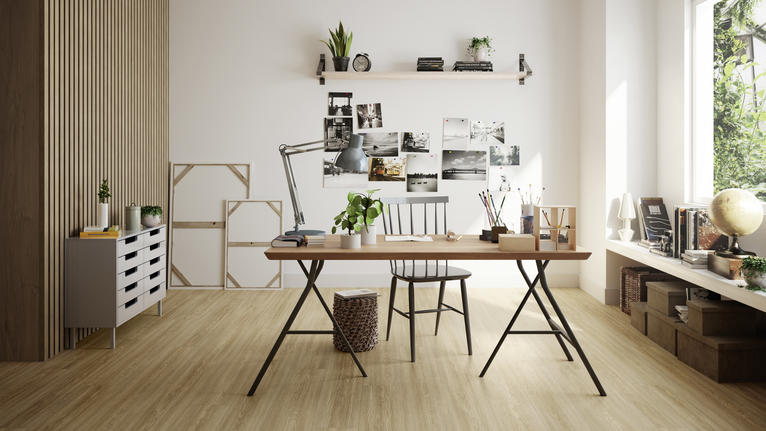 Laminate floor designs and colours
Laminate floor designs and colours
Laminate is a versatile flooring material that offers a lot of design possibilities. You can also choose from several wood-effect designs, a myriad of colours, different plank sizes, and a range of textures and grooves. At Tarkett, our Laminate floors authentically interpret the highest quality wood finishes. They're available in a wide range of realistic decors, and the choice of widths and lengths makes it easier than ever to create a striking floor design.
Finishes and embossing
When it comes to Laminate flooring, every detail counts. Our Laminate floors are available in a wide range of finishes, with different surface effects from deeply embossed to lighter effects, and with varying gloss reflections from matt to silky and gloss. Many Laminate designs benefit from our embossing in register technology, where each plank surface is perfectly synchronized with the design layer in order to touch what you see, each wood knots or slate cracks can be touched, to authentically reproduce the natural essence of real materials.
Bevelling
We offer two kinds of bevelling to help you create different styles of decor.
• No bevel - A simple finish for a natural look.
• Four-sided - V-bevelled on all
four sides for an authentic wood look.
Board formats
The choice of plank formats makes a huge impact on the style of the room. For total design flexibility, Tarkett Laminate floors come in a selection of 3 different formats.
• Classic planks - The elegance of a classic wooden floorboard. Available with our Easy Line 832, Essentials 832, Woodstock 832, and Woodstock PRO 833 and Soundlogic 932 collections.
• Kingsize - Ideal in designs for creating a sense of space and a contemporary look. Available with our Woodstock XL 832 collection.
• Long planks - The best choice for highly architectural spaces. Available with our Woodstock XL 1032 collection.

Does Laminate flooring look and feel like wood?
Laminate flooring is a type of flooring that is designed to imitate natural flooring options such as hardwood. Thanks to technological advances and enhanced design capability, Laminate floors can now look and feel nearly identical to the premium woods they're mimicking.

At Tarkett, all of our Laminate flooring products have a high definition printed decorative layer that recreates the look and feel of wood so well that it could be mistaken for the actual material. Most of our Laminate designs also benefit from our embossing in register technology, which applies a synchronized surface treatment to each plank to more realistically reproduce the look and feel of authentic material.
Can I use different Laminate floor colours for different rooms in my home?
One of the advantages of Laminate flooring is its versatility and the ability to create different interior designs with the one product. For instance, you may decide to install a Laminate floor that reproduces the look of light beige pine wood in your kitchen, and a Laminate floor that reproduces the look of warm, dark oak in your living room.
Each room in your home has a different purpose and has its own set of design style requirements. For example, you may want to create a warm and cosy feel in the bedroom and a more clean and modern feel in the kitchen. Or you may want lighter, brighter colours in the kitchen, and warmer, darker colours in the living rooms and bedrooms. By playing with the range of designs and colours of your Laminate floors, you can create entirely new atmospheres in each of your personal spaces.
For more information and tips on how to mix wood tones in your home decor, visit our editorial and design pages.