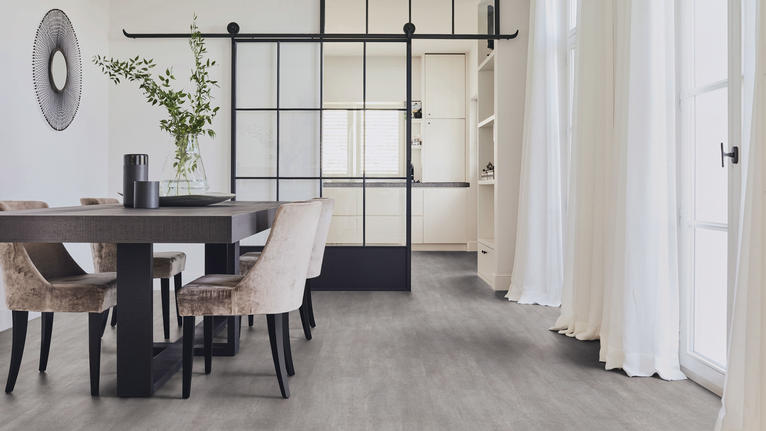 Laminate versus engineered wood flooring
Laminate vs engineered wood flooring
Laminate and engineered wood flooring are two popular alternatives to solid wood flooring. While they do share similarities, there are some key differences between them.
Laminate flooring is made from several layers of compressed wood materials (known as high-density fibreboard) strengthened with resin and with a printed design on top. A transparent overlay that will ensure product surface robustness.
At Tarkett, our laminate is made up of four layers. The core layer is a high-density fiber core board made from more than 80% wood, which provides exceptional structural strength and resistance. On top of the core sits the premium decorative layer made from printed paper. This layer allows for a wide variety of very detailed designs and beautiful colours and patterns. The decorative layer is then sealed with our innovative protective surface, which ensures long-lasting durability and hygiene. We use an advanced embossing technique to give the surface a more realistic texture and to add sophisticated decorative effects. The base layer of our laminate is a balancing layer, which provides dimensional stability and also protects the core board from moisture.
1. Highly resistant protective surface
2. Premium decorative layer
3. High-density core board
4. Highly stable balancing layer
Engineered wood flooring is also made from layers of compressed materials; however, unlike laminate, it has a layer of solid hardwood on top.

At Tarkett, our engineered wood flooring is made entirely from real wood with a top layer of hardwood. This top layer comes in a variety of species and designs, including staining and heat treatment. Below this, a strong and supportive middle layer contributes to the stability of the boards, and at the base, a balancing layer stabilises the board and guarantees dimensional stability.
Pros and cons of engineered wood
Benefits of engineered wood flooring
Engineered wood is indistinguishable from solid wood because it has a layer of solid hardwood on top. And in the case of Tarkett engineered wood, all three layers are made from real wood, which means the product is entirely natural with the authenticity and feel of solid wood.Because engineered wood is made from different wood layers bonded together in a crosswise direction, it's less likely to shrink and expand, making it stronger and very resistant to warping compared to solid wood flooring. This also makes it much better at dealing with changes in temperature, humidity and moisture.
Engineered wood sometimes needs to be glued to the subfloor. However, Tarkett uses a 2-lock system for most of our ranges, which is easy and quick, making it simple to install our engineered wood floors. It's a strong glueless locking system, which lock the boards tightly against one another without any gaps, making our floors easy to clean and maintain, and prolonging the beauty and durability of the floor.

Drawbacks of engineered wood flooring
On the downside, since the top layer is real hardwood, it isn't wholly immune to moisture damage. Caring for engineered wood floors will, therefore, require regular cleaning and periodic maintenance. But then, with proper care, engineered wood has a life expectancy of 20-100 years, depending on the quality and proactive maintenance of the product.
Pros and cons of laminate
Benefits of laminate flooring
One of the most significant advantages of laminate flooring is the price. Thanks to a unique embossing technique that we use to bring out the natural beauty of the wood grain, you can choose to have an all-time favourite classic and classy oak design for example, for a fraction of the cost of the real material.
It's also highly durable. Laminate flooring is treated with an extra-strong top layer, which makes it resistant to scuffs, scratches and stains. The smooth top layer also makes it easy to wipe clean. Best of all, the installation is quick and easy, because the laminate boards fold and lock into each other. Because of this, laminate flooring can generally be installed in a day with no specific knowledge.
Drawbacks of laminate flooring
Laminate is a imitative material when compared to engineered wood, which is usually indistinguishable from solid hardwood flooring. Laminate is also a lot thinner than engineered wood. And once the top layer of the laminate is damaged or worn, it can't be sanded down and refinished like engineered and solid wood flooring. Improper cleaning, standing water, and extreme impacts can prematurely wear down the floor's top layer.
Can I use engineered wood everywhere in the house?
Engineered wood was specifically created to address the problems of natural wood like weakness to moisture and warping. Its unique, multilayered construction makes planks more stable and resilient to moisture. This means you can install engineered wood floors in most rooms in your home, including kitchens and basements. It can even be installed below and over radiant heat and its durability and strength mean that engineered wood also holds up well in high traffic areas. The only rooms where wood flooring isn't recommended are wet rooms, which include the bathroom, toilet and laundry.

Combining style and performance, engineered wood products are incredibly versatile. They are available in a wide variety of plank sizes, stains, textures and surface treatments, including oiled and lacquered, making it easy to find a wood floor to match the style of any room in your home.
Can I use laminate everywhere in the house?
Yes, you can install laminate flooring in any room in your home. However, similar to wood flooring, special care and maintenance is needed when installing laminate in moisture-prone rooms such as kitchens. The laminate that you install in the kitchen must be resistant to moisture and have an anti-slip surface. In addition to this, it must also have a hygienic and highly-resistant surface, to remove stains and spots quickly and smoothly.
Can I use laminate flooring over underfloor heating?
Laminate flooring is suitable for installation on top of underfloor heating systems provided that the heating element is embedded into concrete or any other subfloor. Laminate flooring is not suitable for installation on top of underfloor heating foil installed on top of concrete or any other subfloor unless otherwise specified by the underfloor heating manufacturer. Surface temperature should never exceed 28°C.
Is engineered wood more expensive than laminate?
Yes, engineered wood is more expensive than laminate. However, it's cheaper than solid wood, and it has a significantly longer life expectancy than laminate. Engineered wood flooring lasts between 20-100 years if properly maintained, whereas laminate needs to be replaced after 25 years.

When considering a wooden or laminate floor, the first step is to measure the room or area to be covered and decide how much you can afford to spend. With an extraordinary range of designs and finishes to choose from, Tarkett offers both engineered wood and laminate flooring options to suit a range of budgets and styles.