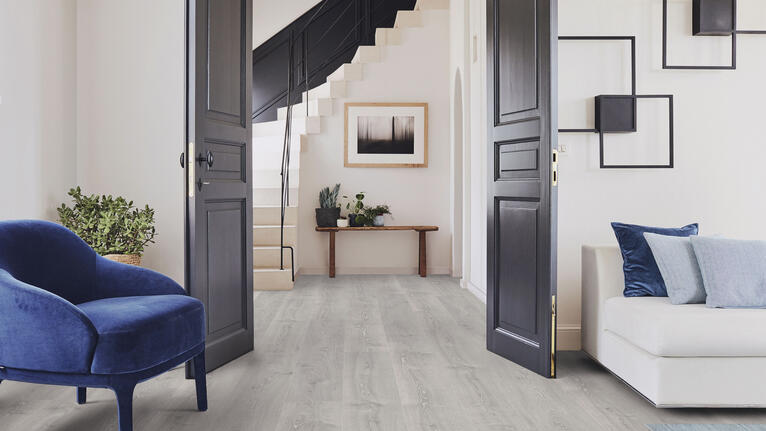 Laminate floors in the bathroom
Laminate floors in the bathroom
Tarkett laminate floors are made with a high-quality HDF board, which is completely sealed to provide excellent resistance against moisture and liquids. While this provides a level of resistance suitable for use in semi-moist rooms such as kitchens, Tarkett laminate is not suitable for use in bathrooms. Bathrooms are considered wet rooms and, due to the high prevalence of water, your laminate floors will sustain water damage if water seeps into the seams, penetrating the lower layers of the floor.

If you're keen on wood-look for the bathroom, vinyl flooring is a great alternative. It will give you a similar wood-like finish, but without any of the moisture-related concerns of laminate and wood flooring. Both luxury vinyl tile (LVT) and vinyl roll (also known as sheet vinyl) are excellent bathroom flooring options. They're water-resistant, easy to clean, and comfortable and warm underfoot. Some products are also available with slip-resistant grip, making them ideal floors for bathrooms.
Is laminate flooring suitable for bathrooms?
No, Tarkett laminate flooring is not suitable for bathrooms. Even though some laminate ranges are more durable with slip-resistant surface options, laminate is not a suitable flooring choice for bathrooms due to the constant presence of moisture. Ceramic tile, stone and vinyl are all much better at dealing with moisture and humidity, and are therefore more suitable for bathroom floors.
Is laminate water-resistant?
Yes, laminate is highly durable and water-resistant. However, it's not waterproof so you still need to take care to prevent to water damage. For instance, spills need to be cleaned up straight away to avoid liquids seeping into the locking system and causing your laminate floors to buckle and warp. Sealing the joints with silicon sealer in between planks can also minimise the risk of water damage. This increases your floor's resistance to water, and it's therefore recommended in areas with high levels of moisture such as kitchens.
Find out more about Vinyl rolls collections and Rigid LVT collections suitable for bathrooms.