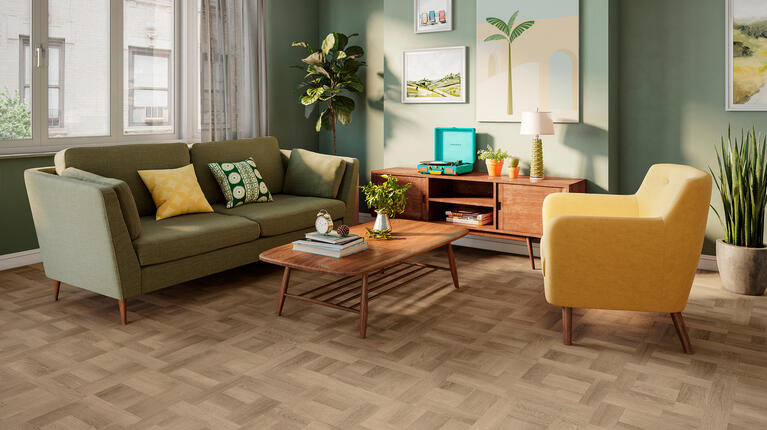 Laminate floors in the living room and bedroom
Laminate floors in the living room and bedroom
For homeowners looking for a wood-like finish for their living room or bedroom floor but find the pricing of hardwood floors out of reach, Laminate offers an attractive and affordable alternative. Laminate can perfectly mimic the look of natural wood, but at a much more affordable price point.

Higher quality Laminate flooring is also very durable, which means that it can withstand heavy living room and bedroom furniture without denting. The durable overlay also protects the surface against scratching and fading, which makes Laminate well adapted for living rooms where there's high-traffic and also homes with pets.
Is Laminate flooring suitable for living rooms and bedrooms?
Laminate flooring is very suitable for living rooms and bedrooms for several reasons, including the following.
Laminate is durable
Laminate has a treated, extra-strong top layer of Laminate, which makes it highly scratch, stain and moisture resistant. This durability makes it an excellent choice for areas with high foot traffic, such as living rooms. It's also great for families with pets. At Tarkett, we guarantee our Laminate floors up to 25 years, depending on the product.
Laminate is affordable and easy to install
Laminate is relatively inexpensive, especially when compared to alternative living room and bedroom flooring options such as solid and engineered wood. This makes Laminate an attractive option for homeowners on a budget. It's also one of the easiest floors to install and can be usually done as a DIY project, without the need for professionals. At Tarkett, our Laminate floors come with a new profile that makes them fast and easy to install. This new locking system allows a smooth and flexible installation and offers the possibility to choose the way that suits you the best: plank-by-plank, row-by-row, tapping.
Laminate is available in a range of designs and colours
And best of all, Laminate, like vinyl flooring, comes in a range of styles and designs, including designs which mimic natural wood. Whether you're looking for traditional or modern designs, light or dark colours, or ideas for small or large spaces, Laminate offers limitless design potential. Laminate floors can also be coordinated with beautiful area rugs to add additional texture and warmth to your rooms. With such a range of options, you'll be sure to find a living room and bedroom floor that perfectly matches your interior design preferences.
Find more about Tarkett laminate collections.
How do you lay Laminate flooring in a living room and bedroom?
How to lay your Laminate floors in the living room and bedroom varies depending on the product you choose. In most cases, Laminate floors come with a tongue and groove click installation system that requires you to simply snap the boards together. And in all cases, you'll need a flat, clean base floor upon which to install your Laminate flooring.

Find out more about how to install your Tarkett Laminate flooring.
How do you maintain Laminate floors in the living room and bedroom?
Keeping Laminate floors clean is as simple as following a few basic steps. Wiping, vacuuming or sweeping them with a soft broom or microfiber mop is usually all that's needed on a daily basis. For a more intense clean, use a damp mop or cloth with warm water and a mild cleaner once a week.

Find out more about how to clean and maintain your Laminate floors.