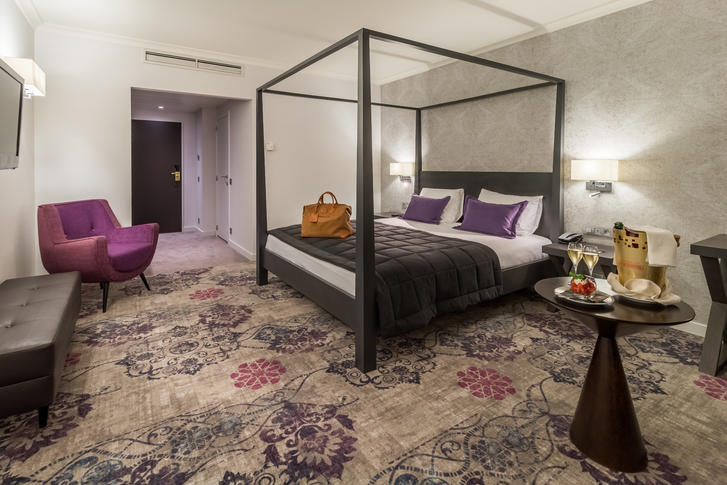 Martin's Chateau du Lac
2018 | Genval, Belgium
The Chateau du Lac is a luxury hotel on the edge of Lake Genval. Martin's Hotel chose Tarkett flooring for the lobby, bar and bedrooms in its 2018 renovation. The modern interior of this elegant castle has been enhanced by carpet from the Desso Tweed collection in the lobby and bar. For guest rooms, Tarkett's easy to maintain and durable Starfloor Click 55 vinyl tiles were selected to complement designs from the Desso&Ex collection. Other rooms were decorated with a luxurious Vintage carpet.
Desso Tweed mimics the tactile nature of fashionable fabrics and has a bi-directional integral pattern. As a result, this carpet solution offers endless possibilities for creating distinctive and relaxing floors. The combination of a dense yarn fused with the random intertwining of a thin black thread gives the carpet tile a tactile and flexible structure.
Vintage gives the interior a unique and lived-in character. Classic faded patterns in modern colour combinations create a vintage look that matches the contemporary styling trends. This patterned collection can be combined with different lifestyles - a perfect base for an eclectic interior with a bold and personal look. There are natural tones for a classic and natural atmosphere, but also designs in fashionable colours that create an exciting contrast. In all a perfect eye-catcher in an industrial or modern interior.
About
Martin's Hotels selected a mix of different Tarkett flooring for the renovation of its Chateau du Lac Hotel.
Building owner
Martin's Hotels