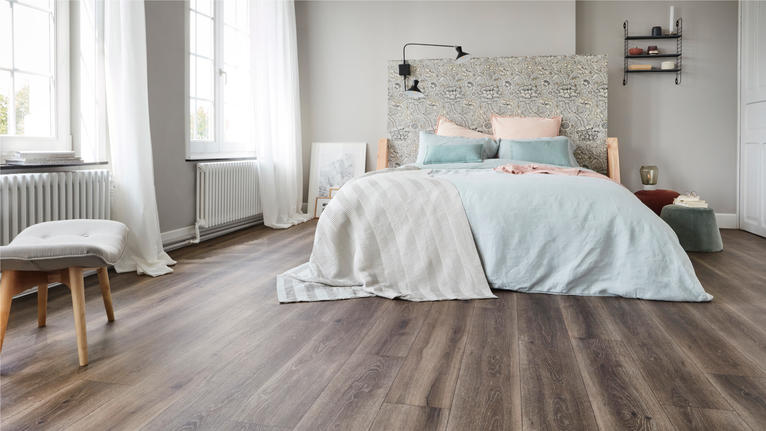 Master bedroom makeover before and after inspiration
These home-owners wanted this room to be a refreshing, comfortable cocooning space. Inspired by magazines as well as advice from friends, the couple wanted to give the room a more organic touch. They have replaced the used carpet with Tarkett's "Mill Oak Brown" vinyl roll, a stunning oak reproduction that enlarges the space visually thanks to its large-stripped pattern. Easy and quick to install, this type of vinyl roll offers both comfort and warmth underfoot, perfect for walking barefoot around your bedroom. A good way to bring in a more natural feeling, it lays the foundation of the room's style.

Before, the bed seemed lost, tucked away to one side of the room. Now, the centred headboard, overlapping the newly empty corner, brings more depth and height to the bedroom. Covered in a rich flowery pattern, the headboard almost looks like an unframed picture. The wall light attached to one of the corners of the headboard unclutters the space between the window and the bed, a good trick to make room for paintings or framed photos on the ground. On the wall, a simple shelf displays decorative ornaments and two velvet footstools act as bedside tables.

Choosing the right colour combination for a quiet, relaxing area
The bedroom is a very personal sanctuary where one goes to rest, relax, but also sometimes to work, so bringing light into this room was essential. Previously, both curtains and the worn carpet darkened the environment and gave the room a flat and lifeless feeling.
A few simple tweaks have transformed this spacious but boring master bedroom. The white sheer curtains and the light-coloured bed linen are good ways to brighten the room and highlight the beautiful texture of the vinyl flooring. Letting both curtains and bed linen hang a little longer is good way for bringing a more luxurious touch to the place. Mixing different pale colours, like the blue, the pink and the beige, makes the bed much more interesting than the old plain grey and expresses a real personal style.
Organizing the space
Another priority when it is time to rethink the decoration is a layout that will make room for the couple. There is no need to replace all the pieces of furniture. Sometimes, just moving things around makes a big change. Stuck in one of the corners of the room, the old large and dreadfully out of date cupboard was poorly placed, partially blocking access to the door and visually shrinking the bedroom by filling in the recess. But with it repainted and repositioned on the other side, the room just opens up. The massive trunk bench was replaced by a much lighter foot stool, which is easily moved when one wants to read by the window. The final result speaks for itself: turning a dull space with numerous obstacles into an utterly enchanting bedroom was a major achievement!