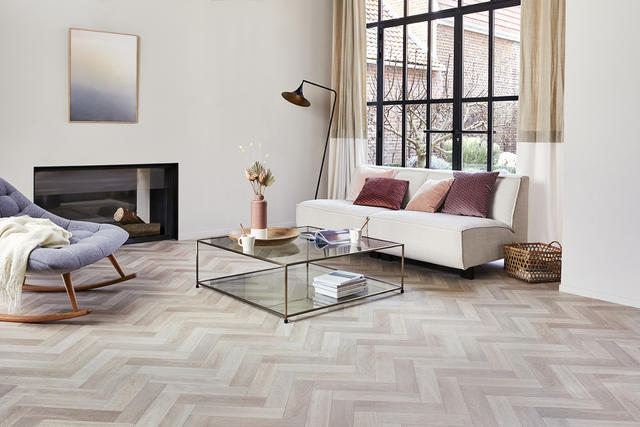 Free to live the way you want at home. Free to be inspired. To change your floor as easily as your decoration. Free to choose a cleaner and more wholesome environment. Free to watch your children grow and your home flourish. To change your office to a baby room, then a teen room, a spare room...
And baby room all over again. Free to make the best choices: rent, share, buy, rent out... And always have the best floor options.
Free to walk around barefoot, to dance in the bathroom, Or in the living room, with a drink in your hand, with your friends... Free to change your flooring while still caring for the environment – and your finances.
Free to choose a pattern that's perfectly you And free to install it yourself, even if you're new to home renovation. In short, you're free to live in a home that's both beautiful and alive, A home that's yours and a home that's you.

ICONIK
Your home, your way
ICONIK Vinyl Rolls come in 15 different collections to match everyone's design style at a fraction of the cost. They are available in an incredible variety of designs, from highly realistic wood-like to ceramic and mineral.

Discover our textile-backing profiles, which give vinyl flooring smooth cushioned feel under-foot.

All of the references are 100% phthalate-free and have low VOC emissions, ensuring better indoor air quality by reducing exposure to triggers of asthma and allergy.
Wood immediately conveys a sense of warmth and cosiness. Inspired by nature and available in narrow or wide planks layouts, discover all ICONIK wood effect vinyl rolls.
Concrete and Stone effect floors
Feel free to choose realistic imitations of natural materials such as concrete and stone. Recreate a modern style in your home with solid colours, lighter or darker shades of colours, or more natural shades that replicate the beauty of ceramic tile.
ICONIK offers you a lot of creative scope and freedom. Play with graphic and geometric patterns to enhance a child's bedroom or a kitchen.