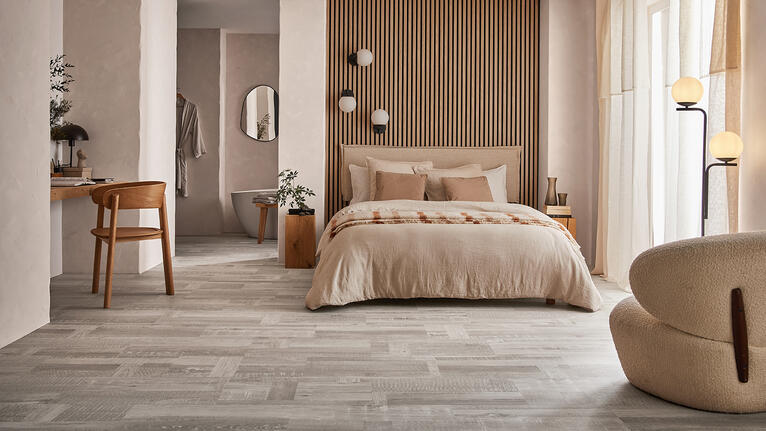 Elegance Rigid 55, the new rigid click flooring made in Europe
Beautiful designs created by our European designers
Introducing Elegance Rigid 55, our new modular rigid click vinyl flooring solution, perfect for adding sophistication and character to your home. With a large choice of 20 beautiful designs available in tiles and planks formats, you'll have no shortage of options to choose from. From wood design to stone effect, our ultra-matt finishes are uniformly visible under all angles of view and reflect less light, thanks to our Tektanium® surface treatment. To increase the realistic look and texture of the wood designs we use the Embossed-in-Register (EIR) technology which allow the texture to match and follow perfectly the décor pattern . Your floor will look even more authentic. Upgrade your home renovation with designs that are tailored specifically for the home.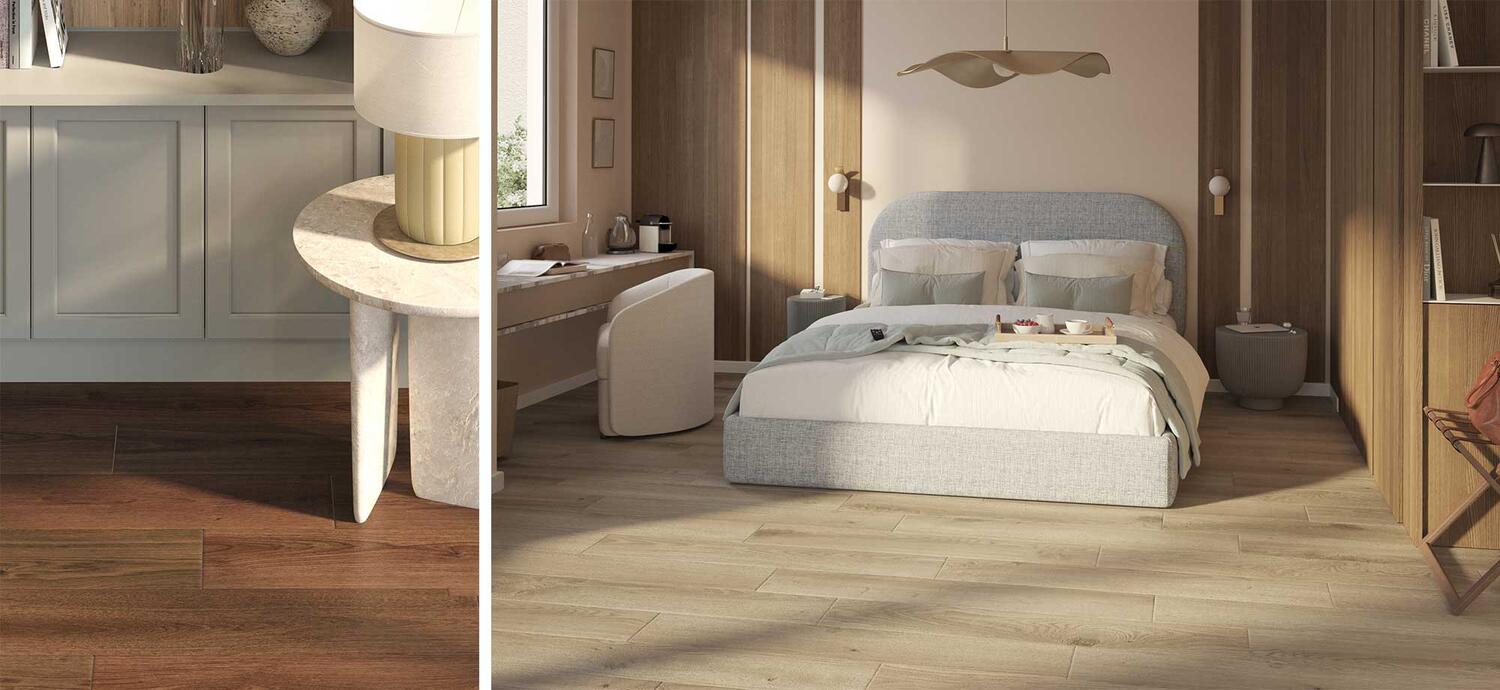 One of the major novelty of this range is the high-density SPC technology in the core layer, providing a good dimension stability, high durability and water-resistant properties, perfect to renovate a bathroom, kitchen, or any room in your house.
The LVT click flooring range withstands a large range of temperatures (10-50ºC): ensuring durability and consistency over time span maintaining the product stability and appearance since your flooring is less likely to experience damage or deformations caused by extreme temperature fluctuations.
Also, our Tektanium® best-in-class surface treatment provides Elegance Rigid 55 a high resistance, extended lifespan, long lasting finish and unequalled resistance to scratches, abrasions, wear and stains, which is ideal for family life.
Noise-proof
Excellent acoustic comfort and noise reduction with a 19dB rating thanks to Soundblock technology. The soundproof technology reduces the sound of footsteps and noise between floors.
Suitable for bathrooms and kitchens
SPC and GenClick® give the range waterproof and watertight properties (R10 rating), making it ideal for wet and moisture prone areas such as bathrooms and kitchens.
Suitable for underfloor heating and cooling systems
Ideal for homes and buildings with light commercial traffic, more comfortable environment for users.
Elegance Rigid 55 is a breeze with our cutting-edge technology, making this a low-maintenance, hassle-free flooring option. The flooring is less likely to be affected by temperature fluctuations, thus reducing the need for repairs or replacements.
Say goodbye to complicated and time-consuming flooring installations. With GenClick® our new patented Tarkett click system, you'll be able to enjoy your new flooring in no time. For a residential usage, no professional help is required, simply click the tiles or planks following easy and simple steps. The click system is not only easy to use, but also incredibly strong and durable.
The patented Tarkett system is water-resistant, no more worrying about water damage – with GenClick®, you can have peace of mind. A waterproof vinyl click flooring is ideal for wet areas such as bathrooms and kitchens.
The range fits perfectly a redecoration project as it can be installed over existing hard surface floors, including ceramic tiles, and hide minor subfloor imperfections.
Our new luxury vinyl plank flooring solution prioritizes sustainability and environmental responsibility in every aspect of its production. Made in Europe with a focus on sustainability, Elegance Rigid 55 contributes to reduce waste and emissions through its production process. With an average of 20% recycled content and full transparency in materials, you can trust that your flooring is not only beautiful but also safer for your indoor air quality.
We also transform vinyl floorings through our ReStart® take-back programme, by collecting valuable floor fractions and recycling it, thus increasing the recycled content in our product and reduce our carbon footprint. The ultra-low Volatile Organic Compounds emissions (≤10 μg/m³) and Phthalate-free material also ensure a healthier indoor environment. By choosing Elegance Rigid 55, you are not only elevating your living space but also making a positive impact on the environment. Lowering our environmental footprint will never mean compromising on comfort, health or overall well-being.