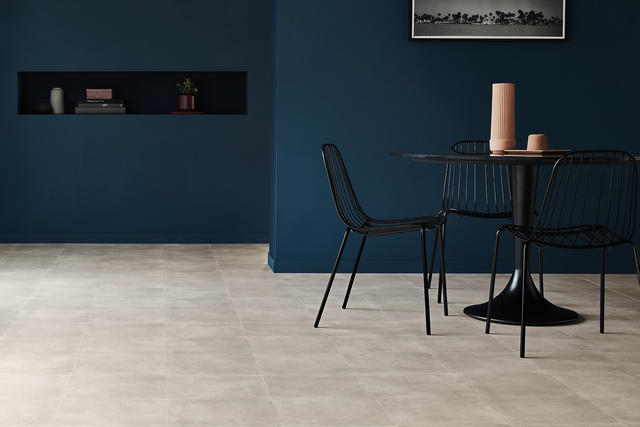 New Vinyl Flooring Roll collection for all lifestyles
When choosing new floors for your home, or renovating a bedroom, bathroom or kitchen, criteria such as design, acoustic comfort and installation come to mind. But that's not all. Tarkett is committed to making high quality, sustainable flooring to help create healthier and people-friendly spaces. All of these considerations are equally important and, whatever your priority, you will find just what you are looking for in Tarkett's new vinyl flooring roll collection. This year, our Exclusive 280T range comes with 10 distinctive designs. From contemporary designs and geometric shapes to more natural tones with an organic feel or rich lacquered shades, there is a look that is just right for you at a fraction of the cost.
Creativity first
Looking for a large selection of creative, up-to-date, on-trend and modern vinyl flooring designs to choose from?

Check out our large range of creative vinyl flooring rolls that are perfect to give your home a touch of the latest trend.

Our vinyl flooring collections come with highly realistic wood and stone effects that will add a very natural and elegant look to any interior.
Comfort first
For a peaceful home, our selection of vinyl flooring rolls with acoustic textile backing is just what you need.
Browse our 24 modern flooring editions in the Exclusive range: these designs were all developed based on our book of trends, the Tarkett Home Observer. Our acoustic editions also come in more classical decors such as stone effect vinyl floorings or wood effect floors in the Essential collections. All of them come with a surface protection that makes it resistant and easy to clean and maintain.
Looking for the natural texture
Achieving the look and feel of real wood with all of the advantages of a vinyl floor: that is the promise of the Tarkett Touch collection.

The floor reproduces the knots and veins of a natural wood floor, for a premium and timeless look.

The Touch collection also makes any space more comfortable thanks to the acoustic backing that provides sound insulation and its good resistance to indentation.