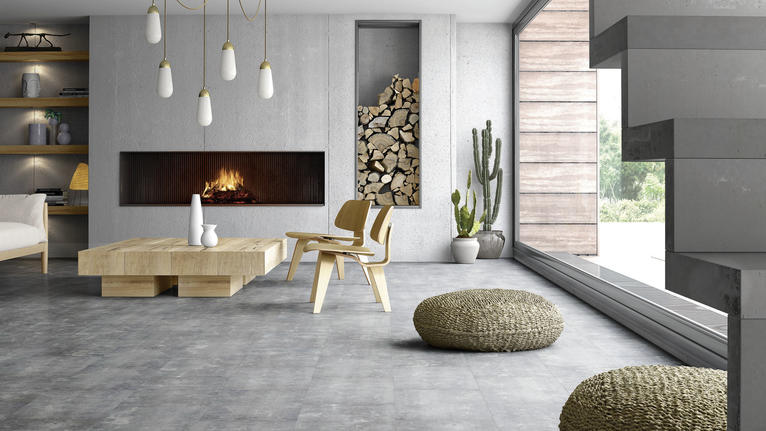 Starfloor Click 55 & 55Plus, Elegance you will call Home
When it comes to renovating a floor space in your Home, there are many options that combine best quality with zero hassle. Vinyl click flooring is a great option for home owners looking for high-quality and elegant floors that are functional and easy to clean. Starfloor Click 55 & 55PLUS with Extra Matt effect combines beautiful natural-looking designs with stone, wood and concrete effect floor tiles, an elegant matt finish, increased durability for life's messy moments and easy installation.
An extra elegant touch for your Home
Tarkett's Starfloor Click 55 & 55PLUS comes with an elegant Extra Matt finish that reinforces the authentic beauty of a room's atmosphere.

And with soft, muted hues, it's also the perfect complement to bright furniture that brings life to a room whether a bathroom, a kitchen, or a living room. That's not all.

With a select range of natural-looking colours and wood, stone and concrete effects, Starfloor Click 55 & 55PLUS offers subtle designs that are carefully handcrafted in Europe to help you choose a room's ambiance, anywhere in the house.
Beauty that lasts over time
Rest assured, there's nothing fleeting about Starfloor Click 55 & 55PLUS style. Backed by a twenty-year warranty, the vinyl flooring includes a durable professional-grade wear layer.

Treated with Top Clean surface protection, it offers increased resistance to your kitchen, hallway, child's room and indeed all spaces where scuffs, scratches and stains happen, not to mention how easy it is to clean and maintain.
Installed with a "click"
Installing Starfloor Click 55 & 55PLUS has never been so fast and easy thanks to the fold-down click system.

From tiles to three lengths of planks, (all with four-sided bevelling), you can opt for an acoustic underlay for additional sound absorption and matching skirtings for that final polish.
Designed for life
Starfloor Click 55 & 55PLUS are eligible to our ReStart® takeback programme. Through ReStart®, installation flooring waste can be effectively managed while contributing to safeguarding the world's natural resources and protecting the environment. We recycle customer flooring offcuts and waste from our production, transforming it into new, high quality products.

In this way, we can collectively close the loop and shift to a circular economy.
No matter what you like, Starfloor Click 55 & 55PLUS with Extra Matt effect has everything to embody a natural, soothing ambience. Simply put, it's matt elegance with an aura of authenticity.