Your peace of mind matters
You want to know what's in the products you buy, your food, your cosmetics, but also the flooring, furnishings and fittings in your home. So how can you be sure they won't have a negative impact on your health and the environment? At Tarkett, we're obsessed with the health and sustainability standards of Cradle to Cradle® principles - a way of designing products that promotes good material choices. And we're always trying to do better. What's more, when you come to us for flooring, you can rely on us to be straight with you about what's in the product you're buying, providing you with peace of mind that you're making a sustainable choice for you and your family.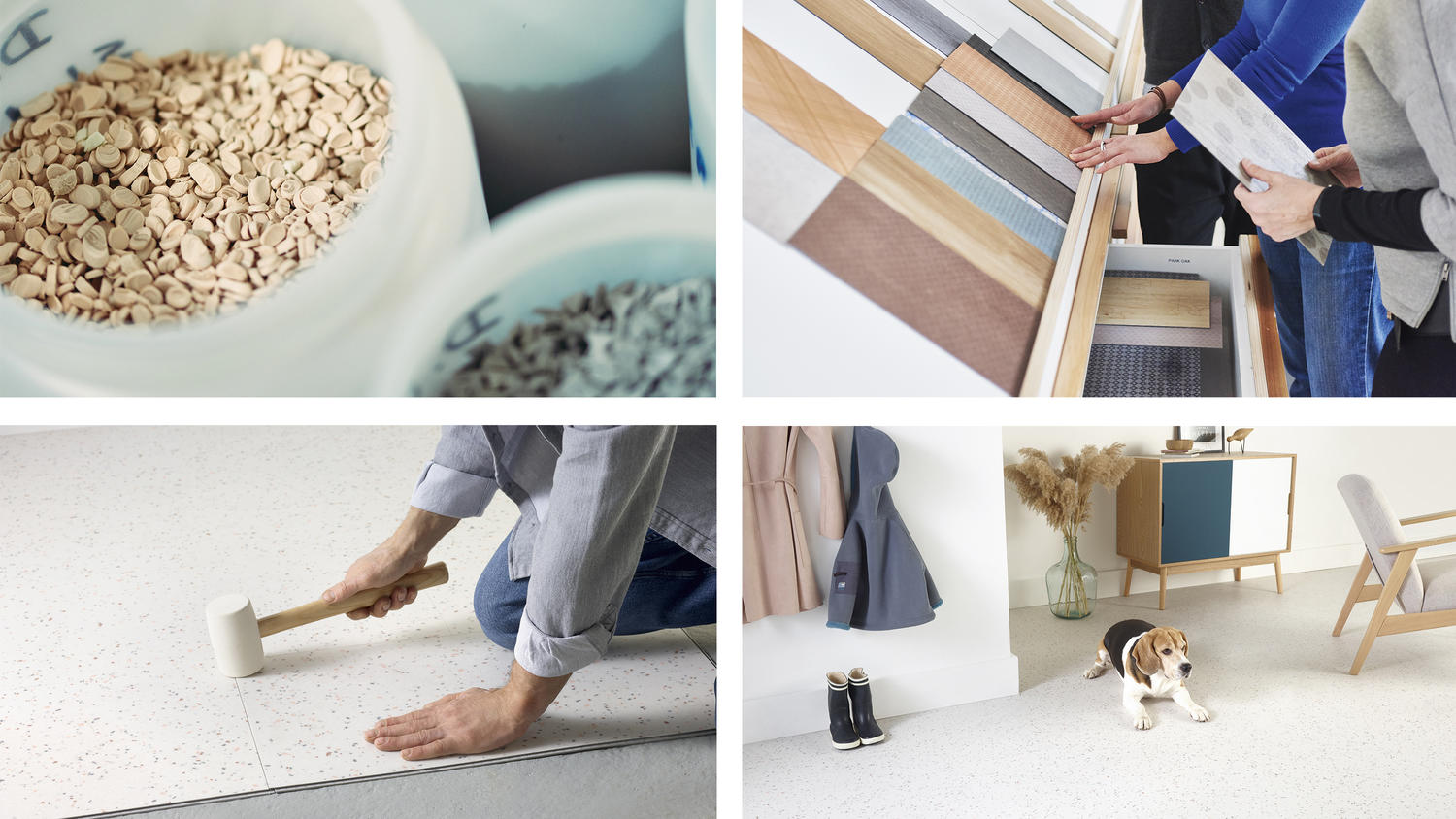 You have the right to know.
Understanding the story behind the design choices you make for your home is really important to you. It is to us, too. Earning your trust matters. So we use the latest scientific methods to analyse and optimise our materials.
This starts with using the Cradle to Cradle® eco-design approach. 98% of our materials are independently assessed by experts to help ensure they meet high health and environmental standards. In this way, we optimise our existing materials or find better alternatives, so you can benefit from healthier flooring. For example, we've taken decisive action on phthalates, a type of plasticiser used in Vinyl flooring that was controversial, removing all phthalates from our products in 2019.
98% of materials assessed
by a third party based on Cradle to Cradle® criteria
Phthalate-free
Our European sites produce phthalate-free vinyl flooring
Complete transparency
through MHS (material health statements) and EPDs (environmental product declaration).
We now use plasticisers that are safe enough for young children's toys and food containers, the toughest standards there are. We didn't have to do this, it was simply the right thing to do for our customers.
We also provide a clear view of exactly what's in your flooring, offering very detailed breakdowns of the impacts of our materials on the environment through Environmental Product Declarations and health through Material Health Statements.
Count on us to make your flooring responsibly.
You'd like a flooring that is durable, resistant and wish to see more products made in Europe. That's why we're increasingly ramping up production at our facilities in Germany, Sweden, Poland and Luxembourg, making sure we reduce our environmental footprint at the same time. To offer you responsibly made flooring, we're always trying to do better.
Take PVC. You may have heard bad things about PVC in the past, but this flooring offers great wear and tear, and helps keep the home warm, too. It can also be recycled almost endlessly, helping to conserve natural resources. It's all part of our commitment to offer you flooring solutions that put your health first, without costing the Earth.
 
Making conscious choices. For people and planet.
Tarkett Human-Conscious DesignTM
Endlessly recyclable
PVC can be recycled almost forever
Long-lasting
and durable material that can stand many years of wear and tear
Made in Europe
We're growing production at our facilities in Poland, Germany, Sweden and Luxembourg
Download our sustainability report
At Tarkett, we aim to positively impact your lives, giving you the peace of mind that you've made the right choice for your family and the environment, when you opt for Tarkett flooring.
Climate and circular economy
Contributing to a better future, together. We tackle climate change and resource scarcity by eco-designing our products, using recycled content and recycling our flooring when they reach end of life.
Making your home healthier – We put your health first, designing flooring that contributes to better air quality in your home, keeps noise levels low and is a pleasure to walk on.