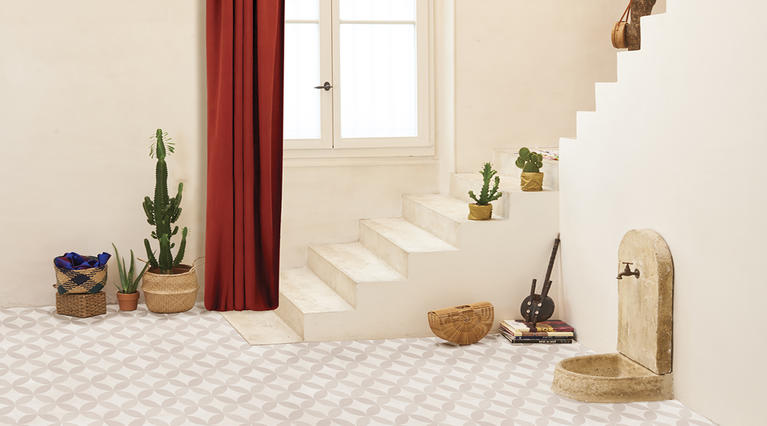 The eclectic home, a life-size travel book
The eclectic style is a vibrant homage to distant lands and world citizens. Inspired by travels, nomadism and new encounters, this bohemian home decor takes us on a journey throughout the home. This interior home decoration style is an inspired ode to ancestral skills and the world's cultures! And when it comes to decoration, this trend celebrates curiosity and inventiveness above all. Opt for carefully constructed staging to create a picture-perfect setting: raw, natural walls, patterned floors and handmade objects brought back from distant travels add charm, character and a soul to your home. Woven baskets are a must: as clever storage units or revisited planters, accumulate a collection and spread them all over the house. This is a style that continuously reinvents itself, accompanying you on your travels and wherever your heart leads you!
An inspired mix & match
Dress up your home with ethnic textiles and a mix of patterns and cultures warmed by touches of colours rich in pigment to create an inviting, very personal ensemble. The result is a natural atmosphere filled with light.

You elegantly master the art of mix & match to create a richly referenced bohemian spirit. Opt for comfortable benches lined with cushions and set up low tables to create a living room with a nomadic feel. Each of the objects inside your home has been carefully chosen, and each one tells a story. Without overloading the room, place them here and there to obtain a warm, refined ambiance.
A desire for elsewhere
Between tradition and modernity: the "tadelakt" style (waterproof lime plaster) evokes the Orient. A hand-crafted rug and dark wood warm this material up wonderfully. Exhibit your findings, natural sponges, artisanal soaps, marquetry box, fouta… as decoration. This soothing bathroom with its distant and exotic aesthetic is a veritable invitation to travel.
Precious touches
Add sophistication to such natural materials as linen, raffia and wood with elegant touches of gold patina. This precious feeling also resides in the unique spirit of the world's arts and crafts. Sculpted exotic wood gives furniture an authentic ethnic touch. For your floral compositions, you compose bouquets of dried flowers and grasses with a wildly bohemian touch. You adopt rituals from other cultures to enrich your daily life. Exotic tastes and fragrances bring back beautiful memories and offer a welcome change of scenery.