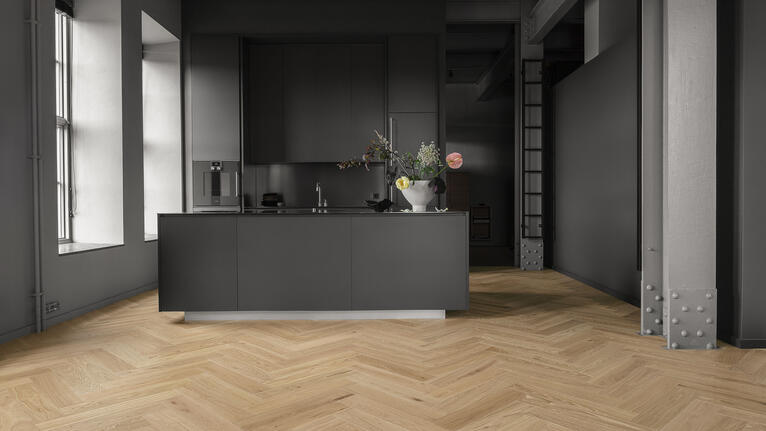 The tradition for authentic, exclusive, natural and long lasting wooden floors
The Wood Floor is Modern and Modular
This year, our Wood collection features new contemporary designs including a modular collection: the classic herringbone wood floor makes its comeback with a new design concept called Segno.
Revisiting the classic herringbone wood floor with a more modern approach, Segno gives you an artistic license to create your own patterned floor layout for a custom wood floor design, combining our exceptional quality and finishes with a modular technology that allows almost unlimited creative possibilities.
With five colors available, from dark brown tones to sober, slightly pigmented shades, the unique concept of the Segno collection will make you design a floor pattern which will give your room its full potential.
Transform your interior with mixed wood floor designs and colors
The Segno collection can be installed in a wide variety of ways to compose both traditional designs and new expressions. The various patterns will be created by mixing the colours and by using different combinations of left and right planks. Having different angles thanks to a specific pattern will also make the details and texture of the wood appear, creating a dynamic and beautiful visual effect.
Use your imagination and play with modularity !

Download our Recipe Book to estimate wood plank quantities needed to create herringbone or any other patterns by mixing different wood tones (for a 20m2 space).


Our Wood floors are made with emotion
All of our wood floors combine the authenticity of tradition with exclusivity, long-lasting durability and different styles and shades to choose from. Whether you want the purity of soft and welcoming shades, vintage character or a bold, design-led look, our collection has a wood floor to enhance your home.
Explore Wood Noble Designs
In parallel to the new Segno collection, new colors appear this year to complete and bring novelties to the NOBLE collection. Let's reinterpret in a very contemporary modular floor, the long tradition of classic parquet.
The New York theme was chosen and taken to a next step with the release of these 2 new checkerboard wooden flooring references.

Noble Oak Bronx uses a new nice shade of grey to complete the colour range of the collection. Whereas we used one of our best-selling colours to develop Noble Oak Brooklyn.

Two beautiful new designs which will get your interior to the next level !