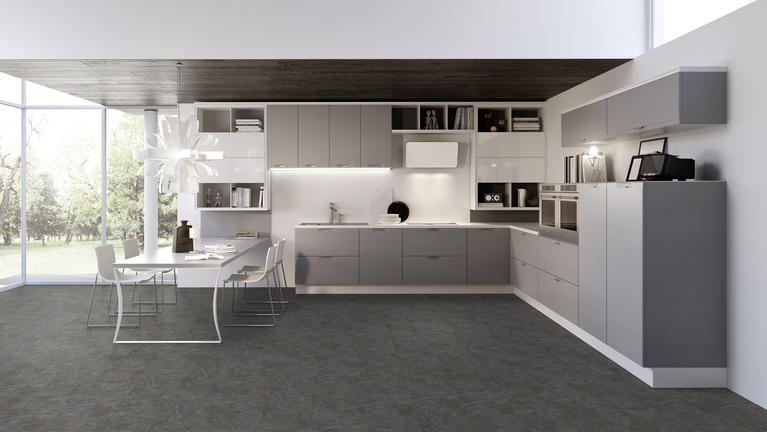 The ultimate flooring solution for the home
There is no place like home, and remodeling it is an important project. Remodeling has never been such a fast and easy thing to do. Starfloor Click Ultimate, Tarkett's new rigid composite vinyl tile, is the ultimate and no-worry flooring solution for a great interior style that is easy to install. Above all, it will resist the wear and tear of daily life in homes that are busy from morning to night with children and constant coming and going. Starfloor Click Ultimate combines the look and feel of wood and stone with the durability of a luxury vinyl tile premium collection.
A long-lasting flooring option
Starfloor Click Ultimate is very resistant to traffic, thus suited for busy home spaces. Thanks to the extra dense Rigid Composite Core innovation in this flooring solution, Starfloor Click Ultimate withstands extreme temperature variations in areas such as verandas (up to 60°) as well as indentation, scratches, scuffs and stains. You can stop worrying about protecting the floor against daily wear and tear. Plus, it is 100% waterproof.*
*See Installation Brochure for Guidelines
Install Starfloor Click Ultimate everywhere
With Starfloor Click Ultimate, the first step of the installation process is reduced to a minimum time as it requires very little to no subfloor preparation. It can even be installed on ceramics*. Therefore, you don't need to worry about any of the excessive preparation installation can require if the subfloor isn't perfectly smooth. The second installation phase is also shorter thanks to a patented floor locking system, the i4F triple lock click system. This installation system is one of the fastest on the market today and makes installation up to 30% faster than basic clicks.
*over tiles with joints max 8mm, 3mm depth
Integrated acoustic comfort
Starfloor Click Ultimate also has an integrated acoustic backing. Starfloor Click Ultimate comes with a 19dB sound transmission reduction between rooms thanks to the Soundblock technology and provides a good walking noise reduction. All of this reduces ambient noise at home and makes homes quieter and more welcoming.
Timeless and modern designs
Starfloor Click Ultimate also provides a very high-quality effect because the collection comes in natural textures of wood and stone. Texture determines what the flooring looks like but also how it feels to the touch. Starfloor Click Ultimate tiles not only have great wood and stone designs, they also have a matt finish and even a special life-like effect on the Wood Oak decors with Tarkett's Plus effect EIR technology (Embossed in Register) technology. The Wood Oak decor flooring is embossed in order for the texture to perfectly fit with the design. Starfloor Click Ultimate renders a very high quality interior design effect with its wood and stone look tiles.

Starfloor Click Ultimate is an ideal combination of both the resistance of luxury vinyl tiles and the authenticity of wood and stone textures.