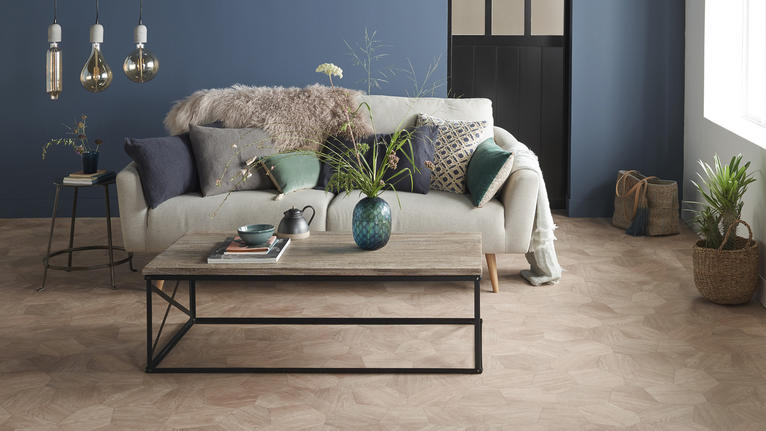 This year's modern Vinyl Rolls: a fresh perspective on interior design
New collections inspired by 2018 Design trends
This year, our new designs bring a fresh perspective to designing home interiors. Resistant and easy to clean, modern vinyl rolls offer an extremely large choice in terms of designs, ranging from bright colours to collections that mimic natural materials such as wood or stone. Inspired by this year's top design trends, our new collections offer modern vinyl roll's many advantages.

This year, four major Design trends – Oh Happy Days, Celebrating Seasons, New Folk and Soft Silence – inspired the whole new patterns and colours of our vinyl roll collections. There is a flooring solution to meet ever need:
Is trendy design the priority for your home? The Tarkett Look collections offers the widest selection with 126 new decors this year. In this selection, you will find every one of this year's trends.
 
Looking for extra comfort? Our Tarkett Relax collections comes with 15 new decors this year plus a textile backing that makes for extra walking comfort and reduces sound exposure up to 20 dB. The new decors mirror this year's "poetic vibration" and "nostalgic feeling" trends and are an excellent choice to create cosy and vintage interiors.
 
Looking for a natural feel? The Tarkett Touch collection designs all come with a lifelike grain that is achieved thanks to the synchronized embossing technique only available at Tarkett. The floor actually looks and feels like real wood. The collection is available in 18 natural and soft colours and totally embodies this year's "natural simplicity" trend.
A good-looking home can also be comfortable and safe
Our new vinyl roll collections all come with new decors and designs, but they don't compromise on comfort and are perfectly people-friendly. In particular, our Tarkett Relax vinyl roll collections is a perfect mix of design and comfort: its textile backing optimizes walking comfort and reduces sound exposure up to 20dB, thus transforming any home in an oasis of elegant comfort. Also, all of our vinyl roll collections contribute to improving interior air quality thanks to very low VOC emissions (10 times lower than strictest European standards).
The phthalate-free technology that is used to produce them also contributes to a healthy living environment. Choosing modern vinyl rolls is a good way to refresh your home's interior design and also contribute to the health of those who live in it. In addition, all raw materials used in our products are carefully selected out of materials compliant with food legislations as well to create a safe environment for children and adults alike.
Easy installation and maintenance
What makes a flooring ideal for your home is also how easy it is to install and, above all, to maintain in the long term. Our vinyl roll collections are all treated with our Extreme® & Supreme® surface treatments that make them extra resistant to every-day traffic and easier to clean, which also makes them more hygienic. The Tarkett Touch collection is even adapted to Home as well as Light Commercial uses, which means it has high-quality performance.