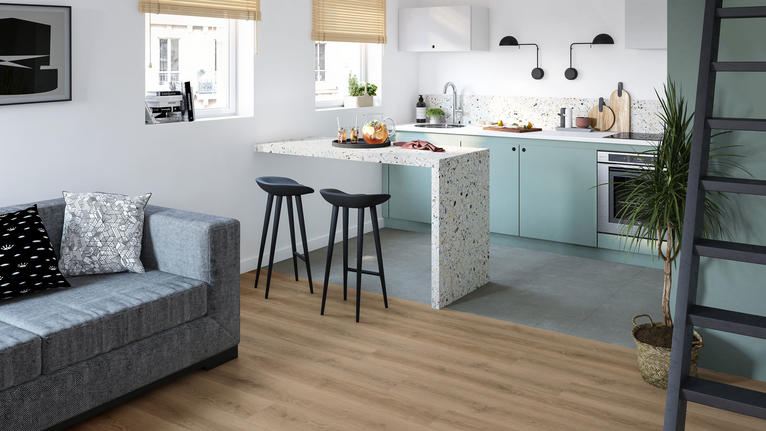 Different types of vinyl flooring
The two main types of vinyl flooring are vinyl roll flooring, also known as vinyl sheet flooring, and luxury vinyl tiles (LVT). Manufacturers usually offer a range of vinyl flooring products within each of these categories, with each product offering specific characteristics suited to specific applications. Tarkett, for example, offers a full range of LVT and vinyl roll flooring solutions for every room in your home, allowing you to find a vinyl floor that matches both your lifestyle and budget.
What is LVT (luxury vinyl tile)?
LVT, which stands for luxury vinyl tile, is a multi-layered, waterproof, resilient flooring available in either rigid or flexible vinyl tiles or planks. Similar to vinyl roll, LVT is a durable and practical flooring option that also offers a wide choice of designs and styles, from timeless and classic to trendy designs.
How is Tarkett LVT constructed?
Tarkett LVT is made of a core layer of PVC, a printed design layer, a wear layer and a reinforced polyurethane (PUR) treatment layer.

The design layer can be made to look like almost any material and offers endless design possibilities. The wear layer determines the durability of your floor: the thicker the wear layer, the more durable the floor. And the top polyurethane treatment layer protects both the wear layer and the design layer, providing extreme protection against scratches, wear and stains.
Tarkett's Starfloor Click Ultimate ranges also have a foam backing layer, which acts as a built-in underlayment, providing sound insulation and making the floors softer and quieter underfoot.
Tarkett's LVT range
The Tarkett LVT collection offers a huge range of trendy home floor designs, including everything from retro tiles to smoked oaks and brushed metals. It's one of the best flooring choices for homeowners who want a hassle-free, modular flooring solution that is easy to install, to remove, and to maintain, and that is at the forefront of design trends.
What is vinyl roll?
Vinyl roll is a multi-layer vinyl with a printed top layer. It comes in large, continuous, flexible sheets, and there are usually very few if any seams when installed. Vinyl roll is therefore usually recommended in areas subject to moisture, such as the bathroom, kitchen and laundry.

Modern vinyl roll is a durable, practical and affordable flooring option that also offers an extraordinary choice of designs: from brilliant colours, playful abstracts and black and white, to perfect reproductions of natural materials such as wood and stone.
How is Tarkett vinyl roll flooring constructed?
Tarkett vinyl roll is made up of several layers, comprising a fiberglass core for stability, a foam or polyester backing for acoustic and thermal insulation, and a transparent wear layer and polyurethane (PU) treatment layer, which provides resistance against spills and stains.
The construction and surface treatment of each Tarkett vinyl roll product will determine just how resistant your floor will be to scratches, scuffs and stains, and how easy it is to clean. For instance, softer floors will be more resistant to scratches, and floors with deep mechanical embossing will be slightly harder to clean than floors with smooth surface finishes. In general, our vinyl floors stand up well to scratches, scuffs and stains and they're easy to clean.
Our vinyl floors also feel good, offering cushioned underfoot comfort and a variety of finishes to provide touch sensation that matches the looks. Hardwearing, waterproof and easy to clean, Tarkett vinyl roll flooring has very low VOC (Volatile Organic Compounds) emissions and is 100% phthalate-free.
What is the difference between LVT and laminate?
Both LVT and laminate are durable, affordable and attractive alternatives to traditional hardwood and ceramic flooring options. They're both made in layers and include a wear layer, which increases their resistance and durability and makes them easy to clean and maintain, and a design layer, which allows them to almost perfectly imitate the look of natural materials such as wood, stone and tile.
LVT is waterproof
While both LVT and laminate are constructed in similar ways, their composition varies. Laminate is composed mainly of high-density fibreboard, which is essentially a wood product. This means that laminate isn't waterproof and therefore much more susceptible to water damage, limiting where you can install it in your home. LVT, on the other hand, is composed mainly of PVC, providing it with superior resistance to moisture compared to laminate. And unlike laminate, LVT can be used in any room in your home, including the bathroom, kitchen and laundry. However, it is also important to note that while LVT products are waterproof, their installation is not. For instance, LVT comes in planks or tiles that sit side by side, resulting in multiple seams. So, while the planks and tiles themselves are waterproof, if they're not correctly installed, there's the possibility of water or moisture seeping through the seams. Therefore, installation in moisture-prone environments needs to be done with extra care.
LVT is quiet and soft
Tarkett LVT is comfortable and soft to touch. LVT is also a lot quieter underfoot compared to laminate.
LVT offers a complete DIY solution
Both LVT and laminate have DIY-friendly installation options; however, LVT offers a more complete DIY solution. While you need a wood saw to cut laminate, you don't need any extra tools to install LVT.
Are vinyl rolls and linoleum the same thing?
The terms vinyl roll and linoleum flooring are often used interchangeably, but they're not the same thing. Both flooring types are highly resilient, long-lasting, and suitable for installation in almost any room in the home. However, there are some key differences in how they're made, installed and maintained, and the variety of designs and colours available with each product.
Vinyl roll is constructed in layers and composed mostly of PVC, whereas linoleum is made from a single layer of natural materials, primarily linseed. One of vinyl's layers is 'design layer', upon which decorative designs are printed and embossed. This design layer allows for almost limitless design and colour options. Some vinyl floors also have texture that matches the image, making the vinyl floor look and feel a lot like the material that it's mimicking, such as real hardwood and natural stone. With linoleum, the design is embedded throughout the materials, rather than printed on a separate layer, limiting the scope of design and colour possibilities.
Installation and maintenance is another key difference, with vinyl flooring being significantly easier to install and maintain than linoleum flooring. Most linoleum is in sheet form, requiring full-spread adhesive. And since linoleum is so stiff, it can be difficult as a DIY project and usually requires a professional installer. Vinyl roll flooring, on the other hand, is much easier to work with than linoleum since it isn't as stiff. Vinyl can also be installed in several ways, depending on the product you choose.
Linoleum also requires a little more effort in terms of maintenance as it doesn't hold up against moisture and wear quite as well as vinyl. Linoleum is made of natural materials, and therefore much more susceptible to damage from water and cleaning products. As a result, you'll need to seal seams directly after installation and use specific cleaning products recommended by the manufacturer. Also, because of its potential vulnerability to moisture and humidity, we don't recommend installing linoleum in the bathroom and laundry. Most vinyl flooring, on the other hand, can be installed in any room of the home and can be cleaned with regular household cleaning products.