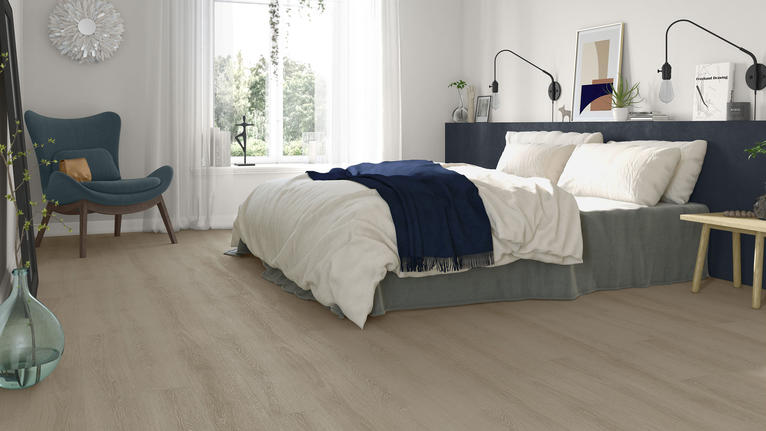 Bedroom styles and trends
A bedroom is a personal sanctuary that we retreat to for quiet relaxation. The main goal when designing your bedroom is to find styles and trends that you love and to create a space where you feel calm and comfortable. Follow our tips below on styling and decor trends to help you get started with your bedroom design project.
How do you style a bedroom?
While bedrooms are personal spaces where you'll want to incorporate your favourite colours and accessories, there are a few general style rules that can help you to create the perfect bedroom.
• Subtle, soothing shades – To create a cosy, calm and relaxing space to sleep, it's best to choose subtle shades rather than bold primary colours. Neutral colours with touches of warm browns, cool, soothing blues, and soft green hues can all create a calming effect. White can also create a soothing ambience and can be combined with bright accents to create a modern look.
• Simple and uncluttered look – Furniture your bedroom with just the necessities to create a sense of space and simple elegance.

• The right sized bedroom furniture – Big, heavy furniture and oversized headboards crowd a small bedroom while small furniture looks lost in a large bedroom. Take measurements and buy furniture that fit the room nicely.

• Incorporate storage – Having a place to store all of your things keeps your bedroom tidy and uncluttered, adding to the sense of serenity. Built-in closets, storage bench or truck at the foot of the bed and bedside tables with drawers are good ways to keep your things out of sight.
• Dress the windows – Curtains are a great way to add colour, texture and softness to the bedroom. They'll also allow you to control the amount of light coming in so you'll need to think about how light or dark you want your room and choose sheer or opaque curtains accordingly.
• Layer the lighting – As well as the main light fitting, small lamps and accent lighting help to create a softer ambience and adds an element of practicality for bedtime reading.

Decor trends for bedrooms
Planning to update your bedroom? Bedroom styles are often based on very personal style preferences, which can and often do change. Luckily the bedroom is one room where it's relatively easy to update and refresh the style with just a few small changes. Here is a list of some of the latest bedroom trends that might inspire you.

• Natural materials – As more consumers embrace sustainable living practices, the demand for decor made from natural materials and fibres like wood, rattan, jute, and sisal is on the rise.

• Mid-century design – Statement pieces of wooden furniture from the '60s and '70s are in as part of the rise in mid-century design style. They are usually combined with white tones to enhance the wooden lines.

• Oversized statement art – Art is very personal and finding a piece that speaks to you and matches your design style instantly brings bedroom walls to life.

• Floral wallpaper, bedding and prints – Wallpaper is making a comeback, but if this seems like a bit too much of a commitment, floral bedding and prints also achieves the look.

• Kitch retro pieces – From upholstered furniture and accessories, such as lampshades and headboards, to custom quilts, kitch retro style is in. You can incorporate this look with patterned throw pillows or an accent chair. Floral patterns are a big part of this trend.
• Patterned area rugs – Rugs have ventured beyond the living room and into bedrooms. From bold geometric to softer floral patterns, they're a great way to bring a completely new look to your space.