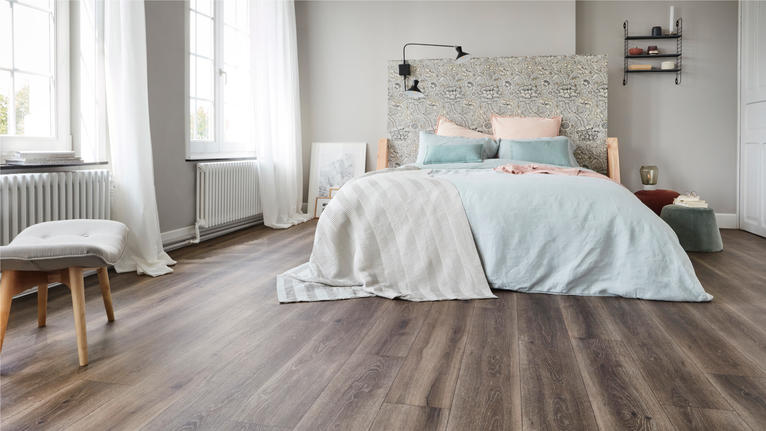 The bedroom is a personal space that we retreat to for rest and relaxation. When choosing flooring for the bedroom, you have many options and few restrictions. Carpet, hardwood flooring, engineered wood flooring, vinyl flooring, laminate flooring, and even cork flooring are all possible options.
Bedrooms are relatively low traffic areas, so durability isn't the most important consideration. The two main selection criteria for bedroom flooring are comfort for bare feet and design. Your bedroom flooring choice sets the tone for the room's style, so it's essential to spend some time thinking about your design style preferences and the types of space you want to create.
What's the best flooring for a bedroom?
The best flooring for a bedroom is a floor that is comfortable for bare feet and available in designs that meet your interior design style preferences.

Many types of flooring meet these criteria including wood, vinyl, laminate and carpet. Each of these options has advantages and disadvantages in terms of comfort and price and choosing between them often comes down to your design and style preferences and your budget.

Our wood flooring collections are incredibly versatile and available in a wide variety of plank sizes, stains, and textures, making it easier than ever to find bedroom flooring that perfectly fits with your design style and lifestyle.

By applying a surface effect, you can further change the appearance of your wooden floor. For instance, by using different brushing methods, you can enhance the beautiful, natural structure of the wood. And by adding saw or indentation marks, you can create a more vintage look and feel. Our Heritage and Vintage collections both display the beauty of these techniques. By enhancing the natural details of the rustic oak in our Heritage collection, we have created floors with a feeling of century-old patina. And the visible woodworking traces, from saw marks to indentations, in our Vintage collection gives added personality and a sense of bygone times.
If you're looking for an affordable alternative to wood, we've also developed a full range of LVT and vinyl roll flooring solutions to meet different needs, tastes and budgets. For instance, our LVT Starfloor Click 30 and 55 (in both flexible and rigid) and Starfloor Click Ultimate are available in a wide range of colours and surface designs.
Our laminate collection also provides a less expensive alternative to wood and LVT. They're easy to install, easy to maintain and, like our LVT collection, they're designed to perfectly imitate the texture of natural materials.
Bedroom styles and inspiration
Bedrooms are personal sanctuaries where we come to rest and relax. With this in mind, you want to create a calm and organised space that reflects your style and also creates a relaxed and soothing ambience.
Choosing the right floor helps you create the foundation of your bedroom design style. Wood flooring, for example, provides a timeless look that won't date or go out of style. It's also highly versatile and can complement a variety of design styles from contemporary to classic. Our wood flooring collections, for instance, are available in such a wide range of patterns, styles and shades, that they can complement pretty much any colour scheme or interior design style.
In addition to flooring, your choice of colours, lighting, and bedroom accessories contribute to the style of your bedroom.

Browsing our inspiration pages can help you become better acquainted with your general design style preferences and get you started with your bedroom design or make-over project.
Vinyl in bedrooms
Two of the key advantages of vinyl over some of the other bedroom flooring options are its affordability and the almost unlimited design choice. Vinyl is available in a wide variety of designs, colours and styles, from wood, tile, stone to stunning graphic effects. This means you'll be able to choose a bedroom floor that perfectly matches your style preferences and home decor.
Vinyl flooring with a wood-look finish

At Tarkett, we have designed our LVT and vinyl sheet ranges specifically with a wood-look finish in mind. Our Starfloor Click Ultimate range, for instance, offers a select range of wood designs that recreate the look and feel of wood so well that it could be mistaken for the real thing. They're very low maintenance, easy to clean and incorporate Soundblock technology for ultimate sound absorption. They also incorporate an easy click installation system, which makes installing vinyl floors easier than ever.

Low emissions and 100% phthalate-free

All of our LVT and vinyl roll products are 100% phthalate-free and have low VOC emissions. Tarkett is focused on making flooring with low emissions to improve indoor air quality. Our new generation of vinyl floors are the latest in our range of flooring with emissions 10-100 times lower than the most stringent regulations.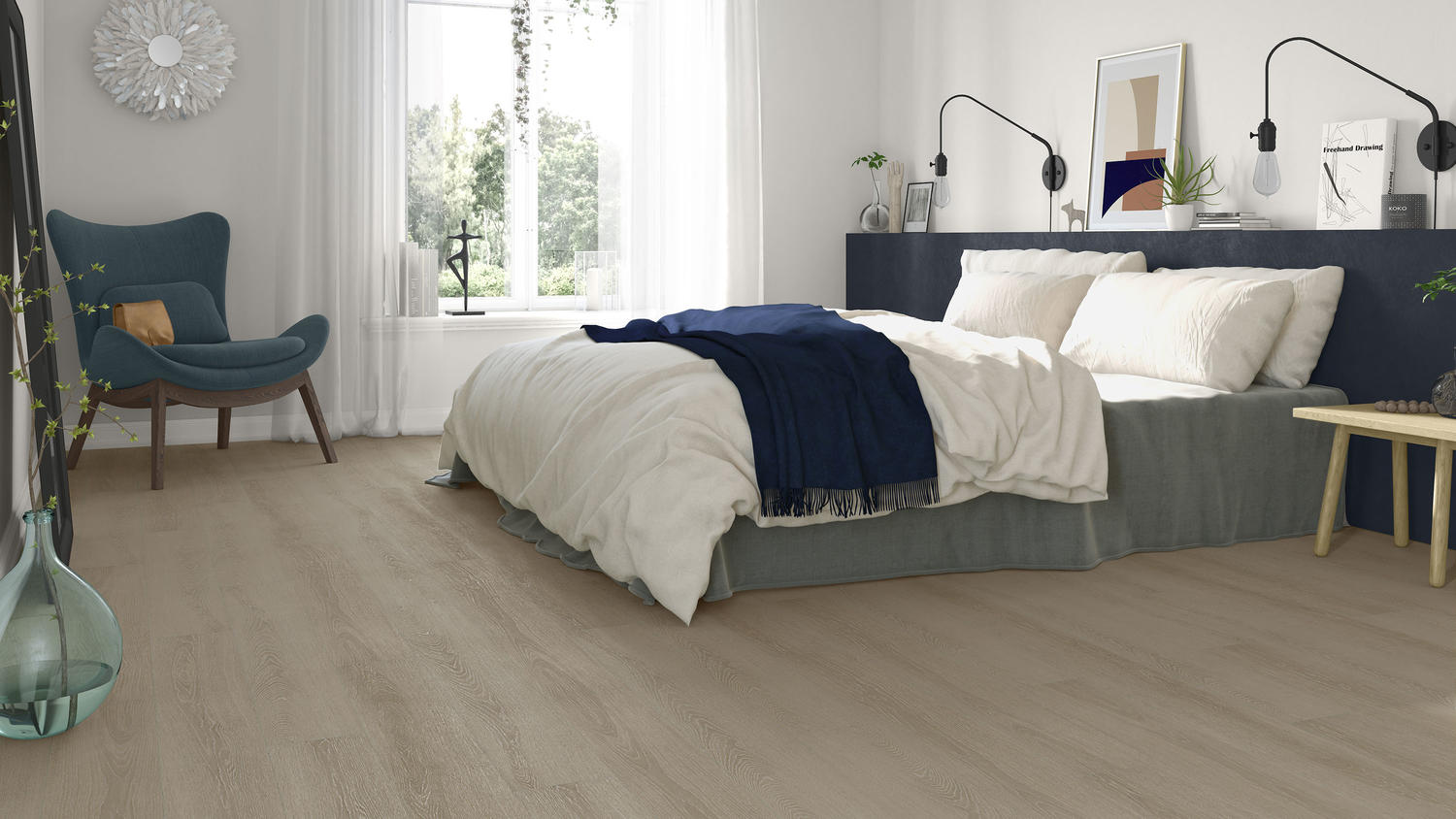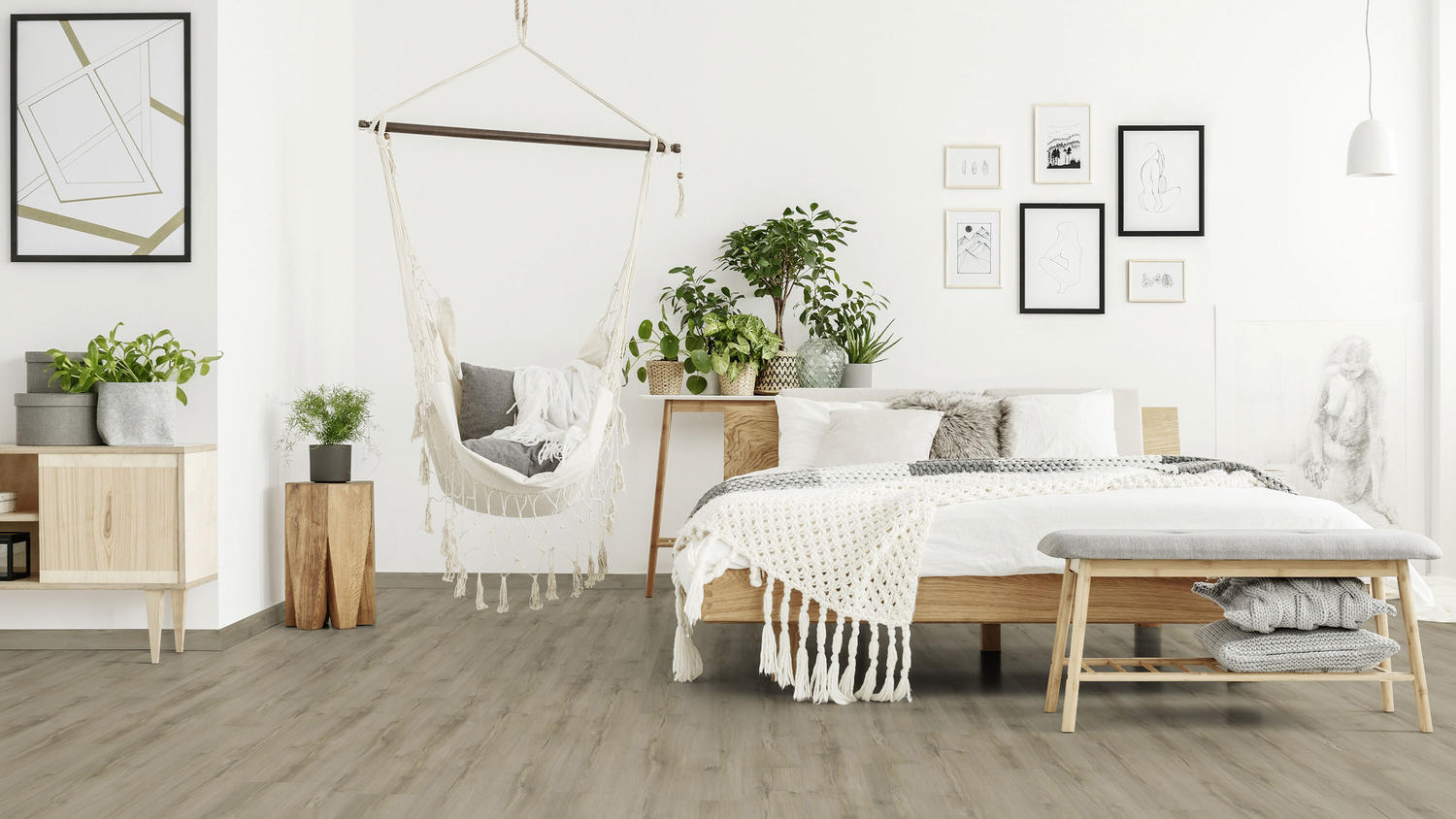 Wood in bedrooms
Wood floors in the bedroom are timeless and beautiful and can be coordinated with just about any decor. Our extensive wood flooring collection, for instance, offers a host of patterns and styles, including strip, plank, and parquet. Both strip and plank are linear in their design. The only difference is that plank is wider than strip, which gives it a more casual feel. Both are popular choices in the bedroom. Our wood collection also comes in a range of carefully chosen nuances, from natural browns to whites and greys, enabling you to find the perfect bedroom floor to match your design style preferences.

As well as design, comfort is an important consideration. The bedroom is the room you retreat to at the end of the day, and the room you wake up in, and so you'll want to create a warm and welcoming space. First and foremost, you'll want wood floors that are comfortable and warm underfoot. With good insulation, wood flooring will both look and feel warm. This is an important consideration in the bedroom, where you're often barefoot and where you want to feel a sense of cosiness and warmth. You also have the option of creating additional warmth by choosing wood flooring that is compatible with underfloor heating. Area rugs also add softness and warmth underfoot. They can also add to the overall bedroom style and design.
Laminate in bedrooms
If you're looking for a wood-like finish for your bedroom floor, but you find the pricing of hardwood floors out of reach, laminate offers an attractive and affordable alternative. It's much more economical than hardwood flooring but can, like vinyl flooring, effectively mimic the look of natural flooring materials such as wood. Laminate has many of the same advantages that are offered by vinyl flooring – they're easy to maintain, highly resistant, nice looking, and long lasting. However, in terms of comfort underfoot, laminate is at a disadvantage because it's known for being quite hard, especially when compared to vinyl. So, if comfort and design are your two key selection criteria, laminate might not be the best flooring choice for bedrooms.