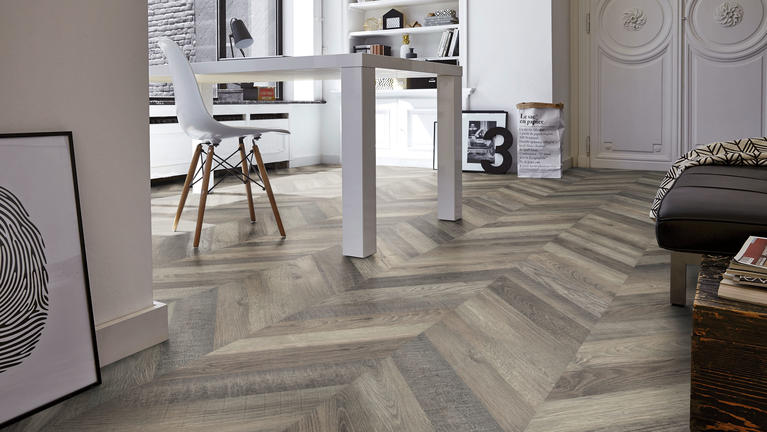 Choosing laminate floors for a home office
Laminate flooring comes in a range of colours and designs that authentically mimic wood and stone finishes. It's, therefore, a popular flooring option for budget-savvy homeowners who want a wood-look finish in their home offices but without the expense of installing real hardwood. As well as being more affordable than hardwood, laminate is durable with an extra-strong wear layer, highly resistant to scuffs, scratches and stains, and easy to wipe clean. They're also quick and easy to install yourself.
A potential drawback of laminate floors is that they don't have great sound-insulating properties. This can make them quite noisy with the constant sliding of swivel chairs and clients coming and going. Using a quality underlayment helps to counter this. It reduces noise and provides additional comfort underfoot.
Benefits of laminate flooring in home offices
Pros of using laminate flooring in home offices
• Inexpensive
• Durable
• Easy to clean
• Easy to install
Inexpensive – Laminate is relatively inexpensive when compared to home office flooring options such as solid and engineered hardwood flooring. This makes it an attractive option for homeowners looking to install home office flooring on a budget.
Durable – Laminate has a treated, extra-strong top layer of laminate, which makes it highly scratch and stain-resistant. This durability makes it a good choice for home offices that expect significant foot traffic. Most laminate floors come with a minimum 10-year warranty.
Easy to clean – Laminate floors have a smooth surface which makes them very easy to clean. Spilt coffee can be easily cleaned up with a damp mop with warm water and a mild detergent.
Easy to install – Installing laminate floors is fast and easy. Skilled DIY homeowners can usually install laminate floors themselves. Our laminate floors come with 2 easy-to-use profiles that allow glueless installation: ANGLE LOCK or UNIFIT®.
Available in many designs – Laminate, like vinyl, is available in a range of styles and designs, including designs which mimic natural materials such as wood, ceramic tile and natural stone.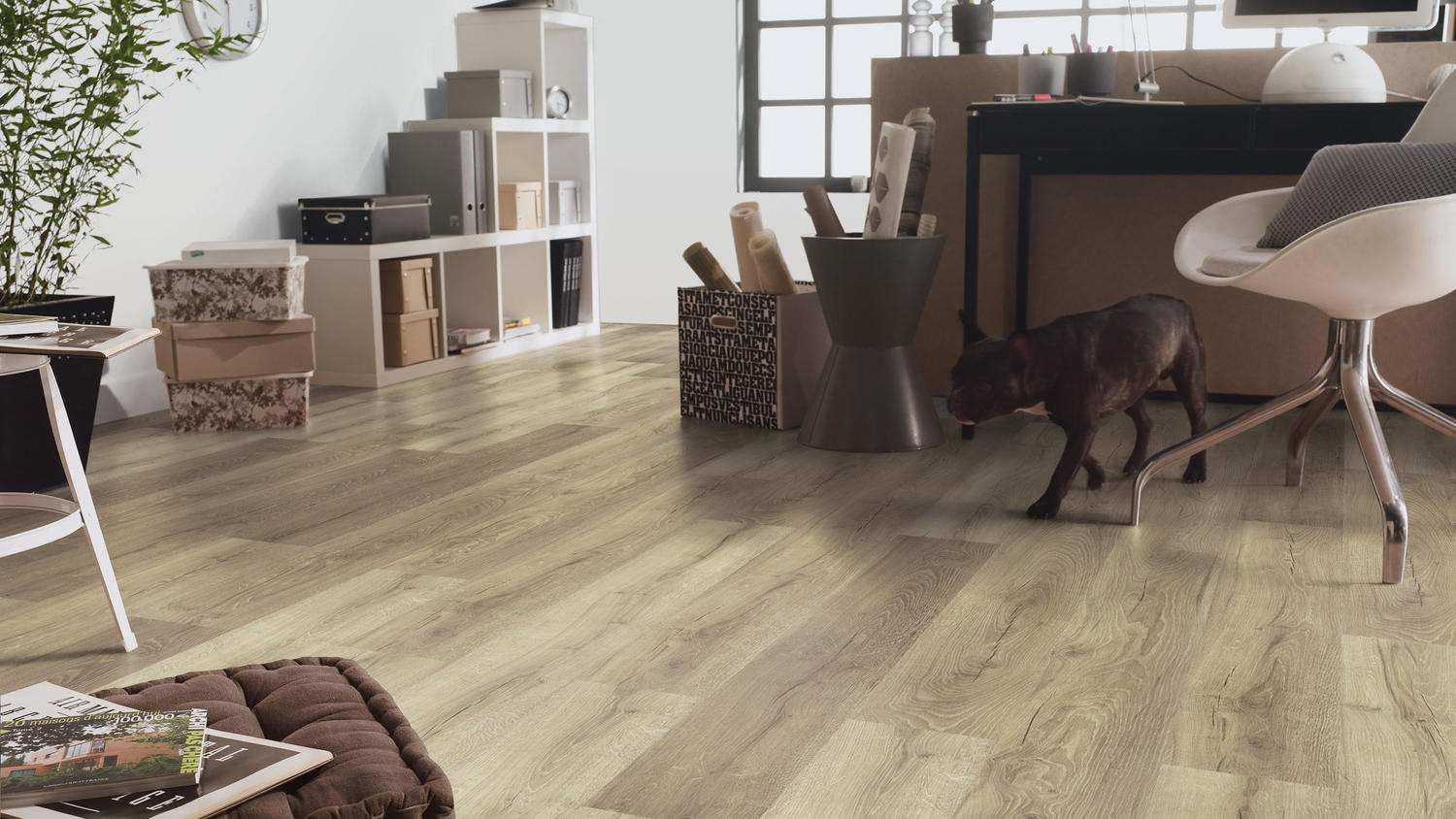 Drawbacks of laminate flooring in home offices
Cons of using laminate flooring in home offices
• No thermal or sound insulation properties
• Can look cheap or fake
• Difficult to repair
No thermal or sound insulation properties – Laminate floors don't offer any thermal insulation or absorb sound in the same way that carpet does, and the hard surfaces tend to be noisy underfoot. If you're installing laminate in a busy office space, a good quality underlayment provides sound-reducing properties and add some thermal insulation.
Can look cheap or fake – Despite advances in production and design, laminate flooring can still sometimes be viewed as a cheap imitation of the real thing.
Difficult to repair - Unlike hardwood, which can be sanded back and refinished to make it look new again, laminate flooring cannot be refinished. So once the floor becomes damaged or worn, the damaged planks need to be removed and replaced. However, it can be difficult to remove individual planks due to the tight locking system, and therefore in most cases, the entire floor needs to be ripped out and replaced.