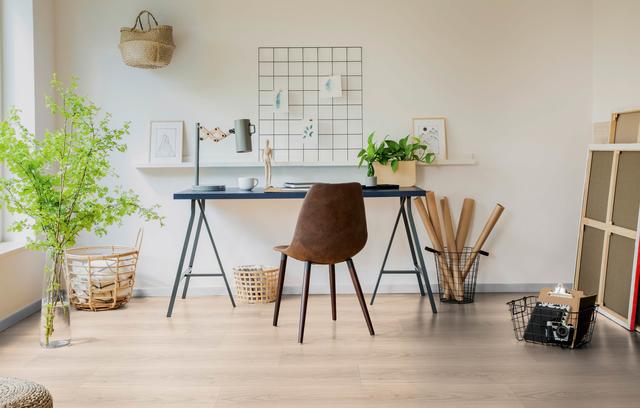 Flooring for home offices
A good home office should be functional and inspire productivity. If you work from home, you'll likely spend most of your day here so you'll want to create a workspace that is both practical and inviting. A functional space that provides a productive working environment and where you'll feel comfortable, motivated, and inspired.
The home office is an extension of your home, so you may want to match your flooring and decor to the rest of the home. Alternatively, you may want to create a space that feels distinct from the rest of the home, with a completely different look and feel. Either way, a few factors may influence your choice of home office flooring. For example, the type of office furniture you have, and how it interacts with the floor in both a practical and design sense, is a consideration. If you use a swivel chair, for example, a durable floor that enables smooth sliding is the most practical and ergonomic. And, if you already have your office furniture, you'll also need to choose flooring that works best from a design and style perspective with what you've got. The amount of traffic you anticipate from potential clients is another factor. The busier the home office, the more hardwearing your floor should be.
What's the best flooring for home offices?
The best flooring for a home office is a floor that interacts well with office furniture, and available in designs that enable you to create your desired office ambience. If you regularly welcome clients, it also needs to be durable and easy to clean. And if you spend a lot of time taking phone calls, a quiet floor that absorbs rather than transfers noise is also a good idea.
The best floor for your home office will, therefore, be a floor that is at once practical, comfortable and durable, as well as beautiful and welcoming. Wood, vinyl, laminate, carpet and tile are all suitable office flooring options, depending on your specific needs and design and style preferences.
Home office styles and inspiration
Depending on the type of work you do and the number of face-to-face clients you deal with, your home office can either be a private or public space. In both cases, you'll want to create a calm and organised workspace with an inviting and relaxed ambience.
Choosing the right floor is the first step to creating the foundation for your home office's design style. Every type of flooring material, including vinyl, wood and laminate, offers a range of design possibilities to suit every style and budget.
In addition to your flooring choice, furniture, lighting, colour, and accessories, all contribute to the style of your home office.
Browse our inspiration pages to become better acquainted with your preferred design style and for ideas on how to style your perfect home office.
Vinyl in the home office
Vinyl floors (vinyl rolls and LVT) are a durable and low maintenance option for home offices. They're tough enough to withstand heavy foot traffic and the sliding of swivel office chairs. They're also scuff and stain-resistant thanks to a protective top layer, which keeps your vinyl floors looking better for longer. The cushioned backing on some vinyl floors makes them sound-absorbent and quiet underfoot. This reduces noise from potential clients and phone calls while also providing comfort. On top of this, vinyl has excellent thermal properties, which means you that you can work on warm floors all year round.
Available in a wide variety of styles, patterns, colours and designs, you'll be able to explore a vast range of home office flooring ideas to find a design that meets your style preferences. You'll also be able to play with the size and width of planks, for example, to help you create a more inviting and spacious feeling in your office space.
Wood in the home office
If you have hardwood flooring throughout your home, you'll most likely want hardwood flooring in your home office. Wood is one of the more expensive flooring options, but the reward is a durable, natural and long-lasting floor. Engineered hardwood floors are durable, practical and beautiful. And, they are available in a wide variety of colours, wood grains and textures. At Tarkett, our beautifully crafted wood flooring is available in both contemporary and traditional wood designs and in a wide range of colour choices, finishes and unique features, which will bring style and elegance to your home office.
Laminate in the home office
Laminate is another flooring option that authentically interprets the highest quality wood and stone finishes. It's available in a wide range of designs, from realistic to artistic, and in a choice of widths and lengths, which makes it easy to create a striking floor design for your home office.
Laminate is also durable. With an extra-strong wear layer, laminate floors are highly resistant to scuffs, scratches and stains, and super easy to wipe clean. They're also quick and easy to install yourself.
One drawback of laminate floors is that they can sound hollow. And with the constant sliding of swivel chairs, telephone calls, and clients coming and going, this could potentially create a bit of noise. However, you can counter this by using a quality underlayment, which will reduce the noise as well as provide additional comfort underfoot.