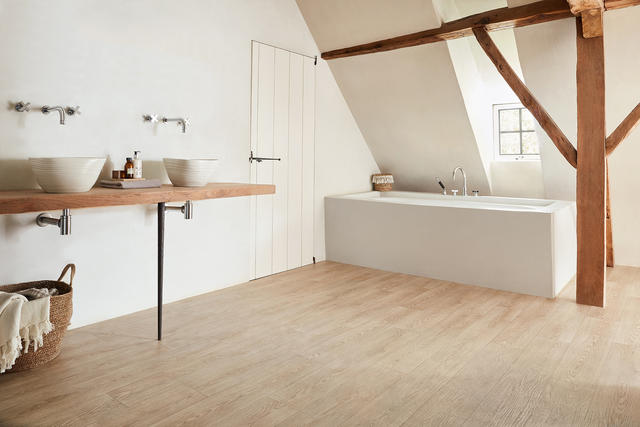 Choosing Laminate floors for a bathroom
Laminate flooring is a popular wood-look flooring option. It has a tough, resin-coated top layer, which is water-resistant and comes in a range of wood finishes. However, since Laminate has a wood-chip composite core, it has the potential to suffer the same fate as wood if it absorbs moisture, and is therefore not recommended for use in bathrooms.
Alternatives flooring options that you can consider for the bathroom are luxury vinyl tiles (LVT), vinyl roll , and porcelain or ceramic tile. These are considered to be the best bathroom flooring options because of their ability to stand up to moisture and humidity.
Benefits of Laminate flooring in bathrooms
Pros of using Laminate flooring in your bathroom
• Affordable
• Easy to clean
• Easy to install
Affordable – Laminate flooring is budget-friendly. However, if you're after hardwood, stone or ceramic tile bathroom flooring but can't afford the expense, a better option is to go with vinyl flooring. Vinyl is also a relatively inexpensive flooring material, but unlike Laminate, it's made with PVC and has a natural resistance to water and moisture.

Easy to clean – Laminate has a smooth top layer, which makes it easy to wipe clean. However, due to the prevalence of water in the bathroom, regular wiping would be required to keep the floors dry to prevent potential water damage.

Easy to install – At Tarkett, our Laminate floors come with a new profile that makes them fast and easy to install. However, if the seams between the boards are not installed tightly together, the risk of water damage is even higher. So, despite the easy installation, alternative flooring options such as vinyl are recommended over laminate for the bathroom.
Drawbacks of Laminate flooring in bathrooms
Cons of using Laminate flooring in your bathroom
• Susceptible to water damage
• Difficult to repair
Susceptible to water damage – Laminate contains a layer of high-density fibreboard composed of wood-chip composite under its top wear layer, making it susceptible to potential water damage. If water seeps through the seams into the lower layers, your Laminate floors will suffer the same fate as hardwood flooring. It will swell and bubble, causing permanent and irreversible damage to your Laminate floor.
Difficult to repair – If your Laminate floor suffers water-damage, due to water seeping through the top layer or seams down to the layer of wood chip, there is nothing you can do to repair the floor. The only fix is to tear it out and replace it. Tarkett Laminate is, therefore, not recommended for installation in bathroom.