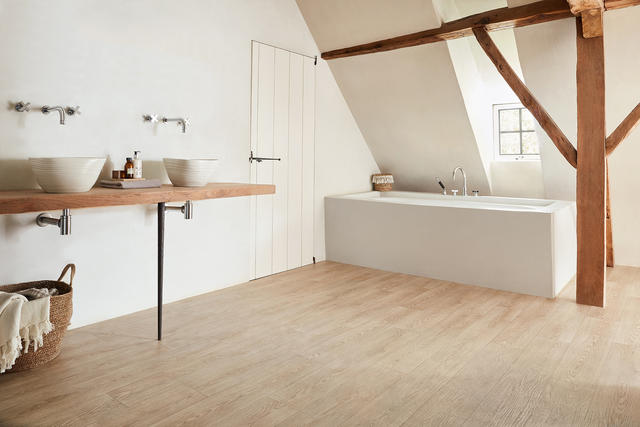 The bathroom is a water-heavy environment where water and steam are ever-present. This means that in addition to selecting a bathroom floor that looks and feels good, it also needs to perform well in the toughest of environments. When choosing flooring for your bathroom floor, key selection criteria will be flooring that can handle moisture and humidity well, isn't slippery when wet, and that is easy to clean. Your bathroom floor should also be comfortable and safe underfoot and offer design choices to match your style preferences.
What's the best flooring for bathrooms?
The best flooring options for bathrooms are floors that can withstand moisture and humidity, aren't slippery when wet, are easy to clean, and comfortable underfoot.
In terms of withstanding moisture and humidity, luxury vinyl tiles (LVT), vinyl roll, and porcelain or ceramic tile are the best bathroom flooring options. Each of these flooring options is water-resistant and able to withstand humidity and temperature changes in a bathroom. Vinyl is the more affordable option because most products include DIY installation options. This is generally not the case with the installation of porcelain and ceramic tile floors, which require the services of a professional.
Vinyl flooring options
Vinyl roll is a great bathroom flooring choice because it comes in large sheets and can be installed in smaller bathrooms without any seams, reducing the risk of water seeping through cracks and grout.
However, if you're after a floor with a more natural wood or stone look and feel, Tarkett's Starfloor Click 55, Starfloor Click 30 , and Starfloor Click Ultimate LVT collections offer an innovative all-in-one solution adapted to any environment – including the bathroom. There are 15 elegant and realistic wood and stone designs in the collection, which have been carefully selected to immediately add warmth and style to any room in the house.
Starfloor Click Ultimate has all of the advantages of luxury vinyl tiles, along with integrated acoustic protection and a long-lasting immaculate appearance, addressing the essential needs of a bathroom floor in one immediate, robust and durable solution. Specific installation instructions for LVT in bathrooms are detailed in our section on the benefits and drawbacks of choosing vinyl floors for the bathroom.
Worst flooring for bathrooms
On the flip side, the worst flooring for bathrooms includes carpet and wood. Carpet retains water for a long time and is difficult to dry out, which can lead to the growth of mould and mildew and a musty smell. And wood is a natural material that expands and contracts in response to changes in moisture and temperature levels, which exposes the wood to increased risk of water damage. These characteristics make carpet and wood floors poor choice for the bathroom.
Bathroom styles and inspiration
There are endless sources of bathroom inspiration providing designs, ideas and styles to suit every personality. Even so, finding the right bathroom style can be difficult.
To help you narrow your search options, a good place to start is by asking yourself a few basic questions. What's the overall style of your home? How big is your bathroom, and how many people will be using it? And, last but not least, what's your budget?
Once you have clarity on the overall style of your home, the type of functionality you'll require, and how much you can afford to spend, finding a bathroom style to meet your needs becomes less complicated. You can then start thinking about colours, fittings, vanities, and lighting – all of the details that add to the style of your bathroom.
Browsing our inspiration pages can help you become better acquainted with your general design style preferences. It's a great way to start your bathroom design style search and to get inspired.
Vinyl in the bathroom
Vinyl is a standout choice for bathroom flooring. There are several different vinyl products, including luxury vinyl tile (LVT) and vinyl roll (also known as sheet vinyl), and both of these are excellent bathroom flooring choices. They're durable, moisture-resistant, easy to clean and maintain, and warm underfoot. They're also available with slip-resistant grip making them safe for slippery bathrooms.
In addition to all of the practical features, vinyl offers almost unlimited design choice. Available in a wide variety of designs and colours, you can easily choose a floor that perfectly matches your style preferences and home decor. You will, however, need to follow specific instructions when installing LVT floors in your bathroom. Read more in our section on the benefits and drawbacks of choosing vinyl floors for bathrooms.
Wood in the bathroom
We know that water and wood do not mix. Wood is a natural material that contracts during periods of low humidity, leaving cracks between floorboards, and expands during periods of high humidity. These cracks leave room for moisture to seep into the wood, causing it to swell, and overtime, to rot.
Wood flooring is, therefore, not the best option for bathrooms. Even engineered wood flooring, which has been designed to better deal with changes in temperature, humidity and moisture, is not recommended for water-heavy rooms such as the bathroom.
Alternative flooring options that are better suited to water-heavy environments include luxury vinyl tile (LVT), vinyl roll , and porcelain or ceramic tile.
Laminate in the bathroom
As is the case with engineered wood floors, Tarkett laminate is a wood-based product and, therefore, not suitable for bathrooms. Even though some laminate ranges are more durable with slip-resistant surface options, laminate is not a suitable flooring choice for bathrooms due to the constant presence of moisture. Ceramic tile, stone, and vinyl are all much better at dealing with moisture and humidity, and are therefore more suitable for bathroom floors.