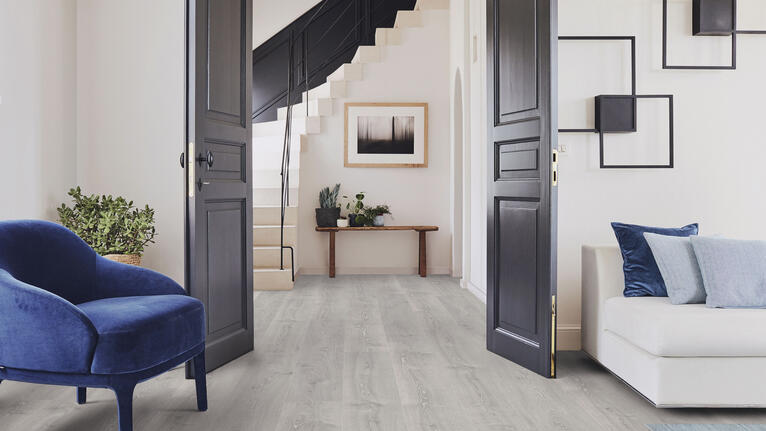 What is laminate flooring and how is it made?
What is laminate flooring and how is it made?
Laminate flooring is a Multi-layer flooring material made from wood fiber that was designed to give the closest replication of natural materials such as wood, stone and tile. It's made from different layers pressed in one single operation at a very high temperature and pressure. The core layer is made of high-density fibreboard, which is strengthened with resin. On top of this is a decorative layer with a printed image (usually of wood, stone or tile). This is then covered by a transparent overlay, which sits on top to protect the surface from everyday wear and tear. The overlay also helps maintenance thanks to its hard sealed surface which is stain-resistant. You can select from a range of finishes (from deep matt to high-gloss), depending on your design and style preferences.
At Tarkett, our laminate consists of four layers. The core layer is a high-density core board made from more than 80% wood that provides exceptional structural strength and high resistance. On top sits the premium decorative layer made from printed paper, which allows for a wide variety of very detailed designs and beautiful colours and patterns. This is sealed with our innovative protective surface, which ensures long lasting durability and hygiene. We also use a unique embossing technique to give the surface a more realistic texture. This technique also allows for the addition of sophisticated decorative effects. The bottom layer of our laminate is a balancing layer. It protects the core board from moisture and also provides dimensional stability.



1. Highly resistant protective surface
2. Premium decorative layer
3. High-density core board
4. Highly stable balancing layer
How durable is laminate flooring?
Laminate wood flooring is highly durable. The high-density core board offers top impact resistance and can withstand heavy furniture without denting. The top layer protects the surface against scratching and fading, which makes laminate well adapted for rooms where there's high-traffic and also homes with pets.

Laminate is water-resistant, but not waterproof. Spills are generally not a problem if they're cleaned up straight away. However, your laminate floors will sustain water damage if water seeps into the seams, penetrating the lower layers of the floor. You can eliminate the risk of this happening by sealing the joints with a silicon treatment. It is highly recommended when installing laminate floors in the kitchen. Laminate is not recommended in the bathroom and laundry room.

In terms of the life expectancy of laminate products, most manufacturers offer at least a 10-year warranty. At Tarkett we offer a 25-year residential warranty.
What are the advantages and disadvantages of laminate flooring?
Advantages of laminate flooring
• Affordable alternative to parquet– A significant advantage of laminate flooring is the price. Thanks to a unique embossing technique that gives laminate the appearance of wood, natural stone or ceramic tile, you can choose to have a natural-looking floor which offers the most affordable alternative to parquet floors
• Durable – The treated, extra-strong top layer of laminate makes it highly resistant to scuffs, scratches and stains.
• Easy to clean and maintain – The tight locking systems of laminate floors create a smooth top layer, preventing dust and dirt from getting stuck on the surface and in between planks, and making them easy to wipe clean. Dirt can be easily removed by wiping, vacuuming or sweeping, and you can use a damp mop with warm water and a mild cleaner
• Easy to install – Laminate flooring usually comes in a simple click system that allows you to piece the planks together easily. At Tarkett, our laminate floors come with 2 easy-to-use profiles that allow glueless installation – ANGLE LOCK or UNIFIT®.
Drawbacks of laminate flooring
• Not an authentic material, even it's made from wood, it's a replicative material – Depending on the quality of the photo used, laminate can look fake when compared to the original material that it's trying to mimic.
• Can't be refinished – Laminate is a lot thinner than wood, and once the top layer of the laminate is damaged or worn, you can't sand it down and refinish it like wood flooring.
• Susceptible to water damage – Under the resin-coated top layer, laminate contains a layer of wood-chip composite. This means that you need to protect your laminate floors from potential water damage. You should clean up spills immediately. It's also essential to maintain the integrity of the top layer to prevent water from penetrating the surface. Standing water, improper cleaner with harsh scouring devices or cleaning products, and extreme impacts can prematurely wear down the floor's top layer
• Difficult to repair – If one plank surface is damaged you have the option to restore it with a specific toolkit but if you need to change the plank because it's highly damaged, the whole laminate floor needs to be ripped out and replaced.
Find out more about Tarkett laminate collections.
How do you install laminate flooring?
| | |
| --- | --- |
| | Installing laminate flooring is quick and easy. Most come with a tongue and groove system in which the laminate boards fold and lock into each other. Our laminate floors come in the form of 2 easy-to-use systems that allow glueless installation – ANGLE LOCK or UNIFIT® |
Laminate floors are designed to 'float', which means they connect to each other but not to the subfloor. A foam underlayment, which provides moisture and sound-reducing properties, sits between the laminate and the subfloor.
You don't need any special tools or skills to install a laminate floor. The laminate planks can be cut with a hand saw or sometimes a utility knife, which means that even inexperienced homeowners can install a laminate floor themselves. Depending on the size of your room, you can generally install laminate flooring in a day.
Find out more about laminate flooring installation.
How do you maintain laminate flooring?
Laminate flooring is fairly low maintenance. However, if you follow a few basic steps, you can keep your laminate floors looking even better for longer.
• Clean your floors regularly to avoid a build up of dirt and dust. Wipe, vacuum or sweep your laminate floor with a soft broom, and use a damp mop with warm water and a mild cleaner for a more intense clean.

• Use doormats to keep the majority of dirt outside. This prevents dirt and other debris being tracked through your home, and the increased likelihood of scratches and scuff marks.

• Place pads and soft castors under table legs and chairs to prevent scratches and dents.
• Avoid using harsh scouring devices or cleaning products as these can wear down the floor's top layer.

• Clean up spills immediately and only use a little water when cleaning your laminate floors. If water penetrates the surface of your laminate floors, it will cause the boards to swell and the top layer to peel and separate.

• Lift furniture rather than drag or push it on your laminate flooring to avoid damage.
Find out more about laminate flooring maintenance.
Can you use laminate flooring in any room in your home?
Laminate flooring can be installed in most rooms in your home. However, it's not recommended in the bathroom or laundry room. Also, like hardwood floors, special care and maintenance is needed when installing laminate in moisture-prone rooms such as kitchens. The laminate that you install kitchens must have high water-resistance and an anti-slip surface.
What is the difference between laminate and engineered wood flooring?
Laminate and engineered wood flooring share several similarities, but there are some key differences between them.

Laminate flooring and engineered wood flooring are both made from several layers of compressed materials. The core of laminate consists of compressed wood material strengthened with resin with a printed image (usually of wood but it can also be of stone) on top and covered by a resistant overlay to protect the floor surface. Engineered wood flooring, on the other hand, is made from layers of compressed materials with a layer of solid wood on top.

So what is the main difference between laminate and engineered wood? Laminate is replicating wood (or sometimes stone), due to the photo that sits just under the top, transparent layer, whereas engineered wood floors are made with real wood and have a solid hardwood layer on top.
At Tarkett, we make our engineered wood flooring entirely from real wood. We then add a top layer of solid hardwood in a variety of species and designs and apply a stain and heat treatment. Our engineered wood floors also have a strong and supportive middle layer made of transverse wood with fibres that contributes to the stability of the boards, and a balancing layer that stabilises the board and guarantees dimensional stability.

Price will also be a major difference, engineered wood flooring is always more expensive than laminate flooring.