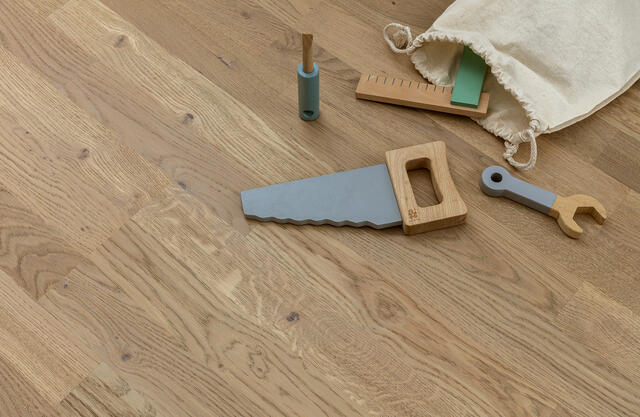 How to install wood floors
How you install your wooden floor will depend on the type of wood you have chosen also on the type of subfloor you have: concrete, wood, carpet or tiles. These factors will influence the installation options available to you, which include floating or glue-down installations.
Solid hardwood flooring is typically nailed or stapled to a wood subfloor. Engineered hardwood, on the other hand, can be glued down or installed as a floating floor, depending on the subfloor and the product selected.
Can I install wood floors myself?
Depending on the Tarkett product you choose and the type of subfloor you have, installing wood flooring can range from a simple DIY project to a much more complex project requiring the assistance of a professional.
Tarkett wood floors come in three types of locking system – 2-Lock, Tongue and Groove and Ultraloc. 
These systems lock the planks closely together so that they fit perfectly without gaps or uneven edges. They are very quick and easy to use – in particular 2-Lock which makes it simpler than ever to lay wooden floors. Using this system you can easily lay a floor in an average-sized room in less than a day.
Our Viva range come with the Ultraloc installation system, optimal for renovation thanks to its thickness and length.
How to lay laminate and engineered wood flooring
Laminate and engineered wood flooring can both be floated with a DIY, click and lock installation. With this installation method, the wood planks are joined together with interlocking joints, creating a single, continuous layer that 'floats' over the subfloor. Whilst this is the only installation option for a laminate floor, an engineered wood floor can also be glued down.
Tarkett wood floors are equipped with a click installation system, making them easy to install and ready to use.


In order to install Tarkett's wood floors, the subfloor on which the wood is going to be installed must be level, firm, dry and clean. The wood must be allowed to acclimate to the temperature of the room in which it is going to be installed, which should have a relative humidity of 30-60% and a minimum temperature of 18˚C. Wooden floors from Tarkett should be stored under the same climatic conditions as above and not directly on/against concrete. The packs must not be opened until immediately before installation.
You then need to determine the direction in which the wood is going to be installed. If the room is rectangular, lay boards parallel to the longer wall, and if the room is square, lay boards towards the main source of light. If you are installing wood in a corridor, always lay the boards along the length of it. Open a few packages during installation to chose boards to achieve a harmonious colour transition. Expansion gaps must be planned along fixed points such as walls, thresholds, radiator pipes and stairs. Use spacers to have the correct expansion gap width.
Finally, you can add the finishing touches. Tarkett offers a range of matching accessories including skirting boards, transition profiles, pipe collars and stairnoses. Check the following pages to choose the best option.
 
Can Tarkett wood floors be installed over underfloor heating systems?

Underfloor heating systems are suitable for most of our wood floors. However, maple and beech floors should never be used with underfloor heating because of their natural structure, which can cause cracks and develops gaps when they dry out too much. The heating system must also be designed so that it provides even heat over the whole area of the floor and must never exceed 27°C in any part of the floor. If you are unsure about the compatibility of your chosen wood flooring with an underfloor heating system, your local dealer can assist you.
What is the best wood floor underlay?
Choosing the right wood flooring underlay is an essential part of your installation as it serves several purposes. It helps reduce sound, protects your floor from harmful moisture, and provides thermal insulation. It also increases the walking comfort for the user.

The best wood flooring underlay will depend on several factors, including whether you are installing solid or engineered hardwood flooring, what type of subfloor you have, and whether you are installing wood flooring with an underfloor heating system.
To ensure your floor lasts longer, we recommend Tarkofoam II, Tarkoflex II or rag felt. Tarkoflex II should be used with underfloor heating systems.
Sometimes you will also need a moisture barrier. A moisture barrier is a polythene foil that prevents humidity migration from the sub-floor to the wood floor. The underlay material Tarkoflex II also acts as a moisture barrier.

What is the best underlay to use with underfloor heating?

If you have underfloor heating, there are a few additional factors to consider when choosing the best wood flooring underlay. Many underlays are designed to be thick and cushion-like so they feel soft and also provide insulation. These sorts of products are not ideal with underfloor heating because they act as a barrier to the heat trying to come through. Instead, you need a thin product with a low thermal resistance. Using the wrong wood flooring underlay will prevent the system from working at optimum efficiency and may also cause the temperature to reach unsafe levels, leading to potential problems with the floor covering.
Tarkoflex II, a thin and compact underlay, or rag felt, are to be used with underfloor heating systems.