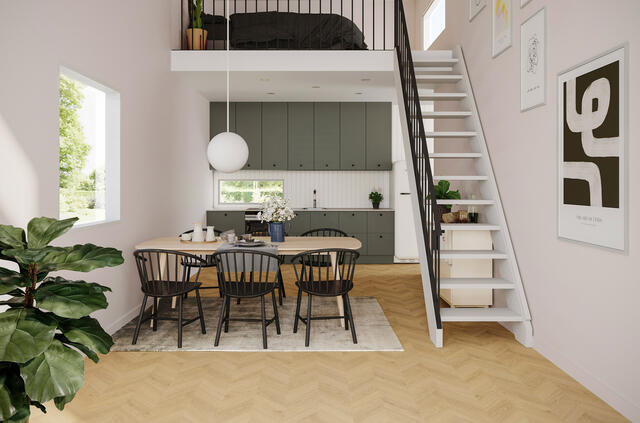 Laminate floors in the kitchens
Laminate floors in kitchens
Good quality Laminate flooring can work in kitchens, and because of its water-resistant properties, it is a better choice than solid hardwood flooring. However, since the kitchen is a semi-moist and high-traffic area, there are a few characteristics that you should look for if you want your kitchen floors to last.

The most important criteria to look for is a thick wear layer, because the thicker the wear layer, the more durable the floor. Laminate's treated, extra-strong overlay makes it highly scratch and stain-resistant. It also provides water-resistance, which is an essential requirement for your kitchen flooring.

More durable Laminates also undergo high-pressure lamination (HPL), which more effectively compresses and fuses the layers, resulting in a harder, more stable and more durable floor.
Is Laminate flooring suitable for kitchens?
Laminate is a suitable flooring option for kitchens. However, since kitchens are semi-moist rooms, and Laminate has a wood-composite core, you'll need to apply some care and maintenance to prevent water damage. Choosing a Laminate floor that is highly water-resistant is essential. Ensuring correct installation is also crucial. The seams between the planks need to be very tight and without gaps to prevent moisture penetrating the core of the Laminate. You can also glue joints in between the planks to make your Laminate floors more water-resistant. Even high-quality, durable Laminate flooring can suffer water damage if it isn't installed correctly and well maintained.
How do you lay Laminate flooring in a kitchen?
Laminate flooring is easy to install, especially when compared alternative flooring materials such as stone or ceramic tiles. How to lay Laminate in your kitchen varies depending on the product you choose. In most cases, laminate floors come with a tongue and groove click installation system that requires you to snap the boards together. And in all cases, you'll need a flat, clean base floor upon which to install your Laminate flooring.

Find out more about how to install your Tarkett Laminate kitchen floor.
Is Laminate water-resistant?
While not waterproof, Laminate is a highly durable and water-resistant flooring product. Spills need to be cleaned up straight away to avoid liquids seeping into the locking system and causing the floors to buckle and warp. You can minimise the risk of water damage by sealing the joints with a silicon sealer in between planks. This increases your floor's resistance to water, and it's therefore recommended in areas with high levels of moisture such as kitchens.
How do you maintain Laminate floors in the kitchen?
Keeping Laminate floors in the kitchen hygienically clean is as simple as following a few basic steps. Wiping, vacuuming or sweeping them with a soft broom or microfiber mop is all you need to do on a daily basis. For a more intense clean, use a damp mop or cloth with warm water and a mild detergent once a week.

Find out more about how to clean and maintain your Laminate floors.