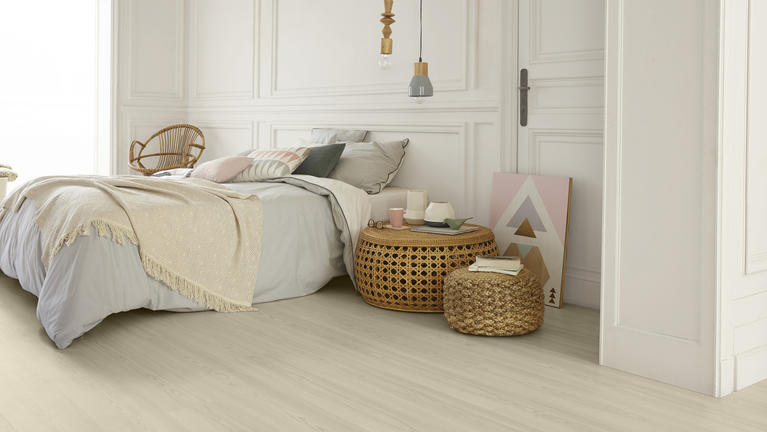 TARKETT LAMINATE FLOORING BENEFITS
LAMINATE
Laminate, the easy going product
– Easy to choose with its endless possibilities
– Comfortable because it is wood based
– Strong because of its construction
– Practical because it's easy to install and maintain
Endless color and style possibilities
Though laminate often is mistaken with parquet, it offers even more variety than real wood. The printed decors allow endless possibilities to play with wood essences and colours. With 110 decors, 14 surface finishes, 4 board constructions and 3 types of bevelling, our new Tarkett Laminate Collection has the right product for your interior.
Comfortable
Laminate is comfortable. Made out of 84% wood, it provides natural thermal insulation. Installed with an adapted underlayer, it is even cosier and can provide a good sound insulation. Laminate is therefore recommended in bedrooms for a cocooning atmosphere.
Strong
Laminate is durable and strong, thanks to its construction: the high density core board offers a top impact resistance and is able to withstand heavy furniture without denting. The top layer protects the surface against scratching and fading. Laminate is therefore also adapted for rooms with great activity.
A practical flooring solution
Our laminate has a hard sealed surface and its overlay is stain resistant. Melamine based, it is also an excellent barrier against germ propagation, contributing to keep a healthy home. Our tight locking systems also prevent dust and dirt from getting stuck on the surface and in between planks, so when cleaning time comes, a vacuum and a humid mop with soft detergent is all that is needed.
Quick and easy to install
Quick and without mess, installing laminate is open to all Sunday DIYers! There is minimal under-floor preparation and few tools are needed. In addition, having a floating installation allows laminate to be walked on right away. Our new-generation locking system (2-Lock) even takes 50% less time and can be handled by a single person!
A sustainable flooring
The boards that are the core material of laminate planks are made out of compressed wood that is recycled leftover wood pulp. Tarkett laminate is made of 84% wood and can be recycled as combustible material for the industry, for example to generate electricity.